Amaechi Can Be Minister But Must First Return Loot - Wike
Governor Nyesom Wike of Rivers state has finally dismissed insinuations that his administration was attacking the former governor of the state, Rotimi Amaechi in order to discourage President Muhammadu Buhari from appointing him as a minister.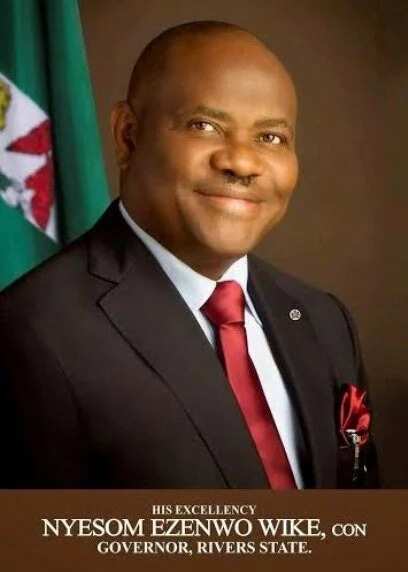 Wike explained that he is less concern about Amaechi's appointment but he is deeply concerned about how the former governor managed the state's fund, The Punch reports.
He added that a situation where he met the state's treasury empty is worrisome, unacceptable and annoying.
The governor who spoke through his media aide, Opunabo Inko-Taria, told reporters in Port Harcourt, the state capital, that it is abnormal for anyone to think that his criticism of the immediate past administration could stop Amaechi from getting appointment from the federal government.
READ ALSO: Gov Wike Appoints 12 Permanent Secretaries
[article_adwert]
He said: "So, what is he (Ameachi) going to do to him (Wike) as a minister or Federal Government appointee? Wike has not told anybody that he does not want President Buhari to appoint Amaechi as a minister. He has never said it; these are just insinuations and innuendos.
"If Mr. President, known for his mantra of zero tolerance for corruption; is saying that he is not going to appoint anybody with a stained image as a member of his cabinet and Rivers people are saying that Rotimi Amaechi is not qualified for an appointment, there is no problem with that.
"But the truth is that paint Amaechi black, if he (Buhari) does not want to appoint him (Amaechi), he will not. Paint Amaechi white, if the President is not interested in him, he will not appoint him.
Wike's spokesman stressed that whether Amaechi should be appointed or not by the president is left for the Rivers people to decide and not Wike's business.
READ ALSO:  Alleged Fraud: PDP Dares Amaechi To Prove Innocence
"The talk about whether Amaechi should be appointed into Buhari's cabinet is just the feeling from Rivers' people and not the governor himself. He has never discussed the issue of whether Amaechi should be appointed by Mr. President or not.
"The governor is more interested in how the funds of Rivers State were spent; whether they were judiciously spent or they were just frittered away. That is the interest because it is annoying that when we took over, we met an empty treasury," he said.
Wike wondered why those who suck the state's treasury dry could now be accusing him of taking N30 billion loan within a month.
He said: "They forgot that you are supposed to pay salaries; you are supposed to open the judiciary. The governor gave the judiciary N300m for takeoff and he also had to pay some of the students abroad who were owed allowances. Civil servants, pensioners and footballers, who were owed salaries, were paid."
Source: Legit.ng