Agric Sector Contribution to Nigerian Economy Rises, Fish, Crop Businesses Lead
- The agricultural sector rose by 2.28% in the first quarter of this year despite low food prices
- Fish and crop segments recorded the highest growth between January and March of this year
- The agric sector aided the growth of the Nigerian economy which also grew by 0.51% in Q1 this 2021
PAY ATTENTION: Join a community of CEOs, founders and decision-makers: subscribe for a free monthly business newsletter Digital Talks and succeed BIG!
Nigerian farmers and agric business owners were major contributors to the growth of Nigerian economy which rose by 0.51% in the first quarter of this year after escaping recession last year Q4.
In a recently released sectoral performance by the Nigerian Bureau of Statistics (NBS) for Q1 2021, the Agric sector topped its recorded report for the corresponding period.
Despite prices of food declining, the agric industry increased their economic contribution to 2.28% during the first quarter of this year, to rise above the 2.20% they added to the economy in Q1 2020.
Although check showed that the contribution dropped when compared to what the gross domestic product recorded from the Agric businesses in 2020 fourth quarter, which is 3.42%.
Major segment contributors are fishing and crop producers. The fishIng business grew by 3.24% in Q1 this year, against the -3.60% decline recorded in Q4 2020 & 1.49% in Q1 2020.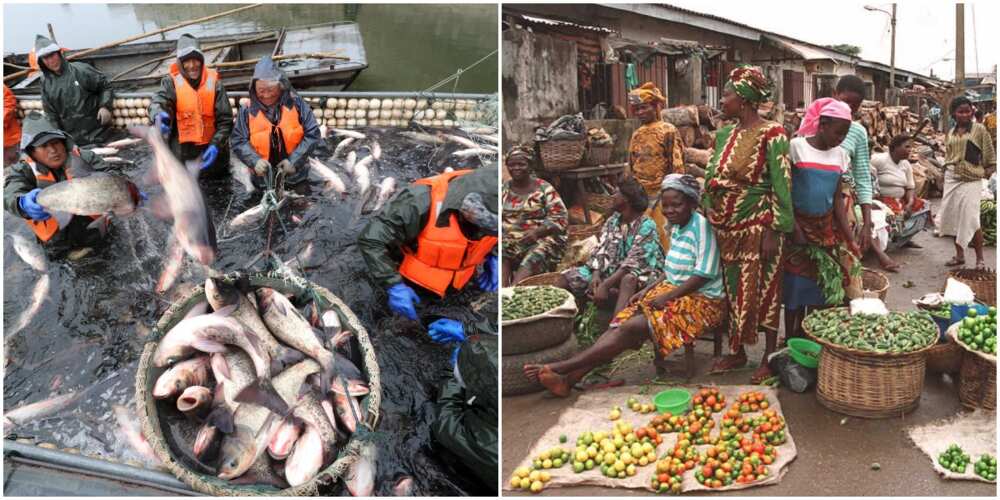 NBS data further showed that crop business recorded economic growth of 2.31% in Q1 2021, but this is rather low when compared to the 3.68% and 2.38% growth recorded in Q4 and Q1 last year.
Livestock business contributed 1.65% to the Nigerian economy, rising above the 0.63% recorded during the corresponding period of 2020, but fell below the 2.38% reported in the fourth quarter of last year.
Forestry accounted for 1.28% of the Nigerian economy in Q1 this year. This was higher than the 1.24% it contributed in Q4 2020, and above the 1.71% in the first quarter of 2020.
Meanwhile, Legit.ng had previously reported that MTN Nigeria leapfrogged its market rival, Airtel Nigeria, after the latter lost over N400 billion between last week Monday and Friday of the same week.
Airtel had begun the week ahead of MTN on the list of the most capitalised companies on the Nigerian Stock Exchange. But at the end of the week, the loss cost Airtel its position.
While Dangote Cement remained the most capitalised company, the y'ello network climbed to the second position, dropping Airtel to the third position.
Source: Legit.ng