Juventus Star Player, Cristiano Ronaldo, Becomes First Footballer to Receive Cryptocurrency
- Cristiano Ronaldo becomes the first player to get paid in cryptocurrency by a football club
- The tokens were raised by fans through Juventus tokens to celebrate Ronaldo's goal milestone
- Juventus and many other clubs, as well as companies, have seen cryptocurrency as a form of payment
PAY ATTENTION: Legit.ng is on a mission to support vulnerable children of Calabar – join the initiative
Cristiano Ronaldo made history on Sunday, becoming the first footballer to receive cryptocurrency as payment. The Portuguese player was awarded 770 fan tokens for his record-breaking goal milestone.
Ronaldo had recorded 761 career goals after his hat-trick against Cagliari on March 14, 2021. To appreciate his goal record, the Ballon D'Or recipient was given 770 fan tokens by Juventus before the match against Benevento, according to Marca.
This makes the Juve player the first footballer to receive cryptocurrency as payment. The Italian side had created the tokens in partnership with Chillz and Socios. The digital asset is usually raised through an initial coin offering.
Football clubs have been investing in cryptocurrency tokens to include fans in the activities of their clubs. Club tokens are raised for specific reasons. Aside from the Old Lady, other football clubs also have their fan tokens.
The likes of Manchester City, Barcelona, Roma, Athletico Madrid, and many more have their fan tokens. These clubs also partnered with Chillz and Socios to developed their tokens.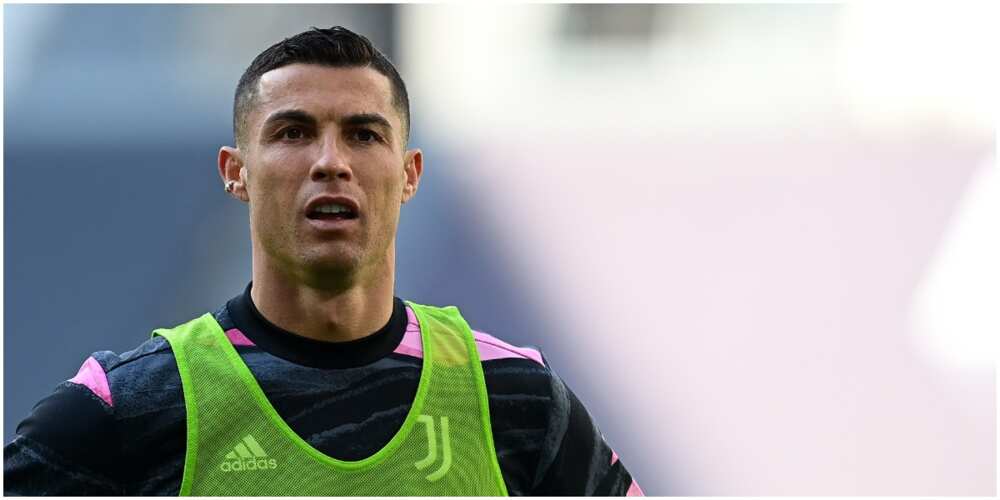 PAY ATTENTION: Legit.ng is on a mission to support vulnerable children of Calabar – join the initiative
The digital asset awarded by Juventus made the Italian side the first to pay a player with tokens, and Ronaldo the first player to receive crypto payment.
However, David Barral, former Real Madrid striker, was the first player to be bought with cryptocurrency, following a deal between DUX Internacional de Madrid, a Spanish third division side, otherwise known as Inter Madrid, and their sponsors, Criptian.
Criptain trades in cryptocurrency, and it invested in the club to land the 37-year-old Spaniard in January 2021.
The use of cryptocurrency for payment is becoming a norm among global companies, even though the governor of the Central Bank of Nigeria, Godwin Emefiele, said credible organisations don't want to be associated with it.
Aside from football clubs, companies like Tesla had also made it known that it intends to receive cryptocurrency as payment for its vehicles. Also, Mastercard, as well as Pay Pal have stated that merchants will be allowed to receive crypto as a form of transaction.
Meanwhile, Legit.ng had reported that Stanbic IBTC founder, Atedo Peterside, spoken against the use of $1.5 billion to repair Nigeria's largest refinery in Port Harcourt. The announcement wasn't well received.
Peterside said the approval should be halted, calling it a brazen and expensive adventure. He said experts want the refinery sold as it is by the Bureau of Public Enterprise, and let the buyer bear the burden of repair instead of the country.
Fakoyejo Olalekan is a Business and Financial Journalist with over three years of experience in covering finance and business activities within Nigeria and offshore. Prior to joining Legit.ng, he worked at Nairametrics where he wrote financial and investment analysis articles. Olalekan is a resourceful and result-driven journalist with a track record for conducting extensive research and interviews to produce articles that provide different perspectives to market activities.
Source: Legit.ng