Hope for Donald Trump as 45 Republican senators vote against his impeachment
- U.S. senator for Kentucky Rand Paul presented a point of order on the constitutionality of the impeachment of Donald Trump
- According to the Republican senator, impeachment means removal from office and if the definition is anything to go by, Trump is no longer in office and as such can't be impeached
- The motion was supported by 55 senators which means Democrats, who are pushing for Trump's second impeachment, have an exhausting task raising the number to 67 which is required to pass a motion of impeachment
- Democrats insist that the process is legal since apart from impeaching Trump, it is seeking to block the former head of state from ever holding a public office
PAY ATTENTION: Join Legit.ng Telegram channel! Never miss important updates!
The motion of impeachment against former US president Donald Trump has been described as "dead on arrival" after 45 Republican senators voted against it as unconstitutional on Tuesday, January 26.
U.S. Senator for Kentucky Rand Paul presented before the Senate a motion on the constitutionality of Trump's trial, which he believes is a mistake since the US constitution doesn't have a provision of "impeaching a former president" but a sitting one.
The motion was supported by 55 senators which included five who broke ranks with their Republican counterparts. Forty-five (45) voted to dismiss the trial of Trump.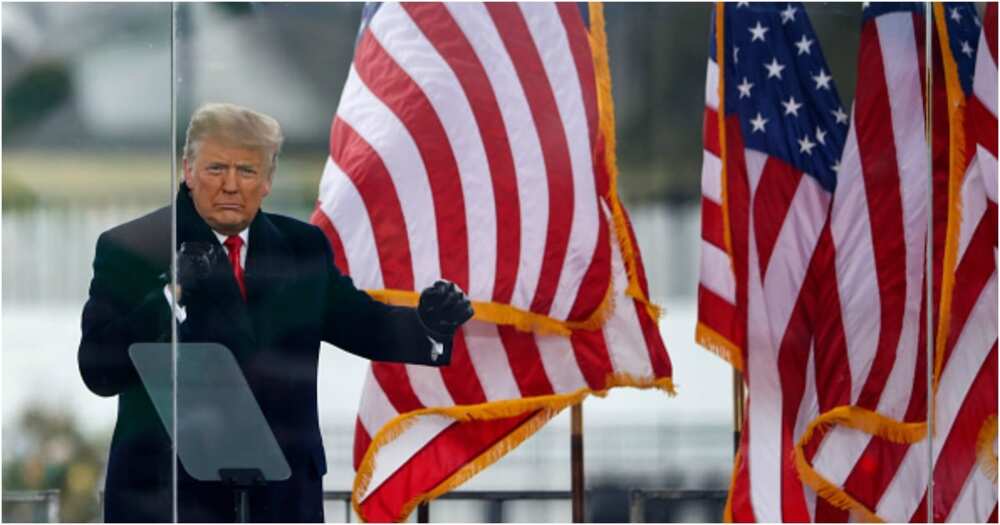 Though the motion to try Trump in Senate was supported by 55 senators, it means Democrats have a gruelling task to raise the number to 67 - number of lawmakers required to convict the ex-president.
After the vote on Tuesday, January 26, Paul described Trump's impeachment as a "dead on arrival" and exuded optimism the number was in excess of what is needed to acquit Trump.
On the other hand, Democrats who are pushing for the second impeachment of Trump by the Senate, insisting that the process is legal since apart from impeaching Trump, it is seeking to block Trump from ever holding a public office.
The former head of state had hinted that he will contest for presidency in 2024.
Trump after leaving White House
Meanwhile, Legit.ng reported that Trump left the White House on Wednesday, January 20, and was flown to his home in Florida amid controversies and political tension that trailed the unfortunate attack on the Capitol.
A self-styled hero of the American white supremacists, the former president departed Washington DC thinking he had escaped ridicule and scathing criticism.
But a sky-writing plane was spotted in the air on Sunday, January 24, heading toward Mar-a-Lago in Palm Beach, with a banner hanging behind it and taking a swipe at the former president.
Source: Legit