Capitol invasion: Why I supported Donald Trump's impeachment, Ex-NIIA boss, Akinterinwa reveals
Professor Bola Akinterinwa was the former director-general of the Nigerian Institute of International Affairs (NIIA). He is the president/director-general of the Bolytag Centre for International Diplomacy and Strategic Studies (BOCIDASS).
In this exclusive interview with Legit.ng's regional reporter in Lagos, Adeoye Adewunmi, Akinterinwa spoke on the recent happenings in America, lessons to be learnt by Nigeria among other issues.
PAY ATTENTION: Join Legit.ng Telegram channel! Never miss important updates!
How would you describe the Capitol Hill Invasion by the American protesters?
I think It is not an invasion but a terrorist attack on Capitol Hill. The terrorist attacks not by opponents of government but government agents. Terrorism generally is the activity of opponents of power that be.
Terrorism is an act by the weak, people who engage in asymmetric war or unequal war. Terrorism is believed to be the activity of people who want a change in political governance. Terrorism used to be a means of protest.
The genesis of modern terrorism dates back to 1789 when the French Revolution took place. By that time, terrorism is much because of the protest against tax, and monarchical rule. So, when you now look at it in the context of the attack on Capitol Hill, it is the supporters of the incumbent government.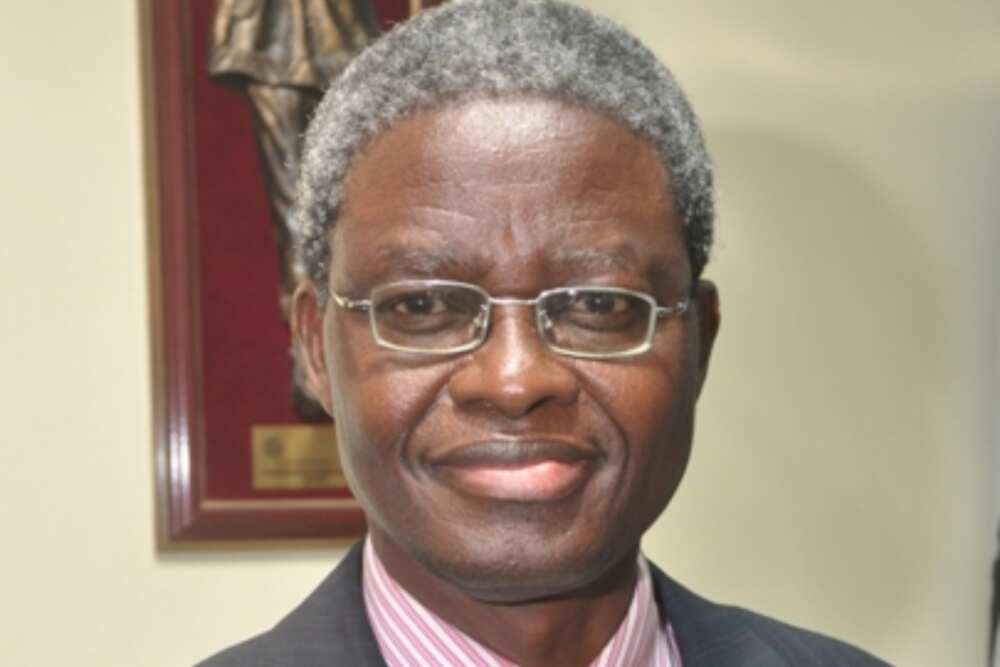 Do you mean "Trump" sir?
Yes. Donald Trump sponsored them. When they were destroying Capitol Hill through violence, Donald Trump and his family were very happy. They sat down in their place monitoring the scene and Trump himself said "We love you and You are very special people." Now, Donald Trump said he loves people who are destroying democracy, destroying physically Capitol Hill. So, when you talk about the invasion, what happened was not an invasion.
Donald Trump now wants to destroy institutional democracy. He actually wants to be president by all means. That act was more than an invasion. It is very terroristic, very animalistic, very uncivilized, and unbecoming.
Are you saying this action actually rubbed off the entire democracies of the world?
The first impact is that democracy is quite sustainable because it is a culture. Donald Trump tried to vandalize it but the democratic institution did not allow that to happen. So, for the whole world, it means they must do everything possible to now have to sustain it.
The second impact is that it is not sufficient to have a strong leader. What will be sufficient is also to have a strong institution. I am sure if you have a coin of leadership; the first side must be for a strong leader while the second side must be for a strong institution so that checks and balances can be maintained.
The third impact is that the democratic system can allow for freedom at all time but the freedom must be well controlled because it is the right to democratic freedom that enable the protesters. They have the right to carry guns but your gun must be registered.
It is because they have that that they also went there with guns and improvised explosives. So, there is no right that does not exist in America. So, they capitalized on that. Even the president acted on the basis of presidential right and freedom to sponsor terrorism against the institution. I think there is a need for the redefinition of some of these things.
Should impeachment be meted out on Donald Trump for such an act?
Yes, I think he should be impeached. If he is not impeached, come 2024 he will think that he is eligible. When the new government happened on January 20, he will go back hobnobbing the 70 million people that voted for him thinking that they would bring him back.
With a second impeachment, he will not be entitled to participate in public office anymore. So, Donald Trump is a threat to global security. He is a threat to global civilization. He is a threat to American progress. More importantly, Donald Trump is a threat to democracy and good governance.
Any lessons for Nigeria?
Nigeria does not have any good lesson to learn from Donald Trump's sponsored protest. What they can learn is from the strong institutions that prevented Donald Trump from overturning election results.
He thought that by the time he intimated everybody, they would bring judicial sentiments to it. But, it did not happen. All the people he relied on looked at it and they discovered that what is the illegal vote?
Is it because they did not arrive on time or what or they came through the post office? It is constitutionally accepted. Now, Donald Trump thought that he is holier than the pope in the Vatican. His own version of the truth is the only one that should be tenable.
It does not work that way. So, in this case, Nigeria must learn how to build very strong institutions. President Muhammed Buhari for instance does not listen to people too. We have the problem of insecurity in the country and people told him to call his service chiefs.
PAY ATTENTION: Install our latest app for Android, read best news on Nigeria's #1 news app
He has been rolling out the same solution. Why can't we have a new approach? But he does not listen. He said this year there won't be Boko haram. Has the environment changed? What about the people aiding and abetting Boko Haram that is in government.
Meanwhile, Legit.ng had previously reported that the outgoing president of the United States Donald Trump has a lot of things working against him at the moment.
It was reported that there are serious moves from Democrat senators to impeach President Trump when it is just days to the end of his administration.
Nigerians who shone brightly at the US elections | - on Legit TV
Source: Legit