Nigerian Muslims react over plan to bury Ajimobi inside mosque
- Nigerian Muslims have warned against burying former governor Abiola Ajimobi in the mosque
- Ajimobi died on Thursday, June 25, in a private hospital in Lagos from complications resulting from COVID-19
- The media aide of the late politician, Bolaji Tunji, had on Friday, June 26, said that Ajimobi would be buried on Sunday, June 28, inside a mosque
PAY ATTENTION: Click "See First" under the "Following" tab to see Legit.ng News on your Facebook News Feed!
Following the announcement by Abiola Ajimobi's family that the remains of the late former governor of Oyo state would be interred on Sunday, June 28, inside a mosque, Nigerian Muslims have expressed their concerns.
Legit.ng reports that the late Ajimobi's media aide, Bolaji Tunji, said his former boss would be buried at the Senator Ishaq Abiola Ajimobi Central Mosque, Oke-Ado, Ibadan by 12 noon.
He said that details of the burial ceremony were worked out by the family in consultation with the Lagos and Oyo state governments.
In a report by Legit.ng's regional reporter, Ibrahim Akinola, some Nigerian Muslims described the move by Ajimobi's family to bury the former governor in the mosque as a forbidden act, adding that such action would render the mosque useless.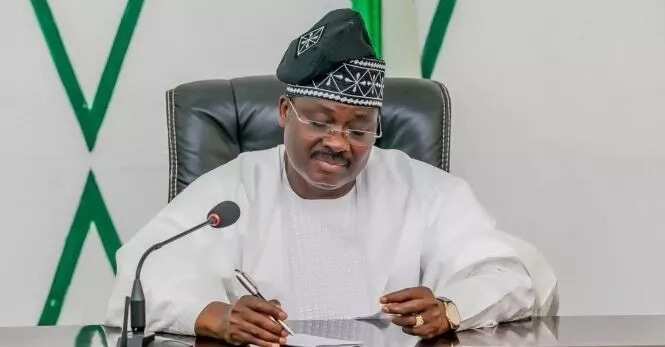 According to the report, while reacting to the development, an Islamic cleric, Ustadh IbrahimTijaani, said Prophet Muhammad forbade Muslims from burying their dead inside the mosque and building mosque over graves, adding that the prophet of Allah cursed whoever buries their dead in the mosque.
He said: "The Prophet (blessings and peace of Allah be upon him) forbade burying people in the mosque and building mosque over graves; he also cursed those who do that. That was when he was on his deathbed and warned his ummah.
"He (blessings and peace of Allah be upon him) stated that this was the action of the Jews and Christians and it was also a means that leads to associating others with Allah. Building mosque over graves and burying the dead inside mosques leads to associating the occupants of these graves in worship with Allah, may He be glorified and exalted.
"People may come to believe that the occupants of these graves who are buried inside the mosque can bring benefit or cause harm, or that they have some special status which means that people should seek to draw close to them by doing acts of worship and obedience to them instead of Allah, may He be glorified and exalted."
He said the Muslims must beware of this dangerous phenomenon and ensure that the mosques are free of graves and are established on the basis of Tawheed and sound belief.
"Allah says (interpretation of the meaning): "And the mosques are for Allaah (Alone), so invoke not anyone along with Allaah" (Al-Jinn 72:18)."
"The mosque should be for Allah alone, may He be glorified and exalted, and free of any manifestations of shirk, places where Allah alone is worshipped with no partner or associate. This is what is required of the Muslims. And Allah is the source of strength," he added.
Another Muslim cleric, Sheik Abdullah Qasim, said in a Facebook post on Saturday, June 27, warned against burying Ajimobi inside the mosque to avoid dragging the Muslims away from the mosque.
PAY ATTENTION: Install our latest app for Android, read the best news on Nigeria's #1 news app
He said: "The Muslim community in Oyo state and Ibadan land must wake up, please don't bury Senator Ajumobi in that Mosque. Don't drag the Muslim away from that mosque."
Meanwhile, Legit.ng had previously reported that Ajimobi was hospitalised at First Cardiologist and Cardiovascular Consultants Hospital, Lagos on June 2, but he never recovered from the infection after his health deteriorated.
If anything could describe Senator Abiola Ajimobi, it would definitely be his bold ideas, rub-hitting speeches and his dauntless courage - the reason he was adorned with a pseudonym "Constituted Authority" following his viral daredevil response to the protest of students of Ladoke Akintola University (LAUTECH) in 2018.
Many Nigerians still don't believe Coronavirus exists - NOA DG | - on Legit TV
Source: Legit