Bridging gaps in school hygiene through student ambassadors (photos)
- School children have become ambassadors of a clean and healthy environment in their schools and homes through adequate water supply
- These children have also taken the task of educating their juniors in the school
- A report said 2.1 billion people around the globe lack access to safe and portable water at home
Following the continued enlightenment on personal hygiene, availability of portable water and sanitation, school children have taken the bull by the horn to ensure a clean environment in their schools and home.
A visit to Anuli community school Ezinifite showed school children who have taken bold steps to encourage fellow students including residents of Ononaku Ezinifite, a community in Aguata LGA, Anambra on the importance of good hygiene and sanitation.
These school children who have bagged the title-ship of "Ambassadors" also ensure a clean and healthy environment within the school and its environs.
One of the children, Ozioma Okoafor, 12, said she has acquired tremendous knowledge on good hygiene and have taken the task of educating her juniors in the school.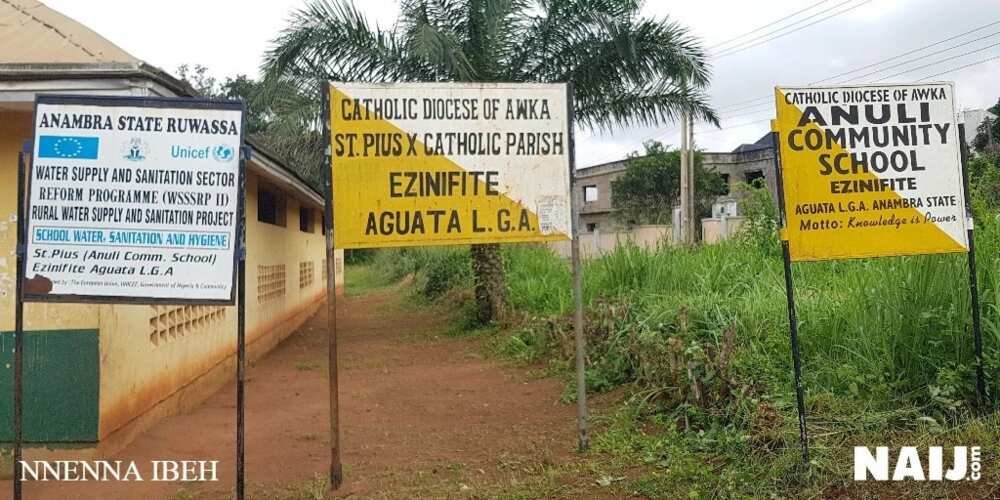 Okoafor told Legit.ng that the knowledge she has acquired has also helped her through ensuring adequate hygiene through her menstrual period.
READ ALSO: Tension in EFCC as Ekweremadu suffers health challenge in custody
She said: "I told my teacher when I started menstruating, she gave me the first aid kit. I wen into the toilet to wash up and I felt clean."
According to her, she is not deterred on advising her fellow students on the right approach to a clean and healthy lifestyle.
"If I notice any of my class mates who begins menstruation, I will tell them what to do.
"Everywhere is looking neat and clean because we now have water and toilets to use. For the girls, we have a place to change and feel good. The boys also have their own. We also have "tippy tap" in front of our classrooms where we wash our hands whenever we need to," Okoafor said.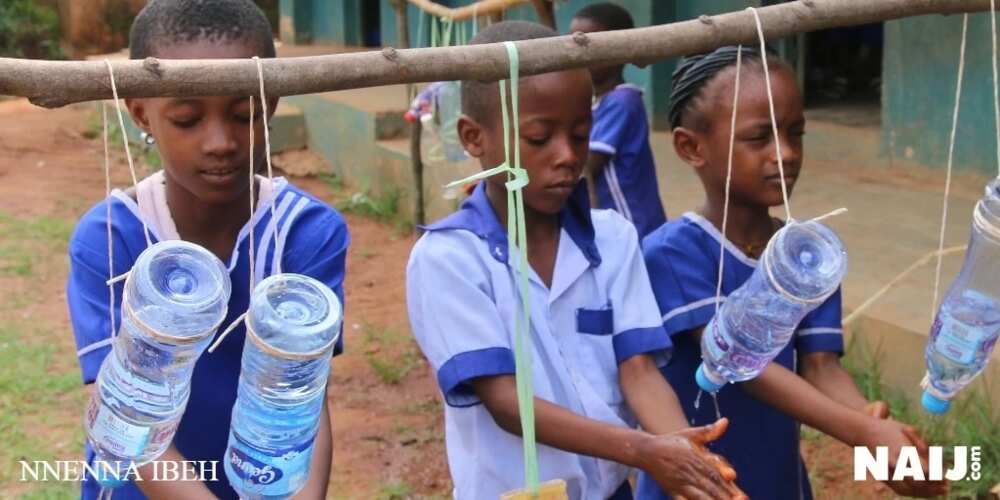 Also speaking Ambassador Anuli Ikedinachi, 11, explained her routine to stay clean while in school and at home.
READ ALSO: Mama Taraba writes letter to President Buhari on her 2019 political plan
Ikedinachi said: "I wash my hand with soap and water at every opportunity I get - after playing, before eating and even after using the toilet."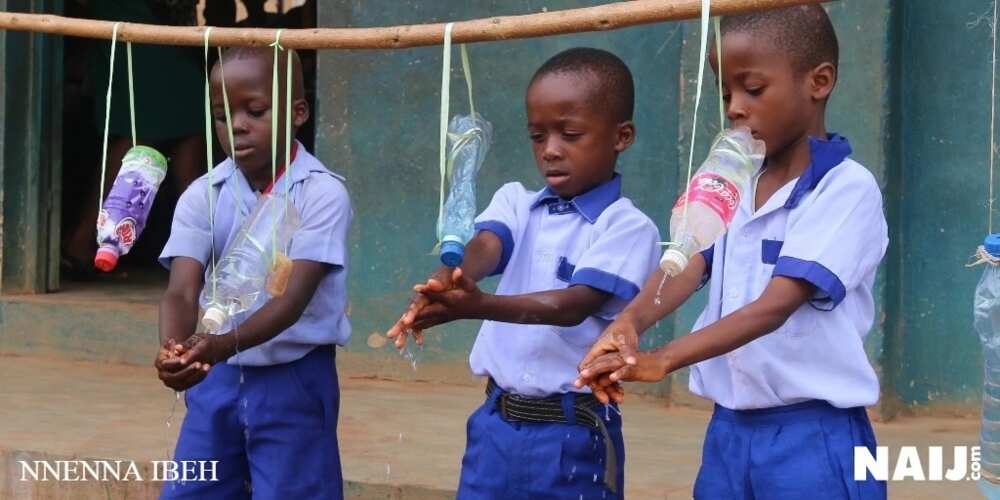 She said she also continues her routine back home and ensures her parents and siblings do the same.
The improved change in the hygiene of the Ononaku followed the intervention of UNICEF and the European Union in collaboration with the Anambra state government in ensuring a safe and clean environment across Nigeria.
Collaborating the information given by the pupils, the school's headmistress Onyebuchi Francesca said, the water project provided by UNICEF and the European Union has greatly benefited the community in general.
She said the clean water and toilet facilities - that is integrated pump flush of five rooms each for both male and female making it a total of 10 toilets, has helped in managing hygiene in the school.
According to Onyebuchi, since the toilets were built the enrolment of pupils and attendance to school has increased beyond measure.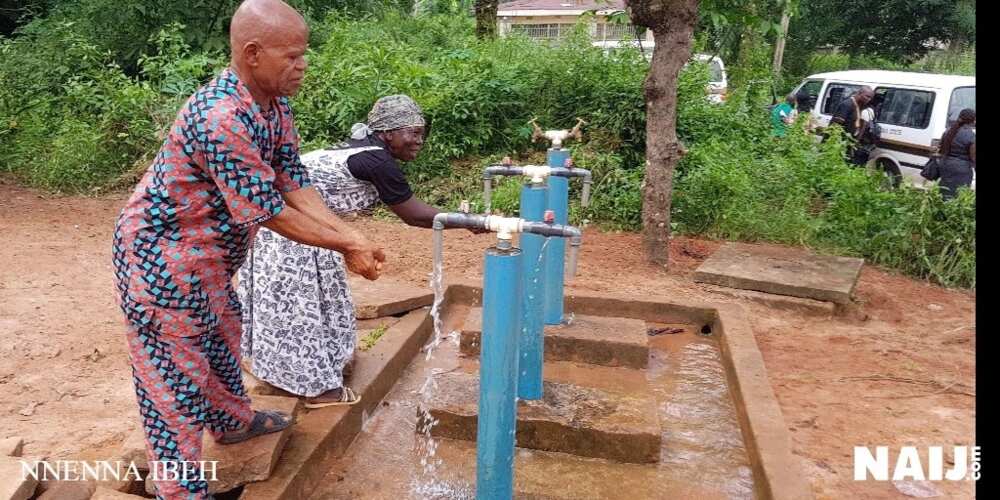 She said some parents who were scared of contributing money for such projects now bring their wards to school as the pupils no longer practice open defecation which has remained the leading cause of water borne diseases.
A report by the World Health Organisation and the United Nations Children's Fund, said that 2.1 billion people around the globe lack access to safe and portable water at home.
The report also said that 4.5 billion lack safely managed sanitation as a result.
READ ALSO: ASAC Asaba 2018: My administration won't meddle with sports federations - Buhari assures athletes
Also, the Multiple Indicator Survey (MICS) conducted by the government of Nigeria in 2016/17, indicated that about 40% of households and 19 million people in rural areas walked long distances to source unsafe water from lakes, streams and river.
Also, 361,000 children under the age of five years die annually due to diarrhoea which can be linked to poor sanitation and contaminated water.
Onyebuchi said before the facilities were provided they faced a lot of dangers because the children used to defecate in the nearby bushes as a result of the collapse of the pit latrines.
Also speaking, the secretary, WASHCOM unit, in Ononaku Ezinifite, Ike Christian, said the project by the international agency has relieved residents of the community from lots of stress.
Christian said the water project which took off in February has ameliorated the suffering by residents.
"It took off February 14 and has been completed. the villagers have started to fetch water and use the water. we are grateful to UNICEF /EU for their efforts. the facility is functioning effectively and we the WASHCOM officials are making efforts to ensure that the facility is secured," he added.
He said prior to the intervention, residents would travel about an hour to neigbhoruing communities in a bid to fetch water. He also said with the availability of the water project, their children and ward now leave for school earlier as water is now 'timely' accessible to every household in Ononaku.
"There is no river in the community, we travel about an hour or more to fetch water from neighboring community."
"Our children used to wake up early as 4 am to fetch water. But some households who can afford it buy water from these communities. We have water safety palns which monitor the collection of water. We inspect the vehicles which convey the water and the container used in collection. Its N5 per 25 litres," he added.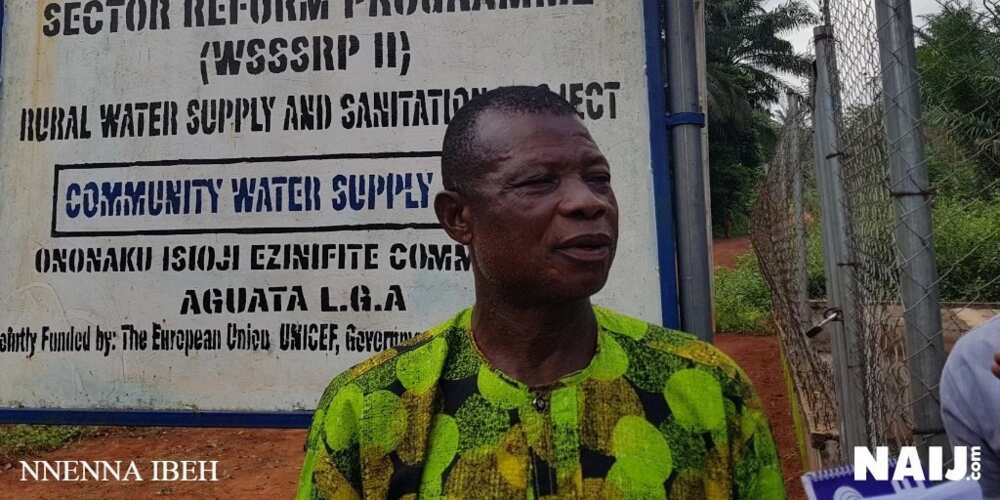 Meanwhile, the United Nations Children's Fund (UNICEF), Water, Sanitation and Hygiene (WASH) specialist, Mainga Moono Banda
Banda in her presentation during a two-day WASH media dialogue organised by UNICEF and EU in partnership with the federal ministry of information in Akwa, Anambra state said that from the 2017 MICS survey, over 46 million people still practised Open Defecation (ODF) in Nigeria.
She also said that 33 million out of this figure live in the rural areas.
Banda said: "130 million across the country use unapproved sanitary facilities, more than half live in the rural area while 45,000 children die annually from disease caused by poor access to water, sanitation and hygiene."
She said that Nigeria is now ranked among the top three countries in the world with the largest numbers of people practising open defecation.
PAY ATTENTION: Install our latest app for Android, read best news on Nigeria's #1 news app
While stating that the WASH programme plays a critical role in improving health, nutrition and hygiene in Nigeria adding for Nigeria to meet up its SDG 6 on water and sanitation by 2030, Banda said provision of safe and adequate hygiene is needed to help reduce issues of water borne and sanitation related diseases.
"Despite all effort, sanitation is declining instead of improving and this calls for concern. The trend in water availability between year 200 and 2015 revealed that the gradients is going up instead of declining same with sanitation especially in the rural area."
"We are not leaving anyone behind in achieving the target whether in the rural or urban area," she said.
Meanwhile, Legit.ng previously reported that 15 million out of the over 190 million Nigerians still drink water from lakes, ponds, streams, rivers and irrigation canals.
It was also gathered that these 15 million Nigerians live in the rural areas of Nigeria.
Speaking to journalists in at a UNIECF/EU organised workshop, Moustapha Niang, said 57 million Nigerians in general lack access to safe water supply.
Niang, a WASH specialist with UNICEF also said more than half of these 57 million Nigerians live in rural areas.
Medical Expert Speaks About High Rate of Maternal Death in Nigeria on Legit.ng TV
Source: Legit.ng