A Nigerian man identified as Stephen Ishola Adedokun has set a new record after he graduated from Ladoke Akintola University of Technology with eight distinctions in medical sciences.
Legit.ng had a chat with the young genius to get the details on how he made it. Adedokun who noted that he spent ten years in the university said he was able to achieve this milestone through the mercy of God.
He said: "Through the mercy of God, I had distinctions in anatomy, biochemistry, physiology, pharmacology, pathology, Obstetrics and Gynecology, Community medicine and surgery from 8 out of 10 departments. Though my class spent ten years in the University, I am glad we made it eventually."
Adedokun who was born on September 13, 1989, hails from Kwara state. "I am Stephen Ishola Adedokun born on the 13th of September 1989 to Mr Sunday Adedokun and Mrs Grace Adedokun in the town of Kaiama, Kwara state. I am a Christian and originate from Igboho, Orelope local government. Oyo state."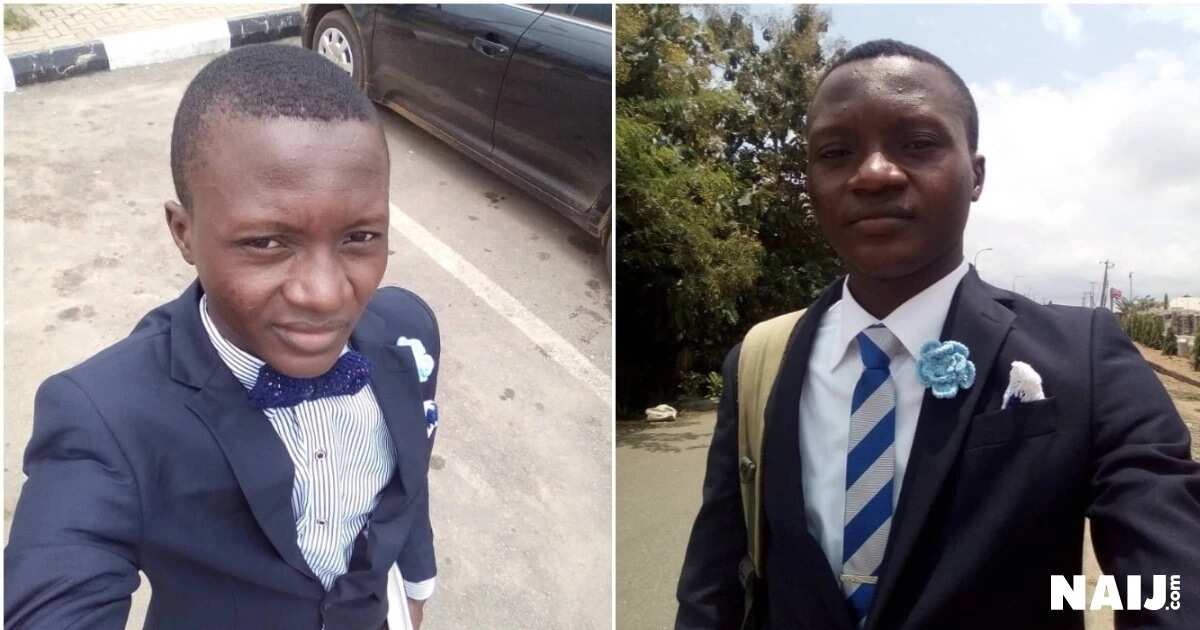 During the interview with Legit.ng, Adedokun talked about his educational background. He revealed that he had always been a good student right from his early school days.
"I had my primary education at FGGC staff nursery and primary school Kainji, Niger state under the watchful eye of my uncle Mr Adedokun Adewale. I started out in primary one as class rep and continued till primary five when I became the assistant head boy. The school enrolled me in Primary five for common entrance examination where I bagged the best result for the school and ninth in the town.
I proceeded to NEPA staff secondary school Kainji, one of the best in the state. With the help of God taking first position from Jss 1 through 3 and most of the prices. I resumed the post of class rep in JSS2, a post I dropped when I became the school senior prefect in SS2. I had nine distinctions, two credits in Junior NECO examination.
I continued in science class in the same school where I was awarded a Rotary club scholarship and finished with 8As and B3 in English language in WAEC. I sat for UTME in 2008 with score of 283 and proceeded to LAUTECH, Ogbomoso for my medical training."
READ ALSO: Sibling goals! Georgia triplets graduate from secondary school with a 4.0 GPA
The genius who expressed that growing up with a single uncle was hard, noted that he had to work twice as hard in his studies so he could win book prices. He also explained that he was working as an assistant electronic appliance repairer for his uncle.
"Living with a single uncle wasn't easy until he got married. It was a tough but impactful one. Living from school to workshop, back to home. And the cycle continued. Yes, I worked with my uncle as a "radionic" (electronic appliance repairer) as we were popularly called. I can remember working to purchase my Ababio, PN Okeke, Modern biology and the likes because I was given exercise books as price the previous graduation ceremony.
To me then, my escape from having to buy textbooks was to be the best in as many subjects as possible in order to be awarded the textbooks."
Adedokun further expressed that studying at Ladoke Akintola University of Technology taught him to trust God more. He said his time at school was hard due to the fact that his parents could not afford essential things for his study, including food.
"Ladoke Akintola University of Technology, my alma ata despite the challenges has been a place of transformation for me. Spiritually, I was taught to trust God more than before. Being brought up as an independent person I had challenges with funds because medicine didn't allow me to get involved in the job I was good at. I lost my dad along the line. My uncle already had family of his own to cater for. Mum is a petty trader, I was left with only trickles of fund sufficient to live on garri and yam (from our farm). I was literally malnourished.
I had the opportunity of working but that would be contending for my time. I learnt to live with what I was getting hoping for a liberation through academics."
PAY ATTENTION: Get the Latest Nigerian News on Legit.ng News
Talking about how his spent a normal day in school, the graduate stated that he was not the social type and all he did was pray, go to class and read.
"I am not the social type. Typical day was pray, study my bible, read my books, go to class, get back, read, eat and sleep. I am not the typical night reader. I participate actively in discussion with colleagues. (This helped us all and served to encourage establishment of several discussion groups in the class.)
I served as sound engineer in The student arm of the Christian Medical And Dental Association, LAUTECH Teaching Hospital chapter and in my church, Enthronement Assembly, Oshogbo, Osun State."
PAY ATTENTION: Get the hottest gist on Naija Uncensored Facebook Group
He went on talking about his relationships with other students. He explained that he had a lot of friends both male and female despite the fact that he had promised himself that he wasn't going to get involved in romantic relationships.
"Well, I relate well with people and I have a lot of friends in medschool both male and female. I decided I was not going to have any serious relationship with opposite gender until graduation. This I was lucky to attain though I almost reneged on."
The young man expressed that his dream is to improve Nigeria's health sector. He said: "I see a Nigeria where doctors and other health workers relate as heart and lungs, working unanimously. I see a Nigeria, where people fly in from world over to enjoy cheap but standard health care. Where I child doesn't have to die because the parents don't have money to seek care. I see myself joining hands with others to raise the standard of our health sector."
How I make over 100k monthly - graduate shoemaker - on Legit.ng TV