Lamidi Ariyibi Akanji Adedibu (24 October 1927 – 11 June 2008) was one of the political forces to reckon with in the political history of Oyo state and Nigeria in general. He was popularly described as "the strong man of Ibadan politics".
Former President Olusegun Obasanjo once described him as the "father of the PDP".
Adedibu was born on October 24, 1927, at Oja-Oba, Ibadan, a member of the Olupoyi chieftaincy ruling house.
He ventured into politics in the 1950s when he became a member of the Ibadan People's Party, and then joined the Action Group under Chief Obafemi Awolowo.
READ ALSO: Saraki: APC, PDP senators draw battle lines as National Assembly reconvenes on Tuesday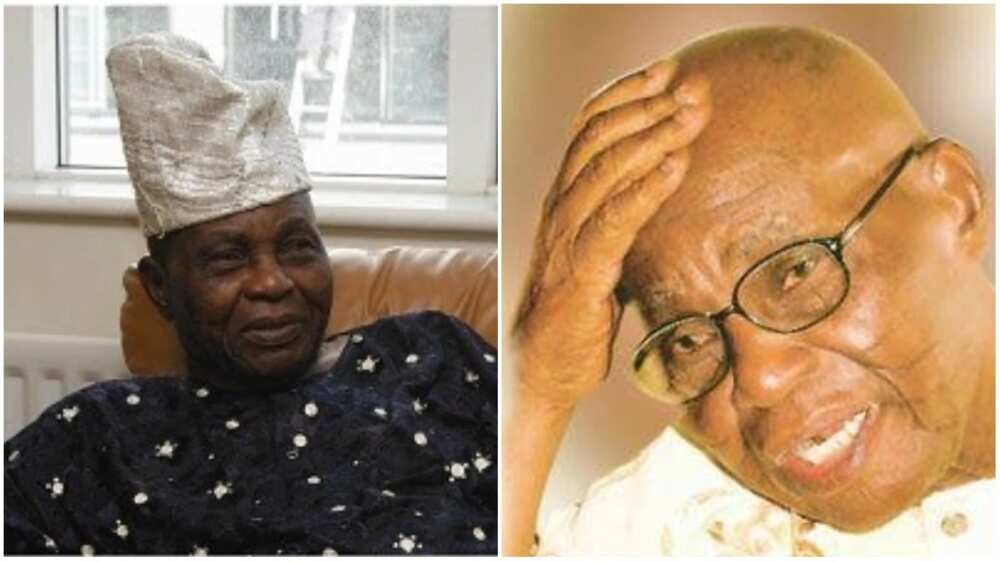 Chief Adedibu later joined the National Party of Nigeria (NPN) led by Chiefs Adisa Akinloye and Richard Akinjide. He became an increasing force in politics during the military reign of General Ibrahim Babangida.
His brand of politics was described as a blend of populism and raw thuggery that often compelled either violent loyalty or violent opposition.
It was said that nobody assumed any political position, either through election or appointment, in Oyo state without Adedibu's approval, leading to him being called "the strongman of Ibadan politics".
One of his protégés is Senator Teslim Folarin, elected to the Senate for Oyo Central.
Rasheed Ladoja, who became governor of the state in May 2003, was another protégé, although, by August 2004, Ladoja and Adedibu were locked in a fierce struggle over allocation of government appointees; an altercation which led to the impeachment of Ladoja before he was later returned by the court. That was the extent of the power Adedibu wielded!
Another ex-governor of the state, Alao Akala, was Adedibu's political godson.
His biological son, Kamorudeen Adekunle Adedibu, was elected Senator for Oyo South in April 2007.
Adedibu died at the University College Hospital in Ibadan on 11 June 2008, leaving the chiefly rank and title of the Ekarun of Ibadan to be assumed by one of his subordinates in the clan's royal line of succession.
Ten years after his death, Professor Adeolu Akande, a Professor of Political science and a gubernatorial aspirant on the platform of All Progressives Congress (APC) in Oyo state in the forthcoming 2019 elections, decided to pen down a biographical account of Adedibu's life, staing thatAdedibu's brand of politics deserved a closer and detailed study,
"His politics had many components that the public abhorred but offered an excellent understanding of Nigerian government and politics, including how we can prevent those components that are uncomplimentary," Professor Akande said.
In this piece, Legit.ng provides interesting snippets from the yet-to-be-published biography of Chief Adedibu:
Adedibu refused release from detention
It was 1991. The government of General Ibrahim Babangida had fixed the governorship election between its Social Democratic Party (SDP) and the National Republican Party (NRC). But it was worried that old politicians were derailing its vision of a political dispensation dominated by new breed politicians. It went after the old folks. Among them were Chief Bola Ige, Major General Shehu Musa Yar' Adua, Chief Jim Nwobodo, Dr Olusola Saraki, Alhaji Lateef Jakande, Alhaji Abubakar Rimi and Alhaji Lamidi Adedibu. Adedibu's inclusion was curious because, at that time, he had not attained the prominence comparable to the other detainees.
They were taken to Kirikiri Maximum prison and Chief Bola Ige was worried about Adedibu. He protested vehemently that while the military government could complain that the political activities of these politicians threatened its agenda, Adedibu was unjustly included because his activities could in no way affect the transition programme. Alhaji Adedibu said he immediately thanked Chief Bola Ige but protested against being released.
"Why will you protest being released when Chief Ige had made a case for your release?", Professor Akande asked him. "What will I be doing at home?", He countered in Yoruba and continued:
"In that detention camp were the First Eleven of Nigerian politics. If the newspapers are reporting that the most prominent politicians are detained, they will list my name among them. Will I gain such prominence if they release me and I go and sit at home?…"
His visibility at the national level was eventually enhanced by the detention.
How Adedibu's "doctor" became the courier of political messages
The eminent politicians were initially detained at the Kirikiri Maximum Prison, Lagos. When the crowd of sympathisers that thronged the prison became unbearable to the military government, they were transferred to a detention camp at Epe, also in Lagos state. Adedibu shared the same chalet with General Yar'Adua. They were not allowed visitors as the government controlled their contact with the outside world so that they would not influence the impending governorship election.
Their contact with the outside world was at the benevolence of the ubiquitous security operatives detailed to keep watch over the detention camp. Adedibu got a message out to one of his aides. One morning, the aide arrived at the detention camp in the overalls of a medical doctor, a stethoscope and a bag of drugs requesting to see Chief Adedibu.
On enquiry, he introduced himself as Adedibu's personal doctor. He was allowed in. Yar'Adua was surprised when the "visiting doctor" turned out to be Adedibu's personal assistant. Adedibu had a good laugh. The aide gave Adedibu a detailed account of the political situation at home in Oyo state and received instructions on what should be done in preparation for the election.
Adedibu also wrote letters to some politicians on what he wanted them to do. The envelopes were addressed to Adedibu's wives. Thinking that an obstinate security operative could insist on reading it and knowing that they were not from the southwest, he wrote the letters in Yoruba.
Yar'Adua expressed concern that he was cut off from political reports from home because he had no access to the radio, Adedibu's aide then approached the security aides that Adedibu's health was deteriorating and he urgently needed some drugs. He returned with a small transistor radio that fit into the package of a drug. From the detention, Yar'Adua and Adedibu monitored political activities across the country.
READ ALSO: 12 powerful facts you need to know about June 12, Abiola's death
Adedibu and the leper's colony
An associate of Adedibu had a running battle with his tenants. He approached the Rent Court which ordered the tenants to vacate the premises, but the obstinate tenants appealed the judgment.
The court process became frustrating for Adedibu's friend as the case was repeatedly adjourned at the behest of the tenants. Suspecting that the tenants were pulling some strings in the judiciary to frustrate the case, he approached his friend, Adedibu, to help him with his (Adedibu's) own contacts in the judiciary.
"Can you raise about N50, 000?", Adedibu asked him. His response was positive. Money at hand, Adedibu sent his aides to the market to buy a stove, cooking utensils and foodstuff. When they returned from the market, he asked them to prepare and take the food to the popular colony of beggars in Ibadan. They were to announce to the lepers among the beggars that the government had decided to offer them free accommodation and free food. Some of the lepers volunteered, and Adedibu's aides drove them to the building occupied by the recalcitrant tenants. The tenants fled with their families. By evening, they were sending emissaries to Adedibu to allow them to pack their property from the house.
Adedibu and his debtor
A businessman who doubled as a politician had a transaction with Alhaji Adedibu and held on to his (Adedibu's) money. After much pestering, he issued a cheque to Adedibu.
Pronto, Adedibu went to the bank, and the cheque bounced. He was asked to re-present it. Using his network within the bank, he found out that the balance in the account was less than the amount on the cheque.
Adedibu headed for the residence of his friend, Alhaji Azeez Arisekola Alao, telling him that he got a business deal that would yield a profit within 24 hours. He then asked the billionaire to lend him the shortfall in the funds he needed for only 24 hours. Arisekola, a generous man by all standards, obliged. Adedibu got his men to deposit the amount in his debtor's account and after that presented the cheque again. The bank paid.
Days after, the businessman got to know of the transaction and went to Adedibu to ask why he deposited money in his account to make up for the amount on the cheque. Adedibu retorted: "You forget that I am an Ibadan man. You cannot come from the village and play a smart one on an Ibadan man."
Adedibu, madmen and elections...
Adedibu never had it easy as a politician. While his most enduring epithet was "Strongman of Ibadan politics," he had a serious challenge winning elections in his Ibadan southwest local government, particularly in the Oke-Ado area where voters were mostly non-indigenes.
For every election, he did his calculations to make projections of where his votes will come from and where the greatest challenge is. On this particular election, the major challenge was narrowed to a particular set of polling units in the premises of a school.
His opponent was certain to record high votes to cancel out his advantage in other areas. Meanwhile, being a very generous man who gave alms to beggars and the needy, he had a very long list of disabled people who collected weekly monetary support from him. One of them was a mentally deranged man who curiously came to collect alms on a particular day of the week without fail.
He had very bushy air, always dressed in rags and looked violent. Adedibu asked him to come on the election day. On arrival, he was given more money than he expected and had the tag of "party agent" hung on his neck. They took him to the polling unit where Adedibu feared he would lose the election with a huge margin and was introduced as the party agent. As word went round that a madman was a party agent at the unit, many voters stayed away. Adedibu successfully controlled the margin of his loss in the polling unit.
Adeibu and Arisekola's zoo
Arisekola was Adedibu's closest ally in the politics of Oyo state. Adedibu was the politician, and Arisekola, the financier. In the 1990s, Arisekola built what became one of the biggest mansions in the ancient city of Ibadan.
The mansion was to have a zoological garden as a novelty. Adedibu told his friend Arisekola that he had contacts in Senegal who could supply lions to the zoo. Arisekola released N10 Million for the lions.
Week after week, there were no lions in sight. Arisekola was worried and became agitated. When Adedibu heard of his worries, he visited Arisekola one early morning. As he climbed the stairs to his presence he announced: "Are, awa ti na owo awon kiniun re o. Bo'ba ju awa na sinu cage k'awon ara Ibadan o ma wa wowa". ("Are, we have spent the money you gave us to buy lions. You may wish to put us in the cage meant for the lions so that the people of Ibadan can come and gawk at us".
Both men had a good laugh, and their friendship continued.
READ ALSO: 8 foreigners who worked in Nigeria first before becoming famous
A politician must laugh on his campaign poster
The contest for the Oyo South senatorial seat in 1992 pitched Chief Rasidi Ladoja against Chief David Abinusawa, a former Head of Service in Oyo state. Adedibu supported Ladoja who was just making his first attempt at an election but his ally, Arisekola wanted Chief Abinusawa for the seat. Adedibu played hide and seek with Arisekola.
On the eve of the election when it became apparent that there could be a clash between them on the election day, Adedibu went to Arisekola's house. Clutching a bale of Abinusawa's campaign posters, he dumped the posters at the feet of Arisekola complaining loudly and bitterly:
"I don't like it when I work for someone, and the person messes up my efforts."
Arisekola was alarmed. He asked what the problem was.
"Look at these posters, why is he not laughing in the posters. No one will vote for a candidate who is not friendly in his poster".
Arisekola rushed to his telephone stand and called Abinusawa. He complained about the picture in the poster and advised him to quickly take new ones for another set of posters. When he got back to Adedibu and told him what he had done, Adedibu resumed his complaint, saying it was too late.
"I accept that I have lost this election due to the bad pictures. Maybe we try our luck some other time," he said as he took his leave of Arisekola. His preferred candidate, Ladoja, was elected the following day.
I am not a thug; I am a party faithful - Adedibu
The greatest criticism of Adedibu was the violence of his brand of politics. He was described as the GOC of Oyo state politics because he was an enforcer. But he had a different view. He said politics is a serious game and a loss in the power game comes at a significant loss.
He recalled that when Chief Obafemi Awolowo, Chief Akintola, and others fought for political independence, they would not have succeeded if everything was limited to constitutional provisions.
PAY ATTENTION: Read the news on Nigeria's #1 news app
"One day Chief Awolowo and others came to Ibadan to address the people on the move for independence. When they got to Mapo Hall, the colonial government had shut all the doors and placed a notice that such meetings were outlawed. Awolowo, being a lawyer and constitutionalist, led the others to a side room and made efforts to get lawyers to approach the court for an order to allow them to use the hall," Adedibu said.
He said he felt that would be too late for the meeting. He called his boys and gave them hammers to pull down the doors. He recalled that the crowd that had waited impatiently outside rushed into the hall as the doors were pulled down. Awolowo, he said, was surprised at this, but addressed the gathering nevertheless.
"Awolowo did not call me a thug for doing that. He said I was a party faithful," Adedibu submitted.
Adedibu's enduring cognomen
Adedibu was the toast of traditional musicians, and there was hardly any of the eminent musicians of the Fuji, Apala, Were and Sakara genres of old that did not compose songs in his praise.
Perhaps the most enduring of the lot was that by the wordsmith from Ilorin, Odolaiye Aremu, who sang in his album entitled "Olowe Mowe":
"Adedibu lo soja o m' adiye wale
Kora, kogbe, beni won o si bun…"
(Adedibu went to the market and returned with a chicken
He didn't buy it. It was not a gift. And he did not steal it.)
This is probably the best description of the intriguing life of Alhaji Adedibu whom Odolaiye also described as "a half of Ibadan mistaken for one person."
The Intriguing life of Alhaji Lamidi Adedibu, one of the strong forces to reckon with in Nigeria's political history
Top 5 unusual facts about the Yoruba (you had no idea about!) - On Legit.ng TV