- President Muhammadu Buhari, on Monday, June 11, returned to Nigeria from where he had embarked on a two-day official visit to Morocco.
- The President was given a heroic welcome in the north African country by the King of Morocco
- During his visit, Buhari spoke highly of Nigerian youths whom he describe as aggressive and economically ambitious.
Legit.ng earlier reported how the president was given a rousing welcome by King Mohammed VI of Morocco.
Channels Television reports that President Buhari arrived in Abuja in the evening of Monday, June 11.
READ ALSO: Breaking: Buhari arrives Morocco, given a rousing welcome by King Mohammed VI
It was learnt that at the meeting in Rabat, Buhari and King Mohammed reaffirmed their commitment to fostering deeper bilateral cooperation between Nigeria and Morocco.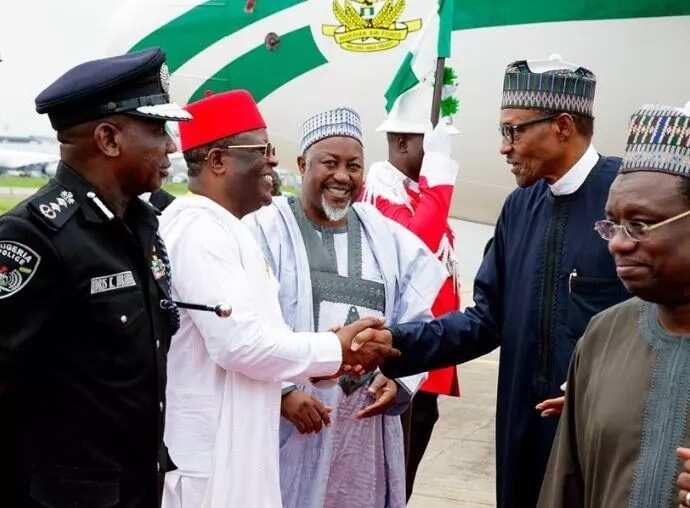 They signed an agreement on gas transportation to the North African kingdom along the Atlantic coast.
The report said they also appreciated the significant progress in various areas of cooperation including agriculture, fertiliser production, energy infrastructure and mining.
The News Agency of Nigeria (NAN) also reports that President Muhammadu Buhari said Nigeria's strongest selling point remains an intellectually aggressive and economically ambitious populace that always seeks self-improvement and self-actualization in any part of the world.
Malam Garba Shehu, Buhari's spokesperson, in a statement in Abuja, said the president made this known in an audience with the prime minister of the Kingdom of Morocco, Saadeddine Othmani, at the Royal Guest Palace, Rabat, Morocco, on Monday, June 11.
Buhari said Nigeria's visionary and resilient population works hard to always position the country for more growth, fuelled by a largely youthful group that continually wants to contribute to development.
"Nigerians are intellectually aggressive and economically ambitious. I received some of our students here yesterday and I am really impressed with the zeal and fearlessness they exuded.
"In Nigeria we have a very young and aggressive population and we are working very hard to create the enabling and inclusive environment for their contributions to be better appreciated," he said.
According to him, his government was harnessing the human and material resources available in the country, especially in the educational and agricultural sectors, while seeking partnerships with countries that could explore the huge potentials in Nigeria.
He noted that Nigeria was already on the verge of an agricultural revolution as the importation of rice had been cut down by 90 per cent in 18 months.
PAY ATTENTION: Read the news on Nigeria's #1 new app
"We need to do more to improve our statistics on food production and graciously, the weather has been auspicious in the last couple of years for agricultural growth.
"We are happy that through partnership with you and hard work the price of fertiliser is already down by 50 per cent," he said.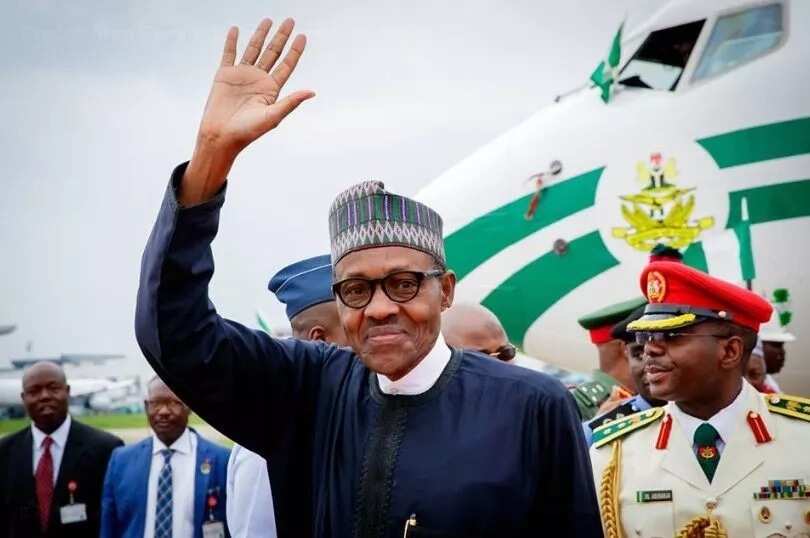 Concerning the three agreements signed during his visit, namely, Nigeria-Morocco gas pipeline project, vocational training in agriculture and building of a chemical plant in Nigeria, the president assured the prime minister that they would receive appropriate attention.
"We have a huge gas reserve in Nigeria, and we should be known more for gas exploration than for crude oil. So, we are happy with the new partnership with Morocco," he added.
In his remarks, the prime minister said his country had always been impressed by Nigeria's intellectual zeal and strength, saying "many Moroccans appreciate the intellectual contribution of Nigerians, especially in literary works.
"Your visit to our country is historic and we are looking forward to more partnerships, especially among our universities, which would further consolidate our relationship."
Legit.ng earlier reported that President Muhammadu Buhari on Sunday, June 10, departed the Nnamdi Azikiwe International Airport, Abuja, on a two-day working visit to the Kingdom of Morocco.
Pastor Adeboye, Imams Should Join Politics to Move Nigeria Forward - Olulade | Legit.ng TV
Source: Legit.ng