LIVE UPDATES: President Muhammadu Buhari makes historic visit to Lagos
Three years into his presidency, President Muhammadu Buhari finally visits Lagos in what many people termed an historic visit. The president will be in Lagos on a two-day official visit on Thursday, March 29 and Friday, March 30.
2.15: Tinubu ends his speech
2.14: I will work harder - Tinubu
2.10: Nigerians, don't accept PDP's apology, they lied to you for 16 years -Tinubu at Colloquium
2.09: Thank you Nigerians for being patience with us. There is a difference between us and them - darkness and light
2.07: Forget those parties, they won't come back
2.06: From what I have seen here, I just have to abandon my speech
2.03: Tinubu thanks all guests from all regions of the country, says he his lost for words
1.57: Yemi Osinbajo is my co-conspirator - Tinubu
1.57: Tinubu begins his remarks
1.56: Obaseki leads in singing 'for he is a jolly good fellow'
1.54: Edo state governor, Godwin obaseki, proposes a toast to the celebrant, Bola Tinubu
1.53: Guests sings as Tinubu comes on stage
1.52: Bola Tinubu invited to the stage for his remarks
1.47: Muhammadu Buhari ends his speech after praising Tinubu
1.42: Asiwaju is a political strategist - Buhari
1.41: I am here to celeberate the birthday of my friend and political partner
1.40: President Buhari begins his speech
1.40: After this speech from the vice president, I wonder what I can say - Buhari
1.38: President Buhari invited to give his speach
1.37: Vice President Osinbajo ends his speech
1.36: Criminal looting of this country must not be allowed to continue - Osinbajo
1.33: We must stop corruption, Osinbajo says. We must ensure that we defend the rights of Nigerians.
1.30: Vice President Yemi Osinbajo currently speaking at the 10th Bola Tinubu colloquium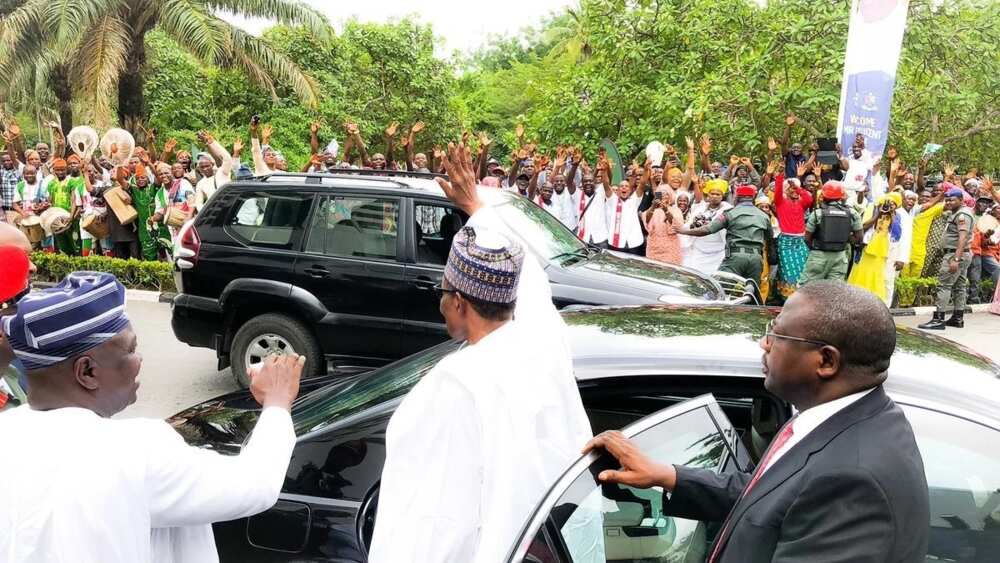 11.00: President Buhari is currently attending the Bola Tinubu colloquium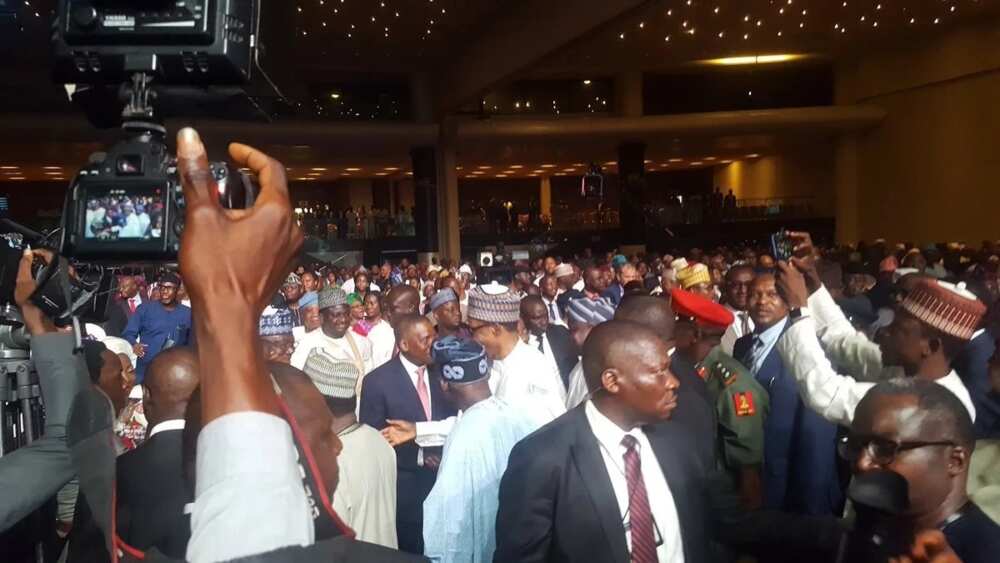 10.14: Some of Nigerian ministers led him into the premises of the commissioning as security becomes extremely tight.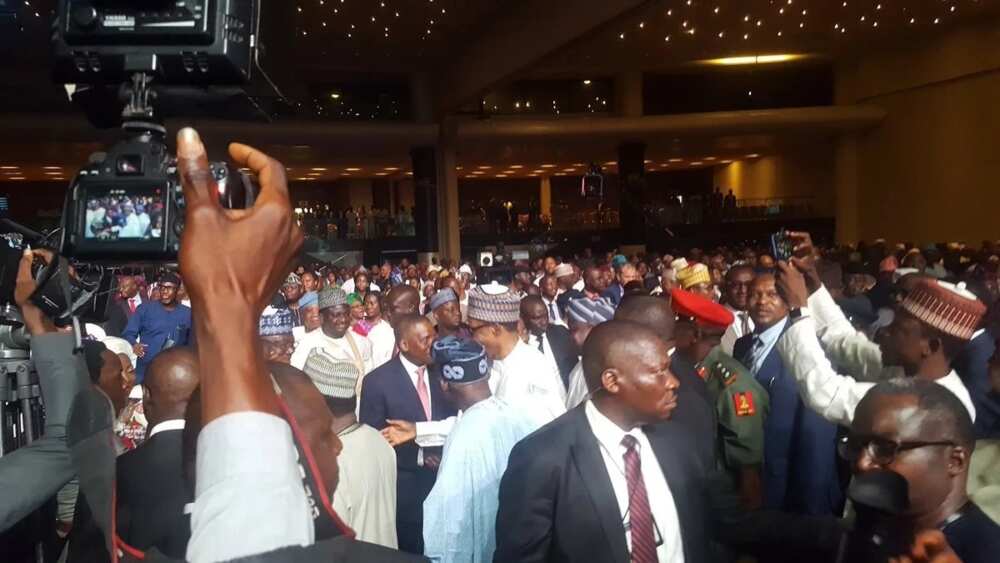 10.14: The president has entered in a black jeep with a Coat of Arms plate number.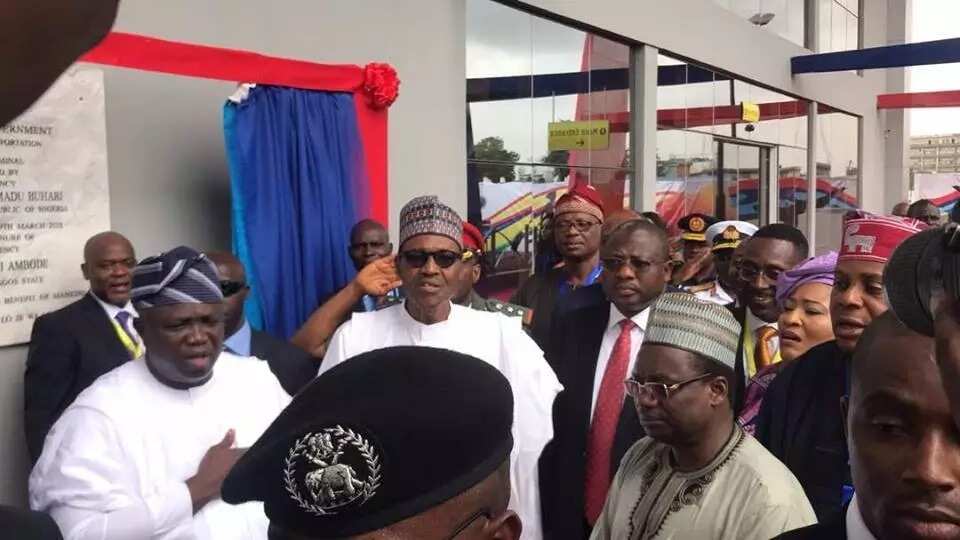 9.47: Legit.ng observes that vehicular movement is ongoing with traffic wardens directing the flow of traffic around under bridge area leading to the terminal.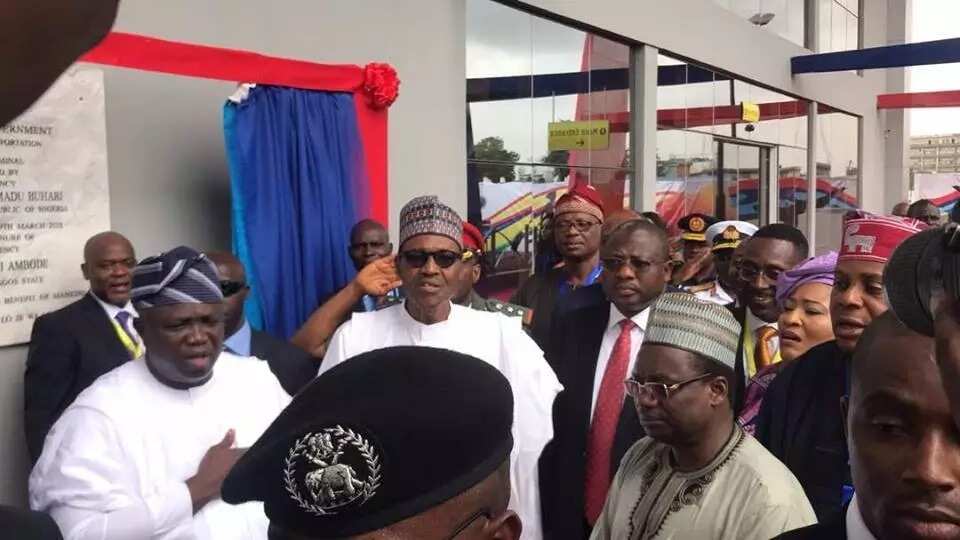 10.13: President Muhammadu Buhari arrives the venue.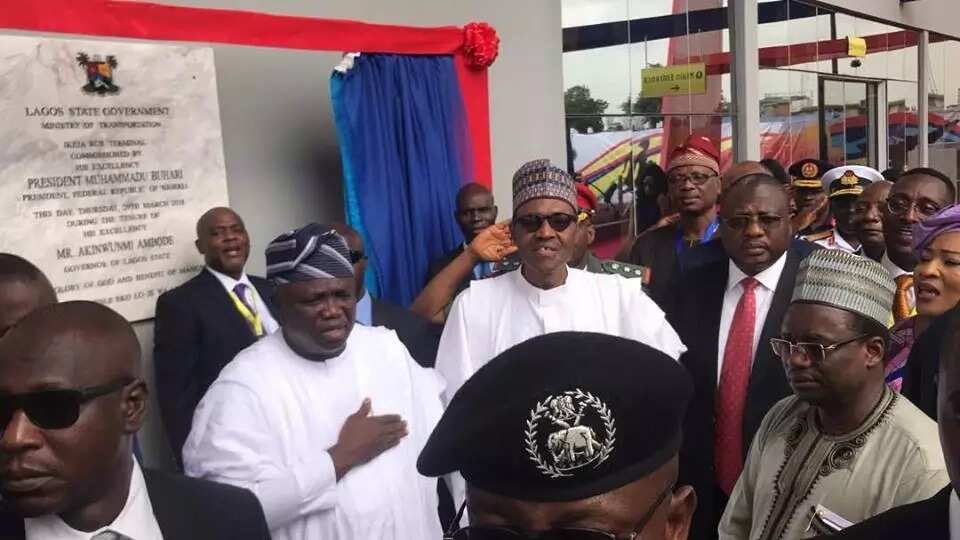 9.47: Majority of the people on standby by the road leading to the terminal from the airport are members of the National Union of Road Transport Workers (NURTW) spotting their traditional white and green outfits.
9.47: Legit.ng can authoritatively reveal that security is water tight with security checks really intense
9.46: The crowd comprises people who are aggrieved that they are not allowed to enter and those who are waiting to welcome the president. Travelers are seen walking about two kilometres to get to the airport so as not to miss their flight.
9.46: Crowd of people is gathering outside the Ikeja Bus Terminal premises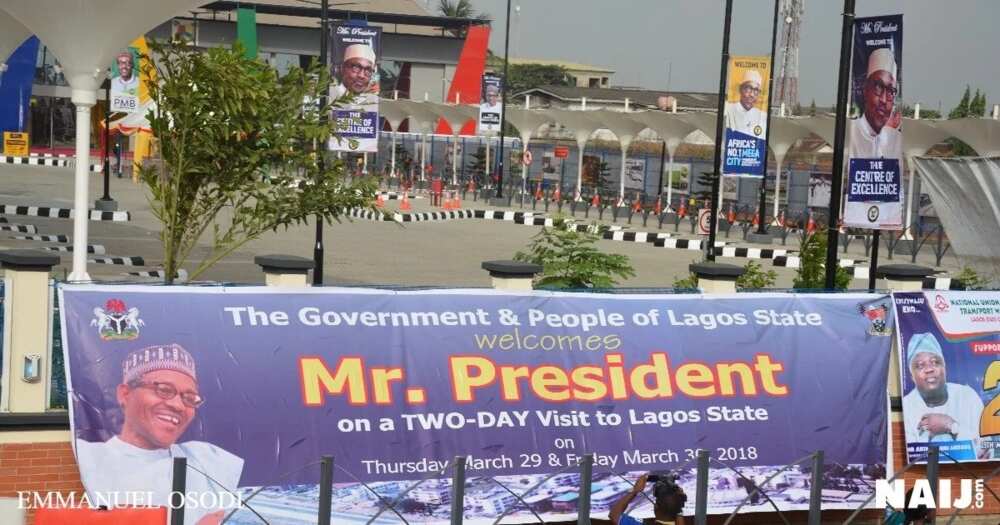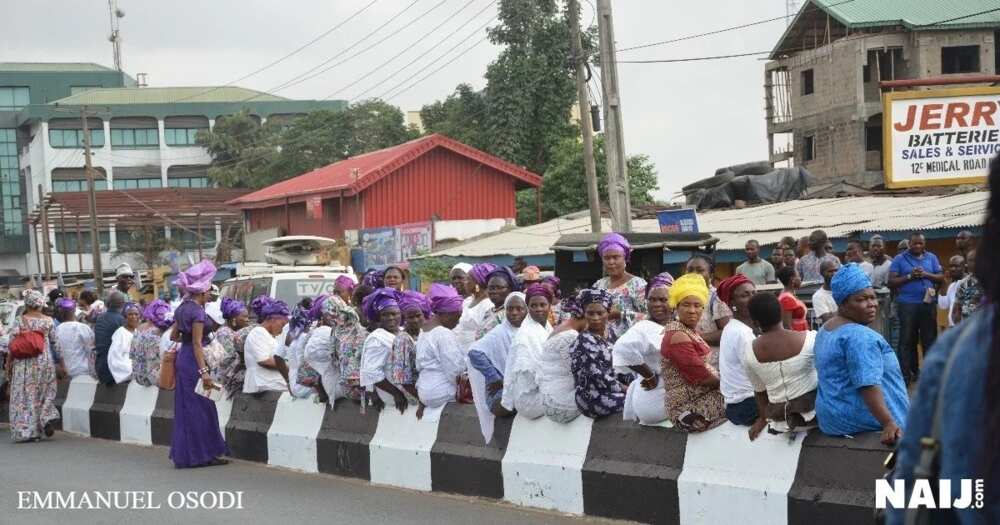 8.06: Major routes leading to Muritala Muhammad International Airport, Lagos, were blocked for President Muhammadu Buhari's visit.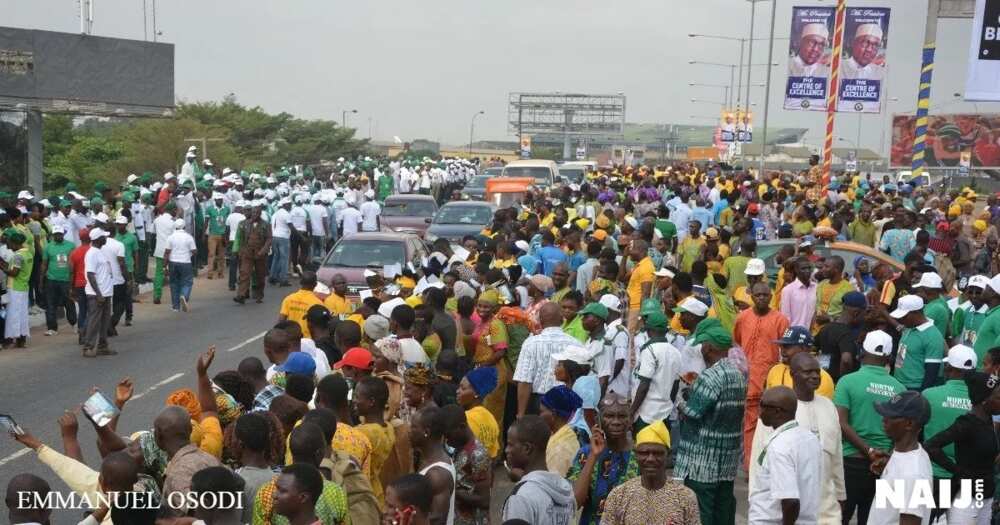 Not only that, ahead of the visit, the commissioner of police in the state, CP Imohimi Edgal, on Tuesday, March 27, said there would be temporary road closure and diversions in some areas of the state.
The temporary road closure and diversions would be within Ikeja, Maryland, Agege Motor Road, Victoria Island and Ikoyi axis.
The Lagos state government has also declared Thursday, March 29, a work free day.
PAY ATTENTION: Install our latest app for Android, read best news on Nigeria's #1 news app
President Buhari would also be attending a colloquium marking the 66th birthday of Asiwaju Bola Tinubu at Victoria Island, and also be at the official flag-off ceremony for the construction of the Lekki Deep Sea Port Project in Epe and Ikeja bus terminus.
Stay with Legit.ng as we bring you live updates of the president's visit.
List President Buhari's achievements in two years on Legit.ng TV:
Source: Legit.ng