EDITOR'S NOTE: The Author of this piece writes the President, General Muhammadu Buhari, Rtd., on the plight of the wandering Almajiri boys in northern Nigeria, and advises on how to end Jihadism on Nigeria's shores, once and for all.
Your speech sir, on May 29th 2015, promised to quash the murderous and wicked terrorists off Boko Haram Insurgency. You then signaled that your administration would, after the war, look into the root causes and genesis of the insurgency and bring a lasting solution to it.
It is my hope, now that the combat is (almost) over, to remind you on the need for the lasting peace the country trusted you would bring, before your tenure runs out, before the elections, whether you choose to run or not, whether you win at the polls or not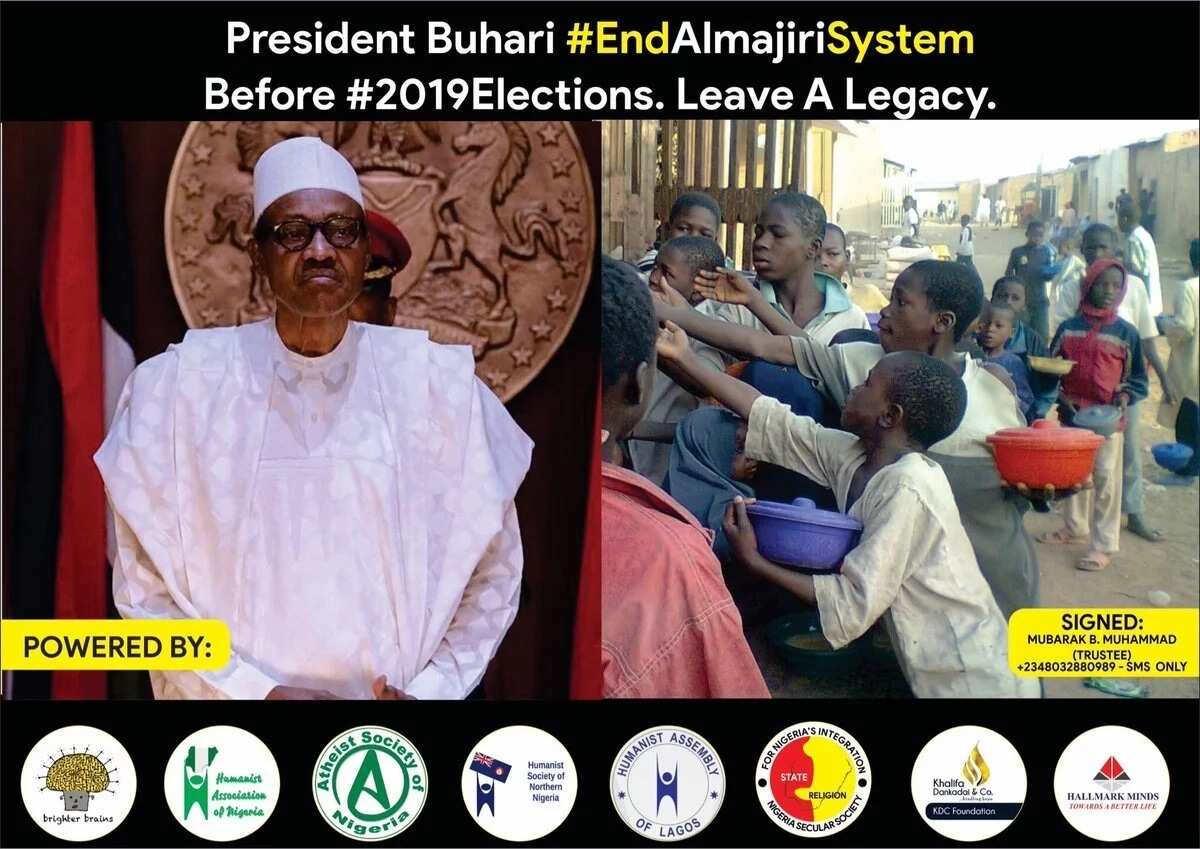 It is a known fact sir, that none of the Muslim nations of the world today, practice the age-old Amajiri system, rampant in northern Nigeria. A system that allows parents just callously discard their children to fend for themselves, food and shelter, right from the age of six or seven.
Mr. President, it is also a fact, that the average northerner today, trusts no leader as much as they trust you. They trust your integrity, goodwill, word and will-power. The people equate you to the statesmen and founding fathers of Nigeria. This means you could leave a legacy and set straight, the wrongs in the region in this day and age, wrongs which if tried by others, may bring a backlash and resistance.
READ ALSO: An open letter to Abubakar Shekau
The Almajiri System is a menace to society, a child abuse, an abuse of culture, and an insult to our common sense. Only a northern Nigerian man thinks that leaving kids to suffer will make them stronger, or behave well, no. Abusing children breeds deranged people, this is why anyone could use them as thugs for politics, or as Boko Haram terrorists, just as Maitatsine did in the 1980s in Kano.
I was elated Sir, by your speech on May the 29th 2015, when you made mention of atheists as recognized members of the Nigerian society, but I was more elated, by your declaration, that after winning the war on terrorism by Boko Haram on our borders, you will focus on the genesis and root causes of the turmoil and what started it.
This was a good point, because of the trillions spent on the war, a small percentage could have been invested in social services such as, National Integration of cultures and Tribes Initiative, Child Education for all children, demonstrable mobile cinemas and Science gadgets that could have made Education/Boko more accessible, more interesting and demonstrable. No child would have been lied to that Education is a sin in the villages, and no moron cleric would dare say science is a lie. Boko would never had been Haram.
Sadly, the case is now different, these children we left to illiteracy, have grown to monstrosity, and threatened to swallow us all and our civilization. Bringing back slavery and carnage only heard of, during the clueless era ruined by religions and superstitions. Billions of dollars and thousands of lives after, you conquered Sambisa Forest, sadly, your tenure is at an end before phase two of the war.
Read the news on Nigeria's #1 new app
Mr. President Sir, I do not know, if you intend to run for a second term, I do no know that if you do you'd win, I do not know if you may live long to see the changes you promised Nigeria regarding these horrors in our country come to fruition, but I hope that the goodwill does. Sir, I am please asking of this service of you, save this country, save our peoples, end the Almajiri System, it is your chance to end child abuse and child slavery, help the north we all love, bring back the old north we read and hear of in novels and stories.
A north where a Pagan and a Muslim lived as neighbors, where a traditionalist and a Christian ate with a Muslim at his house. A north where an Igbo is welcome, the Jew is welcome, the white man is, a north where a Yoruba, Igbo, Berom and Nupe would intermarry with the Hausa and Fulani to procreate and eliminate tribal differences in the next generation. A north where an Aminu would never insult nor kill a Kamal because Iranian and Saudi books of Dogma wants them to.
KARANTA WANNAN DA HAUSA/READ IT IN HAUSA LANGUAGE: Budaddiyar wasika zuwa ga shugaba Buhari
Sir, we are not of military breed as you, therefore we cry when we see murders and bloodshed, you well know, we Nigerians are very emotional, compassionate and a happy people, we may be carried away by sentiments time to time, but deep down, we love one another. Outside our shores, we yearn to see a black person, and love it even more if they speak any of our languages, even if back home, tribes spew diatribes at each other.
When and if, your social programs encourage inter-religious and inter-tribal marriages, when your government reward feats that bring people together, visiting in person, places like Benue, Zamfara, Taraba, and Bayelsa whenever tragedy strikes, the mistrust of other tribes would simply melt away, and ultimately, those killing people simply because they think you are of their tribe would be demoralized.
We bleed, we cry, from pain inflicted on us, by our own brothers, robbed and kidnapped, bombed and gunned down, sold as slaves and shipped abroad into deserts and oceans, simply because the dream that there was once a promising giant, is vanishing at the grassroots level. I personally, also, resisted temptations to leave, amid threats of attack or mob violence, only just because I chose to discard some Saudi mythology in my own home and country. I chose to stay, because I thought I could change things, at no matter a cost.
Mr. President, please tell the governors, for they listen to you, they respect you, direct them to start a campaign to end this child slavery, the Almajiri System, child marriages by the Mosque, and child witchcraft accusations by the Nigerian Churches, superstition is killing our future. The traditional institutions, emirates, palaces are closest to the people suffering these delusions, visit them, tell them, write them. At one fell-swoop Mr. President, you could jump-start the reason revolution Nigerians so need.
The end of the Almajiri System: A resolve of a right thinking nation
The National Assembly, state assemblies, Religious leaders, Clerics, Traditional leaders, will act when you tell them to. Let the whole of the elite class declare, that there is no more time to waste in bringing back our national sense of direction, national cohesion and resolve, resolve of a right thinking nation to get things right, not just on paper, but in action, not tomorrow, now.
Do this sir, for us, the next generation, do it, because you have all the means and the goodwill. Do it, before the noise for politics starts, before campaigns commence, let every politician know that before we receive him, we want to hear what he is doing to emancipate these children. Do it sir, just so we know you did it. Because if you skip it in this generation, we would still do it at our time, but we would know your generation failed these children, and that it is why we may be fighting a new kind Boko Haram tomorrow.
Sir, the root causes of Boko Haram are not poverty, there is poverty in other parts of Nigeria. It is not isolation, there are more remote areas that did not take up arms, their problem is not money. The causes of Boko Haram are in those books and flags brought to you from Sambisa forest by General Buratai, whenever a terrorist camp is defeated. It is a religious zealotry, it is borne out of delusion, that there is no way of life but that of ancients, otherwise, someone is waiting to burn them up forever in furnaces called hellfire. They are scared. Shekau is very very scared of Allah. He fears such a god exists. Therefore, they want to save themselves by killing themselves and others, this is the tragedy religions created from the bronze age, to the crusades, to date.
Simple education could have secularized these killers, but no, we allowed them wander in hunger and poverty, left to their delusions, only seeing us in our cars at fillling stations, we give them paltry sums of N10 or N100 for their prayes of goodluck and safe trips, and then zoom off, while our children grind Mr. Biggs and Chicken Republic. These Almajiris will grow with nothing, forlorn and lacking conscience, and so, anyone that promises them lahmi-dayrin (meat of birds in paradise) after they die, they would follow, believe and trust. And yes, they kill for these chickens, and juices, and hot bosom-ed ladies or the other room activities in some paradise, that which they may never have in this life, the only life there ever is.
Sir, educate these children, with Science museums, science gadgets, mobile video crews with majigi, displaying cosmology, biology, physics, even if not in classrooms, in village arenas, and they will not believe any cleric that tells them that there are flying horses or talking snakes in reality. They would believe that bacteria exists, and it is what ancients confused as genies. These small investments run by teams of NYSC youths or extension-like workers, would go a long way, in preventing the next Maitsatsine or Boko Haram delusion, hating on modernity and progress.
Tell every parent in Hausa Land sir, Kanuri and Fulani, Hausa and Shuwa, that whoever sires a child must be responsible for it. This is what the Tiv do, this is what the Yoruba and Igbo do, this is how the Nupe and Igbira do it. This is how the Bacama and Berom do it. They keep their kids and put them in proper schools. This is what the Arabs do, this is what the Jew and Caucasians do. The Chinese and Indians and Indonesians keep they children not discard them. In nature in the wild, no animal discards a child, not the Hyena, not the pig, not the Elephants, nor the Monkeys, and not the Spring-buck, only the Hausa/Fulani/Kanuri does this, children as young as six, in the cold shoeless, in rags and hunger, sent away to strangers to fend for themselves and cram ancient texts that did not give us even simple paracetamol.
RELATED STORY: Campaign offices for Buhari 2019 open, organizers say President would be compelled to contest
We should be ashamed of ourselves sir, that we are the only society that does this, and then we spend trillions of naira to tame or kill them when they grew up and became something else, billions off dollars or armaments, a small percentage of which, could have saved them from this indoctrination with simple love by parents, and education by governments, no matter how remote their villages are. The former President received my recommendations but did not act on all of it, he institutionalized and integrated the Almajiri system with formal education, we all thank his goodwill. You should too.
Mr President sir, children below 13 need not wandering around, let the teenagers do it if it must be practiced. The kids must be sent back home to their parents, for the proper feeding and schooling, let them sleep in the bosom of their moms, and hear her sing them lullaby and stories, this is what my mom did to me, this is what I want for all children. I cry for these children, many rationalists do, now with these our efforts, everyone is tired of this status quo. Sir, I will never be at peace if I see my society mired in stupidity and carnage, when our children are wasted by us, and then they survive to waste us and our children. Then we send soldiers to kill them, after allowing terrorist-clerics teach them texts and verses that specifically and repeatedly order man to kill fellow man, just so some imaginary monsters who allegedly created us by mercy would be pleased... My humanism is in-built...
Thank you, sir, for your time, may this letter reach you, and may you act before any political ambition, for your timeless legacy.
From Mubarak Bala Muhammad, (sms: +2348032880989), @MubarakBala
Trustee, All Nigeria Humanists.
The views and opinions expressed here are those of the author and do not necessarily reflect the official policy or position of NAIJ.com.
Your own opinion articles are welcome at info@corp.legit.ng— drop an email telling us what you want to write about and why. More details in Legit.ng's step-by-step guide for guest contributors.
We're ready to trade your news for our money: submit news and photo reports from your area using our Citizen Journalism App.
Contact us if you have any feedback, suggestions, complaints or compliments. We are also available on Twitter.
Nigerians react as snake reportedly swallows N36million - on Legit.ng TV
Source: Legit.ng