We'll shut down Umuahia if Nnamdi Kanu's father is dethroned - Ibeku Youth Assembly vows
- Some youths in Abia state have threatened to shutdown the state capital should Nnamdi Kanu's father be deposed
- The youths also warned the Abia state governor not to heed to the call to dethrone Eze Israel Kanu
- The Ibeku Youth Assembly (IYA) alleged that the call for the dethronement of Kanu's father is politically motivated
A youth group has threatened to shut down Umuahia, Abia state capital city, if the father to the leader of the Indigenous People of Biafra (IPOB) Nnamdi Kanu is deposed.
The youths also warned the Abia state governor, Okezie Ikpeazu, against any move by the state government to depose Eze Israel Kanu as the traditional ruler of Isiama Afara Ukwu Ibeku in Umiahia.
The youths under the aegis of Ibeku Youth Assembly (IYA) alleged that the call by another youth group, Umuahia Youth Movement, for the dethronement of Kanu's father is politically sponsored.
READ ALSO: You can't declare IPOB a terrorist group - Saraki tells Nigerian army
IYA in a statement signed by its secretary, Ihechi Zik, said the IYA would not tolerate plans by some unscrupulous elements to depose the highly respected monarch in Abia state and the country as a whole.
Zik said: "We are calling on Governor Okezie Ikpeazu not to heed to the call by the faceless group that Eze Kanu should be deposed over the Biafra agitation by his son, Nnamdi Kanu. Because to our knowledge, Eze Kanu has not done anything wrong."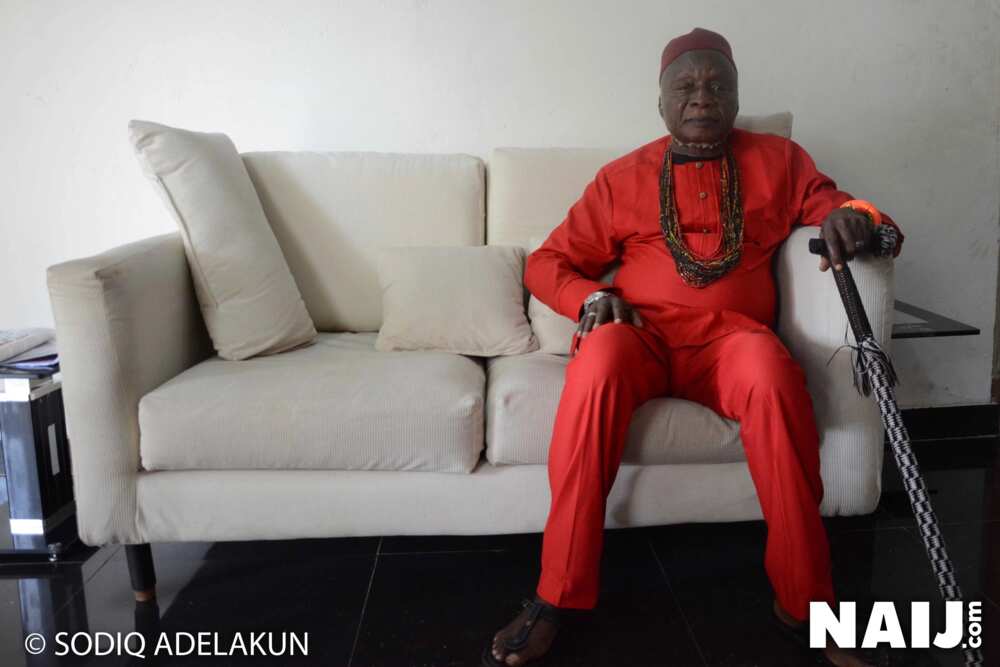 The IYA noting that the IPOB leader was exercising his fundamental human right by agitating for Biafra said his father has also done nothing wrong against the people to warrant the sack as a traditional ruler.
READ ALSO: Police recover bombs from Nnamdi Kanu's house, list IPOB crimes in Abia
The group also said it will resist any attempt to depose Eze Israel from the throne.
"Any attempt by the state government to remove Eze Kanu will spell doom for the state and we will ensure the state is shut down if such plan is carried out.
"We are also condemning the alleged invasion of the residence of Eze Kanu by soldiers in search of his son, Nnamdi Kani. We call on President Muhammadu Buhari to withdraw soldiers, nicknamed "operation Python Dance 11" from the street of Umuahia following cases of killings by Nigeria Army.
"We are living in fears due to the heavy presence of soldiers. Umuahia is not a war zone. People are being killed like animals in Umuahia. It is condemnable the wanton killing of IPOB members, who are only exercising their right.
PAY ATTENTION: Read the news on Nigeria's #1 new app
"We are calling on the federal government of Nigeria to toe the path of dialogue rather than unleashing on slaughter against innocent members of IPOB who have never carried arms against government," the IYA said.
Legit.ng earlier added that the Umuahia Youth Movement had given the Abia state governor Okezie Ikpeazu 24 hours to dethrone the father of the IPOB leader.
The movement in a statement alleged that failure to depose Eze Israel of his throne will force them to take laws into their hands.
The group also accused the leader of the IPOB of bringing chaos to the state through his agitation for the freedom of Biafra.
Watch this Legit.ng video of a supporter of Nnamdi Kanu and how she wants to celebrate the agitator:
Source: Legit.ng