The inside story of the brutal murder of Kudirat Abiola in Lagos in 1996
- Alhaja Kudirat Abiola, late wife of late Chief MKO Abiola, was brutally assassinated on June 4, 1996
- She was cruelly murdered allegedly under the instruction of former late military President Sani Abacha
- Kudirat was against the military government which annulled her husband's presidential election and sent him into incarceration
- Her campaign against the military president displeased Sani Abacha, consequently the underground plot to eliminate her
Alhaja Kudirat Abiola was born in 1951 in Zaria, Kaduna state. She attended Muslims Girls High School in Ijebu Ode, Ogun state. Legit.ng gathered that Alhaja Kudirat did not attend university but was married to a business mogul, Chief MKO Abiola, at age 18. Available facts revealed that she used her bride price to pay for the education of her two sisters. She was said to be the second and senior of four wives married by Abiola.
Her children with her husband were Yusau Olalekan, Hafsat Olaronke, Abdul Muman, Hadi, Moriam and Khafila. Her husband had over several other children. Testimonies of her time at Ijebu Girls High School indicated the evolution of a powerful mind that married the qualities of hardwork with the diligence of an achiever, becoming the head prefect of her school in her final year.
Partly in response to the circumstances of her own history, Kudirat adopted many social causes and was to become a prime supporter of the educational programme of the Ansa-Ur-deen movement in Nigeria. Kudirat was also a successful business woman in Nigeria.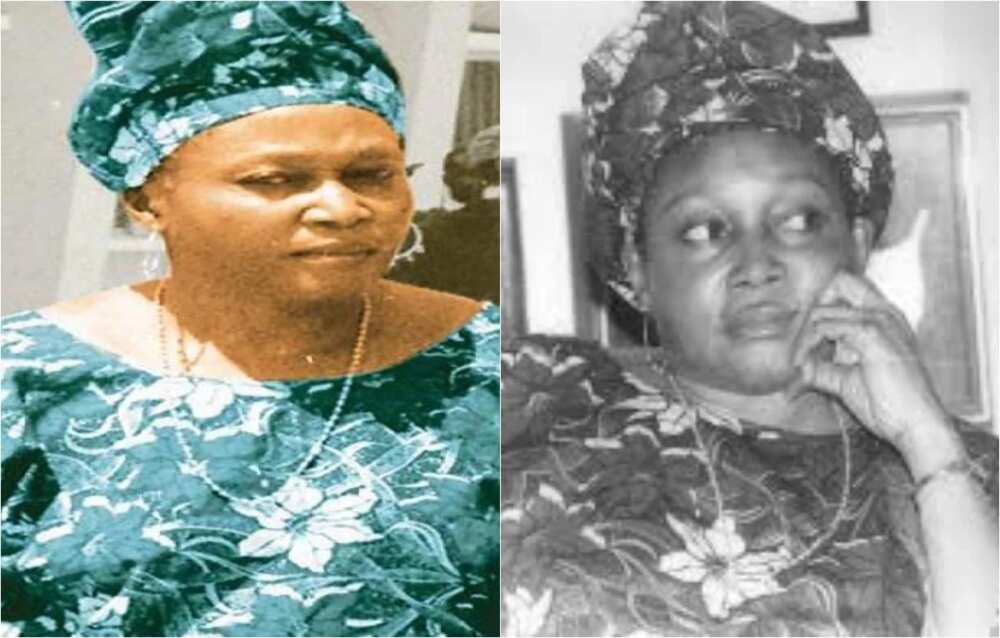 Ordinarily tuned to private life, the military annulment of the June 12, 1993 presidential election which her husband had won, brought Kudirat into pro-democracy movement. The movement had its cost, in 1994, Abiola was incarcerated and kept in solitary confinement for claiming his presidential mandate from the military junta.
READ ALSO: Buhari is alive in London - Presidency debunks death rumour
Despite the danger, Kudirat was said to have provided clear leadership in this period of general confusion following the annulment of the election. She stepped forward with the conviction that the military's action amounted to violation of fundamental rights of Nigerians to elect their government.
Her participation inspired new level of activism in Nigeria's pro-democracy movement. Alhaja Kudirat mobilised market women, students, activists and other human rights community to fight for the struggle of democracy.
In the summer of 1994, Kudirat was actively involved in moving and sustaining the oil workers 12 week strike action against the military government. The strike which succeeded in isolating and weakening the government, was the longest in Africa history by oil workers.
In December of 1995, when the pro-democracy group decided to march for freedom in Lagos, Kudirat joined such esteemed nationalists as Anthony Enahoro at the forefront of the march, braving the bullets of government forces sent to intimidate them.
Her fight was essentially for the release of her husband and restoration of his mandate which was annulled by Gen. Ibrahim Babangida in 1993. Abiola was detained soon after the June 12 election.
While Kudirat was busy championing the cause against the military dictatorship in Nigeria, her husband was in jail on charges of treason. Her action against the military government made her to become the biggest foe of the military government of late Sani Abacha.
On June 4, 1996, few days to commemorate the anniversary date when Nigerians resolved to vote out the military dictatorship, Kudirat's life ended on earth, extinguished by assailant's bullets. Alhaja Kudirat was attacked in her car by unknown gunmen, along Lagos-Ibadan expressway, allegedly on the orders of the military government of the late Gen. Sani Abacha.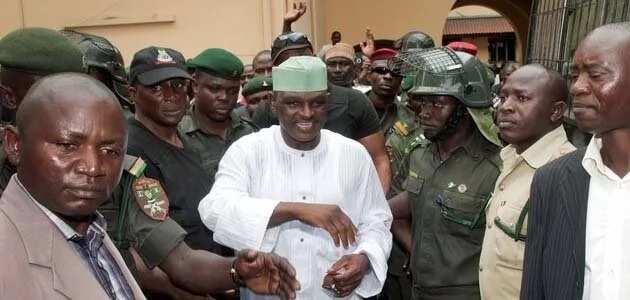 According to accounts, her murder was ordered and then carried out by six men. Mrs. Abiola died in her car from machine gunfire. Her driver also died. Her personal assistant who was later accused of being involved with her assassins was in the car but was not hurt.
READ ALSO: Osama Bin Laden's son threatens US over father's death
Her husband continued to be detained without charge even after her death. He died in suspicious circumstances just before it was said he was to be released on 7 June 1998.
At the time of her death, an anti-military rule "Radio Democracy" had just been created and it was based in Norway. It was backed by the American, British, Swedish, Danish and Norwegian governments to help end military dictatorship in Nigeria. The radio station's name was later changed to Radio Kudirat.
According to Abiyamo, a Nigerian blogger, she was murdered on Tuesday, June 4, 1996. That was around 3.pm when her white Mercedez Benz was cruising along the streets of Lagos. It was learnt that the car slowed down in Ikeja when her assailants suddenly opened fire on her and gunned her down.
It was gathered that the bullet lodged in her forehead and smashed her brain. About four shots were reportedly fired at her. One hit the target's driver in the mouth and crossed to his shoulder. Another got the principal target right on the forehead.
She was rushed to the highbrow Eko Hospital, Ikeja Lagos. All efforts made by the medical team to save her life failed. Kudirat Abiola died, with a gaping bullet wound on her forehead. She was 44. Her driver too did not survive the attack. Both were shot at close range.
While she and her driver died, her personal assistant left the car unhurt. The weapon used for killing her was an F-90 submarine gun made in Belgium and described as a selective fire defense personal weapon.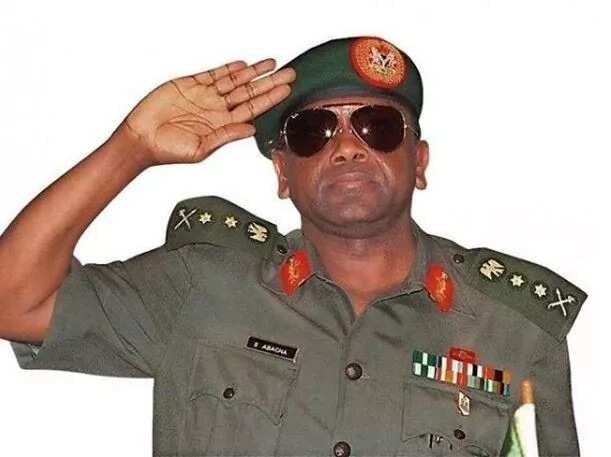 It has an integrated reflector sight system, back-up iron sights, fully ambidextrous control, meaning it can be easily used by right or left-handed shooters and can fire 900 rounds per minute to a maximum distance of 1,800m.
READ ALSO: 3 killed as Agatu community in Benue boils again
In order to penetrate the security network of the Abiolas, it was learnt that the killer squad went through Alhaji Lateef Shofolahan, Kudirat's personal assistant. This may have been the reason he was not killed by the assailants, even though he was in the vehicle with them.
Prior to this time, there had been two attempts to assassinate Kudirat, the first attempt was planned to take place right inside the residence of MKO Abiola but when the assailants discovered that would be too dangerous, they abandoned the plan only for them to continue their surveillance of their primary target, Alhaja Kudirat Abiola.
Following the killing of Alhaja Kudirat, the Nigerian military government headed by late General Sani Abacha offered the sum of $45,000 as reward for information leading to the arrest of those who killed Kudirat.
Abacha's government was said to have placed the blame of Kudirat's killing on the increasing spiral of violence and terrorism in the country. However, prior to the assassination, Kudirat was reported to have complained of threats to her life, that unknown men were trailing her.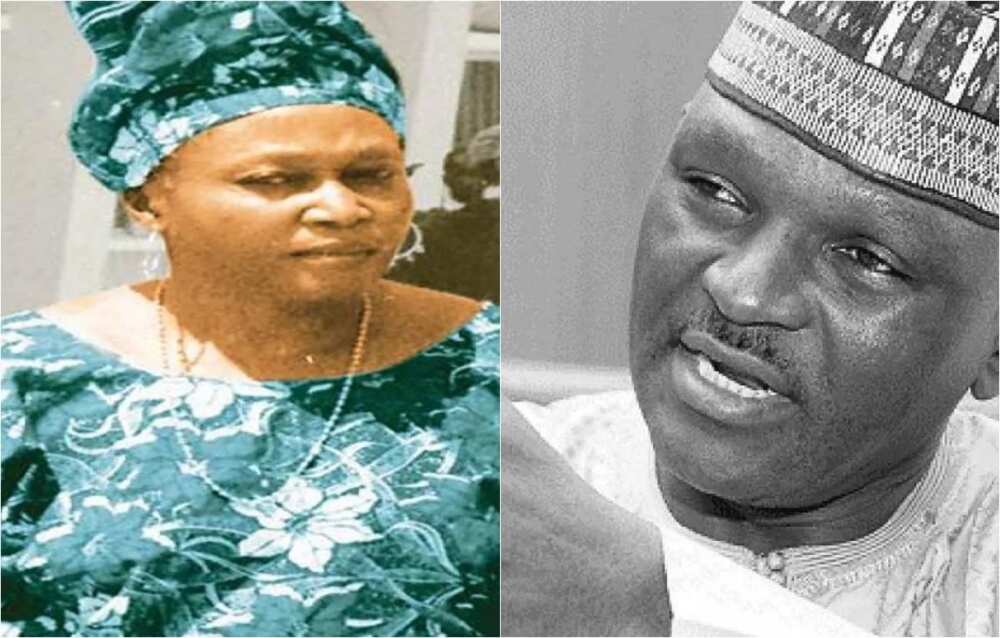 Abacha thereafter announced that the military government would later send a 'high-powered' delegation to the Abiola family to commiserate with them over the brutal assassination of their matriarch.
But investigations into the killing traced the killer bullet to the personal armoury of Major Hamza Al-Mustapha, former chief security officer to the late dictator, General Sani Abacha.
The assignment, Legit.ng gathered, was supposed to be executed with military precision, with no traces left behind. The operation was codenamed "Operation Cika Aiki" which means finish the job in Hausa language. Sharp shooters and marksmen were detailed to effect the plan.
READ ALSO: Peace Corp boss sues police and SSS, seeks N2b as compensation
Hamza Al-Mustapha was the chief security officer of General Sani Abacha, military head of state of Nigeria from November 1993 to June 1998. After Abacha's death he was arrested and tried for murder and attempted murder of Alhaja Kudirat Abiola.
In October 1998, Major Hamza Al-Mustapha appeared in court with the previous President Abacha's son Mohammed, charged with the murder of Kudirat Abiola.
In the court, Mohammed Abdul (a.k.a Katako), who gave evidence as prosecution witness, narrated how late Kudira Abiola's personal assistant, Alhaji Lateef Shofolahan, gave his boss away to the assailants. He said Shofolahan identified the houses of other personalities who had been marked for elimination.
The witness also traced the movement of the killer squad in its murderous mission that took them to the Lagos residences of Lt. General Bamaiyi; Mr James Danbaba, former Lagos state police commissioner and the office of Lt. Col. Jibrin Bala Yakubu, former Zamfara state military administrator.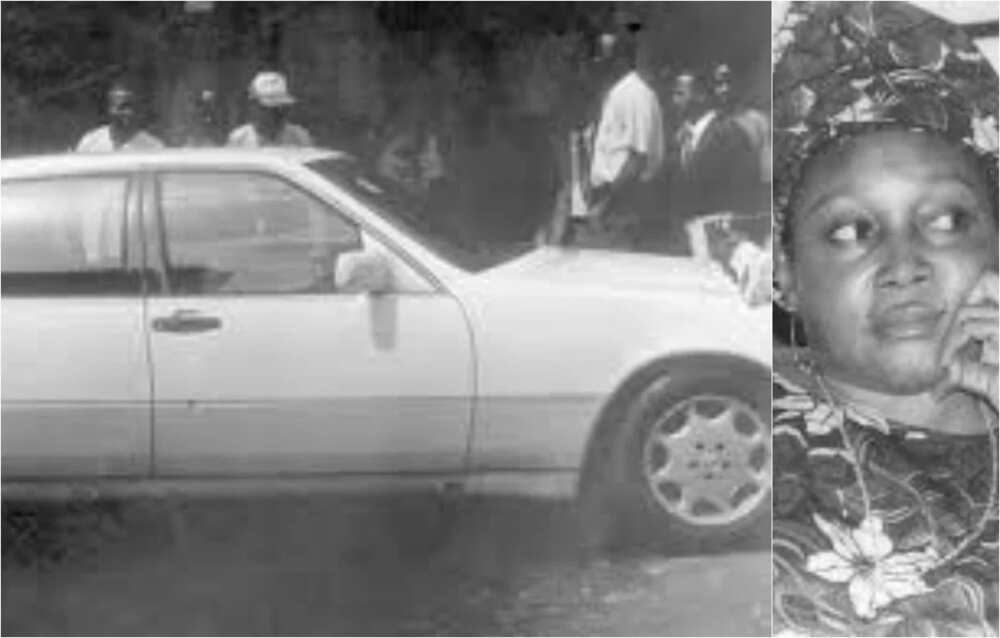 He further told the court how Mohammed Abacha gave him and another member of the Strike Force, 10,000 dollars each to flee the country when investigations commenced during Olusegun Obasanjo's administration on the various political assassinations in the country.
Bamaiyi, Danbaba, Al-Mustapha, Yakubu and Rabo Lawal were all charged to a Lagos High Court in the year 2000 for the same offence but as the case dragged on for too long, General Bamaiyi applied for a separate trial and was granted.
Mohammed Abdul's testimony ran thus: "I finished primary school. But I did not finish secondary school, I left in 1991. Then I started working with SETCO owned by late Ibrahim Abacha first son of late General Sanni Abacha. In 1994, I was attached to the body guards of the Head of state as a driver and worked till January 1996. After 1996 I then worked with Alhaji Mohammed Abacha also as a driver.
"Sometime in 1996 Alhaji Mohammed Abacha called me and directed me to go to the State house, Dodan Barracks that some people from Abuja would be coming to Lagos. I met four of them there led by CSP Rabo Lawal. Sergeant Rogers was also there.
"I was then given a car key to a 504 saloon car. Sumaila Shuaibu was driving the 505 car while I drove the 504. We went to the National theatre where we met Alhaji Lateef Shofolahan (Kudirat Abiola's PA) who took us to Festac town where he pointed at one house.
"From there, we went to Surulere and then to Mr. James Danbaba's house. Rabo Lawal asked from the security men if the CP was in, before he went inside and spent some time there. We then went back to Dodan Barracks. In the evening Alhaji Lateef came to meet us at Dodan Barracks and together we went to Victoria Island where Alhaji Lateef pointed a house to Rabo Lawal who was in the same car with him. From V.I. we went to Surulere and then to Igbosere Road. Alhaji Lateef then went inside one storey building on a street near Igbosere close to Sura market".
At the trial the self-confessed killer, Sergeant Barnabas Jabila, said he was obeying orders from his superior, al-Mustapha. Sergeant Rogers (Barnabas Jabila) confessed that the 'contract' to snuff life out of Kudirat was given by the chief security officer to General Sani Abacha, Major Hamza al-Mustapha, to Rabo Lawal, who was in charge of the mobile police force at the presidential villa.
Rogers also said the killer team was then provided with Uzi rifles complete with silencer and cash for the operation, all in the presence of Mohammed Abacha, son of the head of state. He claimed to have had direct involvement in the assassination with Lawal. Rogers said he was sent to kill three times but succeeded only with Kudirat Abiola failing with NADECO chieftain Abraham Adesanya and Alex Ibru.
After the gunmen successfully got their target killed, each member of the killer team was reportedly given the sum of N50,000 ($250) by Major Al-Mustapha for a job well done.
Meanwhile in May 2001, a Federal High Court in Abuja declared that Mohammed Abacha had no case to answer in the Kudirat Abiola charges and was roped in simply on circumstantial evidence. He was released and went to Kano where he was treated to a hero's welcome by hordes of Abacha's supporters.
READ ALSO: Defunct CPC members nominate Tony Momoh or Buba Galadima to replace Babachir Lawal
On 30 January 2012, a Lagos High Court sitting at Igbosere convicted Major Hamza Al-Mustapha and Lateef Shofolahan over the murder of Kudirat. They were also sentenced to death by hanging but were discharged and acquitted of the crime by the appeal court, Lagos division on Friday, July 12, 2013.
The appellate court said there was not enough evidence to incriminate Al-Mustapha in the murder of the late Kudirat Abiola. The verdict overturned that of the Lagos High Court which sentenced him to death by hanging. The presiding judge, Justice Rita Pemu, accused the lower court judge, Justice Mojisola Dada, of being ''stroked to secure a conviction by all means.'' Consequently setting both Al-Mustapha and Shofolahan free.
However, the death of Abiola, she remains a symbol of Nigeria's struggle for democracy. Years after her death there were demonstrations at her graveside.
Femi Ojo-Ade, in his analysis on the death of Kudirat, said: "Before her sudden and speedy elimination, Kudirat had become one more victim of harassment in the hands of those holding the poor country in bondage. Everyone with a brain knew exactly why. Unlike many others echoing their master's voice by calling for compromise, dialogue, and connivance as the best way forward, the woman kept insisting on her husband's right to justice.
"In Nigeria, if you insist on your right, you are adjudged to be confrontational. Since the military and their brothers and sisters from the North have been chosen by the Almighty to rule the country forever, it makes sense that, if you are oppressed, battered, butchered, or whatever, it is your duty to beg the oppressors who are simply acting out their God-given right.
"You must not resist, because Allah has decided the condition to which you must resign yourself. Maybe that is why Kudirat's family did not deem it necessary to cry out on her behalf while she was still alive.
"Maybe another reason would be more pertinent. They were convinced she was being confrontational or, worse still, over-ambitious, obsessed with first ladyship (as Abiola's most senior wife) and the power deriving from the position. Now, as far as the first ladyship is concerned, let us agree that, in the Nigerian context, particularly in the performance of those two namesakes who followed each other in proving their care for the Nigerian woman and family by piling up billions, there is reason to fear, or envy, Kudirat's potential which does not mean that she was into anything unheard of, or beyond her right.
"For, whether the Abiolas or all of us like it or not, she was the man's senior wife and, therefore, in charge of the household, and his affairs, while he remained in jail. Kudirat proved her mettle during the 1993 election campaign. Her husband never had any reason to doubt her competence. The very fact that, throughout his ongoing travails, she was the only member of his family with enough courage to speak out, and to refuse to veer from the path of justice and fair play, shows that Kudirat was a superior human being."
Although Kudirat was assassinated in 1996, it would not be until the presidency of Olusegun Obasanjo that investigations were properly launched into the affair. However, all the senior police and military chiefs implicated in the assassination denied having anything to do with it. Al-Mustapha said not once did he order Rogers to kill anybody and the former army chief, Lt. General Ishaya Bamaiyi washed his hands of any 'illegal operations'.
"On his own, Mohammed Abacha said he only saw Al-Mustapha giving some weapons to Sergeant Rogers for an operation but that he was not aware of the operation and did not take part in the killing of anybody. Rogers maintained that he was saying the truth and that he even got the weapons to kill Alex Ibru from General Bamaiyi, who was the Lagos garrison commander and even got cover from the Lagos state commissioner of police, who ordered the diversion of a police patrol team away from the premises of Guardian newspapers.
Watch this Legit.ng video where prices of good are surveyed after President Buhari left for London
Source: Legit.ng