Osinbajo speaks about acting president, coordinating president controversy
- Professor Yemi Osinbajo reacted to concern that President Buhari did not hand over power to him
- He said the president duly handed over power to him
Professor Yemi Osinbajo has waded into the controversy surrounding whether President Muhammadu Buhari duly handed over power to him when he left the country.
President Buhari had left the country on Sunday, May 7 for medical treatment and the vice president was duly expected to replace him in acting capacity.
READ ALSO: All former Enugu governors, deputies to receive pension for life
On Tuesday, May 9 however, there was observation from Senator Mao Ohuabunwa that the president did not properly transfer power to the vice president following a letter read by Senate president, Bukola Saraki of the president's medical trip.
The letter read: "In compliance with Section 145 (1) of the 1999 Constitution (as amended), I wish to inform the distinguished Senate that I will be away for a scheduled medical follow-up with my doctors in London. The length of my stay will be determined by the doctor's advice.
"While I am away, the Vice President will coordinate the activities of the government. Please accept, the distinguished Senate President, the assurances of my highest consideration."
Ohuabunwa criticised the letter saying there was no position of coordinating president in the constitution and that Osinbajo should have been duly addressed as acting president.
He said: "Whenever the President transmits to the President of the Senate and the Speaker of the House of Representatives a written declaration that he is proceeding on vacation or that he is unable to discharge the functions of his office, until he transmits to them the written declaration to the contrary, such function shall be discharged by the Vice-President as Acting President.
"Mr. President, I don't think in our Constitution we have anything like 'coordinating president' or 'coordinating vice president.' It is either you are vice president or you are acting president and any letter (on transfer of power) should be unambiguous and very clear. So, I am saying that this letter really does not convey anything because 'coordinating' has no space or any place in our Constitution.
READ ALSO: Nigeria should break if Osinbajo cannot be acting president - Fani-Kayode
"We have been having (receiving) letters like this in which he will tell us who is the acting president and we will know who to deal with as a Senate. This is the highest legislative body of any country and if you are sending us a letter, it should be direct, unambiguous. So, I am saying that this letter, for me, is not right and maybe it should be sent back."
Osinbajo in an answer to a question on twitter confirmed that Buhari handed over power to him as acting president as specified by the constitution.
He wrote:
In response, the vice president said President Buhari complied with the constitution in his letter to the National Assembly confirming him as acting president.
Osinbajo however deleted the tweet a few minutes later eliciting reactions from Nigerians about why he would have done so.
See some of the reactions below: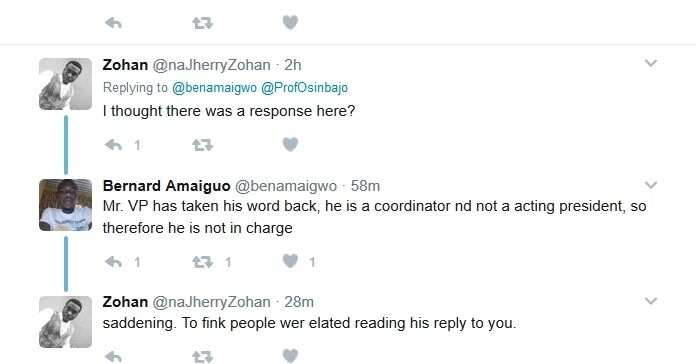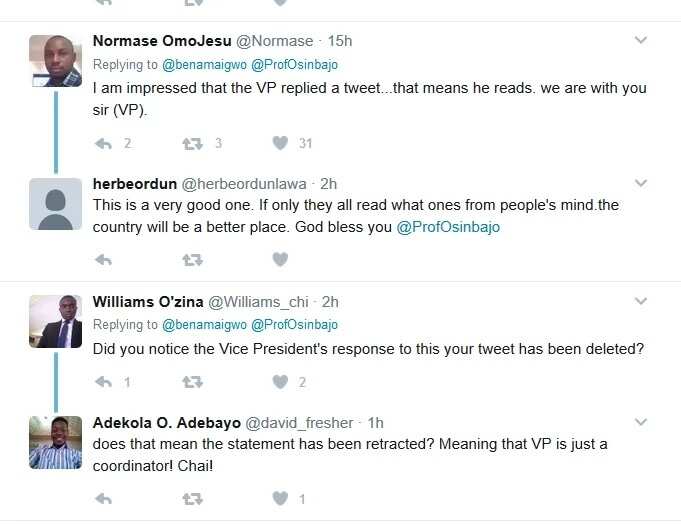 Source: Legit.ng