President Buhari returns to office for briefing by CBN boss Emefiele
- Emefiele met with President Buhari behind closed doors to discuss the issue of Nigeria's FOREX and naira rates
- The apex bank boss says the president is quite please with the new stability the institution has achieved
- President Buhari was absent at Wednesday's Federal Executive Council meeting despite returning to work on Tuesday, May 2
The Nation is reporting that President Muhammadu Buhari, on Thursday, May 4, received briefings from the Governor of the Central Bank of Nigeria (CBN) Godwin Emefiele in a closed-door meeting.
According to the report, Emefiele briefed the president on the stability in the Foreign Exchange market and additional activities of the apex bank.
READ ALSO: Edwin Clark blasts Obasanjo; defends Jonathan
He told State House correspondents that the President was delighted at how stable the FOREX market had become.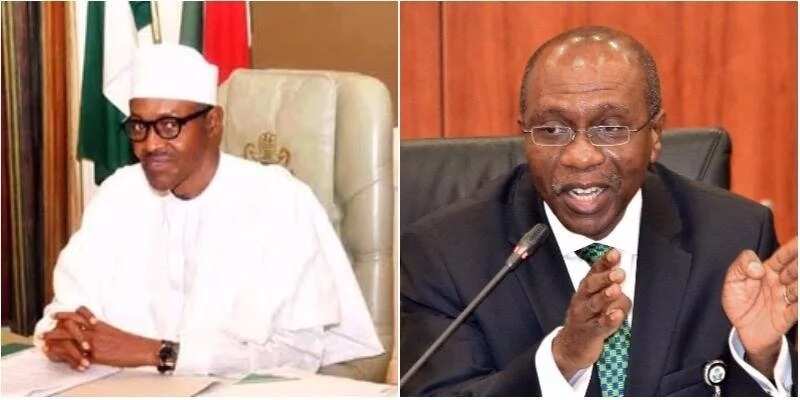 He said: "Basically as it is expected what we normally do is from time to time to brief the President about activities about the Central Bank of Nigeria particularly at this time as it relates to the efforts that the Central Bank is doing to stabilise the forex market
"We briefed him regarding the activities so far and he was very delighted to hear that the market is stabilising at the level that it is right now and I am saying the parallel market which currently stabilises at between N380 and N385."
Emefiele said the sudden rise in crude oil production and the subsequent increase in export of the commodity are the major factors that led to the stability in the FOREX market.
READ ALSO: UPDATED: Hours to expiration of 2016 budget, Senate steps down presentation of appropriations report
He added: "Given what we have right now the fact that the revenues are looking good, the state of the economy is good and I believe that we are going to pull out of the problem in due course.''
Meanwhile, Legit.ng reported earlier that after almost two years, the Central Bank of Nigeria (CBN) has lifted the restriction on 41 items listed as ineligible for foreign exchange.
The apex bank in a circular said: "Importers of items classified as not valid for forex with transactions value of $20,000 and below per quarter shall now qualify for allocation of foreign exchange."
Consequently, the restriction still exists for businesses with transaction value above $20,000 per quarter.
Source: Legit.ng