The Punch is reporting that there was tension in Ile Ife on Sunday, April 2 after a policeman reportedly shot at youths protesting the arrests of some of their colleagues and killed one.
According to the report, while there were various accounts of the incident, the victim identified as Bashiru Ayedun was said to be one of the youths that resisted what they called unlawful arrests by the police.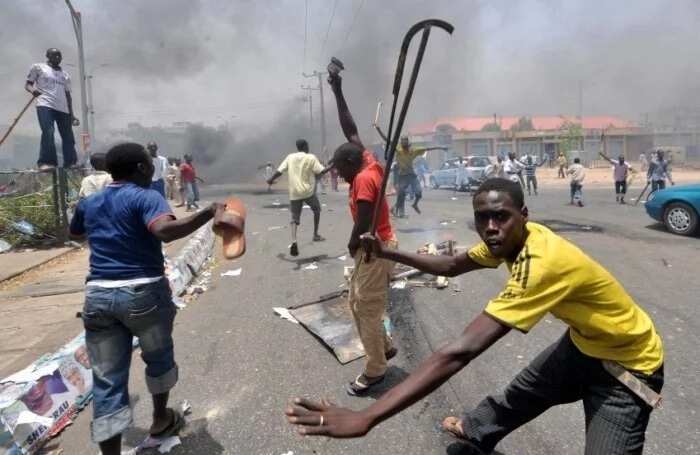 Taye, a resident of the town, said trouble began a day earlier on Saturday, April 1 when a youth, who was alleged to be involved in Internet fraud successfully duped an unsuspecting victim of N8m and decided to gather his friends to celebrate it.
READ ALSO: Dog dies fighting teenage bomber at Maiduguri wedding party
Some policemen got wind of the development and went to meet the youths to allegedly collect their share of the loot.
They however rejected N100,000 reportedly given to them as too small in the huge haul the fraudster made off 'his client'.
Taye said: "The policemen rejected the N100,000 and wanted to arrest the boys but they resisted and this led to a fight. One of the youths was shot dead by a policeman in the process and this led to a protest."
Moho, another resident, giving a different report, said that the yahoo boy was dating a girl who jilted him for a policeman.
READ ALSO: Saraki, other senators sued over Magu's March 15 screening
The policeman, with his colleagues, tried to arrest the ex-boyfriend but he resisted arrest and a clash resulted and the victim was said to have been shot dead during the fracas.
The Public Relations Officer of the Nigeria Security and Civil Defence Corps in Osun state Afolabi Babawale confirmed that one Basiru was shot dead and this resulted into a protest.
Meanwhile, Legit.ng recalls that just few days after the violent clashes broke out between Hausa and Yoruba communities in Ile-Ife, fresh communal clash broke out in Ile Ife on Friday, March 31.
According to reports, the clash broke out on Friday, March 31 in Ife North Local Government Area of Osun.
No fewer than ten people were injured in the fresh violence.
If you are in the area and have more information on what's happening - get in touch in the comments or DM us on Facebook and Twitter.