I Couldn't Gain Admission Despite Writing JAMB 5 Times: Nigerian Behind Viral Black Medical Illustrations
Chidiebere Ibe is the Nigerian behind the now-viral black medical illustrations which have prompted important discussions around colours used to illustrate learning materials
On sighing his illustrations, many people quickly remembered that they have never seen a medical book illustrated in black
Chidiebere has revealed that he struggled to get into a medical school without success, including writing JAMB five times
Chidiebere Ibe, the Nigerian illustrator behind the viral black medical illustrations has revealed that he wrote JAMB 5 times and was still not granted admission into any Nigerian medical school. He said he could not explain why.
He has since gained admission to study Medicine at Kyiv Medical University, Ukraine.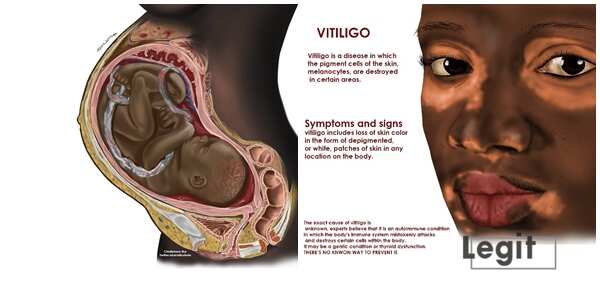 Do you have a groundbreaking story you would like us to publish? Please reach us through info@corp.legit.ng!
Chidiebere's works represent medical conditions in black skin. This sharply contrasts with the vast majority of medical literature which is illustrated using humans in white skin. He says this has had some sort of racial discriminatory effects on black learners who cannot see themselves in the images they seek to understand.
In an interview with Legit.ng, Chidiebere said:
"Blacks are not heard, seen or valued. We don't receive equal healthcare as the white do. Because we apparently do not matter to the opposite, we can't be represented. There's been so much racial bias in healthcare."
Seeing yourself in the illustration spurs interest
Chidiebere told Legit.ng that black medical students or anyone else could become better learners if they can readily relate with the colour used to illustrate their textbooks. He said:
"Seeing your self spurs interest for studies and the medical students in training would be trained diverse to handle lots of diseases that cut across all races and thereby producing a better outcome. A mother in the US reached out to me today and said "I showed my children this illustrations, and they were amazed, and they said they could read now, because they could see themselves."
Changing the narrative with black skin illustrations
Chidiebere is hoping that medical books and journals will soon start incorporating medical illustrations in black skin. He hopes his work is already changing the narrative, trying to break the centuries-long tradition of exclusion of Blacks in medical drawings. According to him:
"After this illustration went viral, I'm certain that the change would occur. Some publishers, authors have already started incorporating black skin illustrations as it went viral. We just have to work to make our medical curricula adopt it"
Nigerians have always been good in the medical field. This publication has previously reported how another Nigeria, Dr Uchechi Iweala, was among those who blazed the trail in navigated lumbar spinal fusion using a robot.
Dr Uchechi Iweala is the son of the Director-General of the World Trade Organisations, (WTO), Dr Ngozi Okonjo Iweala. The WTO chief took to Twitter to celebrate her son on his medical feat.
She wrote of how proud she was to be Uchechis's mother. Dr Uchechi practices his craft in Mayland, USA.
Source: Legit.ng