BREAKING: Niger Delta group strikes again, threatens Okorocha
- The Niger Delta militant group strikes pipeline belonging to Agip company in Imo state
- The group threatened to launch more attacks if the operatives of the oil companies won't vacate the region
- The militants claimed that if they see any soldiers near there are they would attack the house of the Imo state governor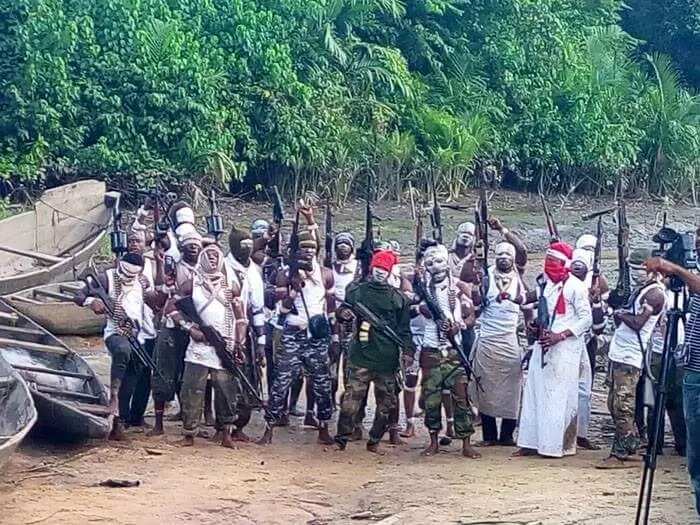 The Niger Delta Red Squad (RDRS), one of the militant groups operating in the oil-rich region, has attacked another pipeline belonging to Agip Oil Company at Umuonei in Awara community in Imo state.
The attack came three months after the group blew up its first target.
READ ALSO: Elders name people frustrating dialogue with Niger Delta militants
The militants, who informed about the attack through Facebook, cautioned Agip operatives to keep away from the facility, as anybody found within the vicinity would be beheaded.
The group in the post signed by its spokesman General Don Wannie, said it hit because it has nothing to show for the operations of Agip and other oil companies in their area since the creation of Imo state.
"We have seen enough marginalisation and it has to be stopped," General Wannie said.
Red Squad added that it was made to renew attacks as a result of the continued criminal ignorance of the oil-bearing communities by oil companies.
"We are not happy with Agip because they have continued to neglect our communities. Since they have refused to change, we have equally resumed the attack on their pipelines and we are going to blow until they do the right thing," the group stated.
It further threatened to attack the offices of the Imo State Oil Producing Area Development Commission, the Niger Delta Development Community among others in the state.
The militants also promised to attack Governor Rochas Okorocha's Ogboko village if government deployed any army to their community.
"To Imo state government and their security agencies, we ask you to give our people what rightfully belong to them. You think the best thing you can do is to plan how to deploy security men to our area.
READ ALSO: Niger Delta militants threaten to shock Nigeria
"No problem… we are assuring you that no security agent will come to any part of Awarra and go without being beheaded," the statement added.
Niger Delta militant groups have increased the attacks on oil and gas facilities since February 2016.
The militants demand a greater share of Nigeria's oil wealth for the impoverished but oil-rich region.
One of the groups, Nigeria Delta Avengers, on August 29, announced that it halted hostilities in the region and is ready to talk with the government.
However, the production losses have left Nigeria facing questions about how it will fund its record budget.
Source: Legit.ng