Editor's note: Writer and political analyst Chido Onumah will soon present a book "We Are All Biafrans" that focuses on the crisis of nationhood in Nigeria. Abdul Mahmud, lawyer and poet, in this piece for Legit.ng gives the insight to the book and shares his views on Biafra issues in Nigeria.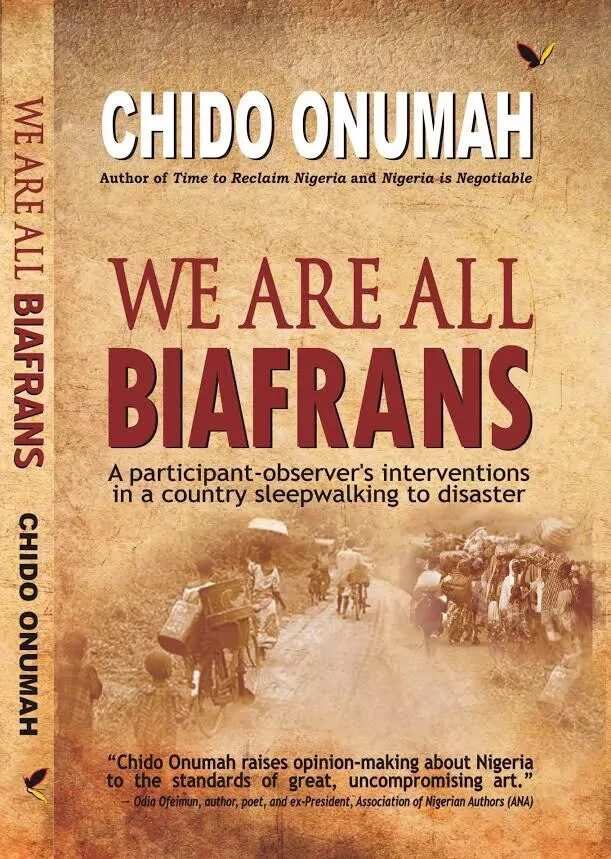 'We are all Biafrans - A Participant-Observer's Intervention in a Country Sleepwalking to Disaster'
In a few weeks, precisely on May, 21, the writer and political activist, Chido Onumah, will present his latest book, 'We are all Biafrans - A Participant-Observer's Intervention in a Country Sleepwalking to Disaster', to the public.
The book is a deserved addition to his two previous books, 'Time to Reclaim Nigeria' and 'Nigeria is negotiable'.
A word or two on Chido Onumah, here. There is something original and courageous about Onumah who, in so many ways, engages our humanity with courage, exposes some of its triumphs and defeats, writs his finer thoughts that are consistent with the ideals of freedom and justice he cherishes dearly on the slate of our public conversation, advances and trades honest ideas in our marketplace.
In his engagement with the Nigerian public, he consistently calls attention to our flawed federation, posing the argument that our country needs to be reinvented. Engaging episodic upheavals that threaten the Nigerian state is the recurring theme of his public engagement.
READ ALSO: My dear President Buhari, shame on you
Onumah understands the dangers of posing issues our governing class considers as settled or closed. He is familiar with those lonely places public intellectuals who are "unwilling to accept easy formulas, or ready-made clichés, or smooth, ever-so-accommodating confirmations of what the powerful or conventional have to say" find themselves in a country that despises truth, disdains public intellectuals of courage.
The public intellectual, the type Edward Said wrote about in his acclaimed seminal work, Representations of the Intellectual, as original, embarrassing, contrarian, questioning, courageous and unpleasant, even to the point of unsettling his audience, is hard to find in a country like ours that devalues intellect and promotes mediocrity.
The role of a true public intellectual is to read and interpret the word, and to change the world. Only those who display original thoughts, who possess the courage of their convictions can truly read and interpret the word and change the world!
He is his own man, Onumah. A true public intellectual with razor-sharp wit, brilliant intellect, who has no Moloch to look up to for unwavering guidance, or be worshipped, "who has neither offices to protect nor territory to consolidate and guard". For him, there are no limits, there are no boundaries for inquiring into the shenanigans of our governing elite.
The greatest challenge confronting Nigeria
Back to the book: this is what the media statement announcing its public presentation says: "In his book, Chido Onumah argues that many, if not all, of the problems of Nigeria are rooted in the structure of the country. He makes a case, as he did in his two previous books, for the socio-political restructuring of Nigeria. He argues that the country needs to engage the episodic political convulsions that threaten its very foundation, including Biafra, June 12, Boko Haram, the "National Question", citizens' rights and 'militocracy'.
"In We are all Biafrans, Onumah takes on Nigeria's indolent and reactionary ruling elite – civilian and military – and their allies, as well as bandits in uniform, scoundrels posing as statesmen, and conservative ideologues, religious bigots and ethnic chauvinists posing as patriots. "He raises fundamental questions: what is Nigeria and who is a Nigerian? If Nigeria is a federal republic, what constitutes or should constitute the federating units? He posits that the different manifestation of Biafra may as well be a metaphor, to that extent, we are all Biafrans as long as we seek to confront the clear and present danger.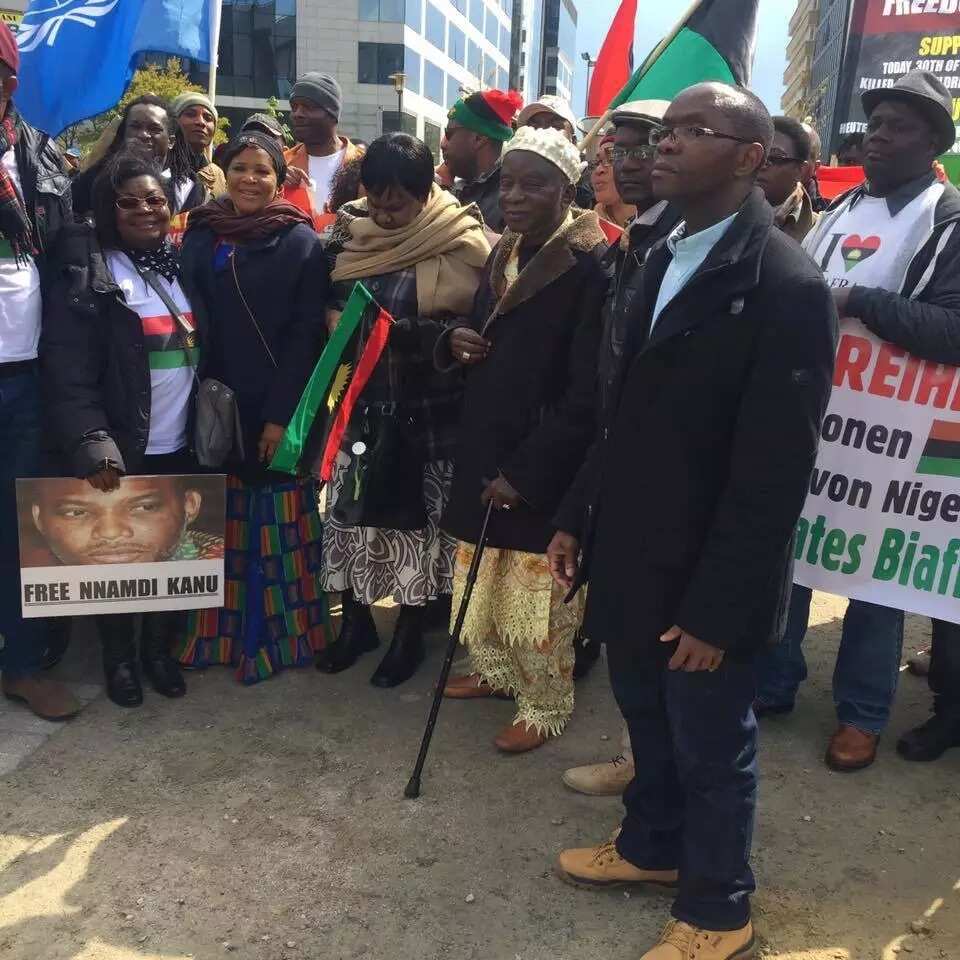 "The author notes that we can't achieve any meaningful progress as a people until we come to terms with the reality of our existence- that Nigeria is a deeply flawed nation- and sincerely and selflessly confront it. Forging a nation out of the disparate and often antagonistic entities, in the author's view, is perhaps the greatest challenge confronting Nigeria."
"This book, a compilation of articles published in traditional and online newspapers in the last three years (2013-2016) is divided into five chapters. The first chapter, "The Politics of 2015", deals with the high-wire politics of the 2015 election which, given its zero-sum character, was rightly regarded as a crucial factor in the survival of Nigeria as a country. The second chapter, "Dancing on the Brink" focuses on the issue of the Sovereign National Conference, a controversial subject that splits Nigerians right down the middle, but which rulers of Nigeria have not been bold enough to confront in a fruitful way.
READ ALSO: Just In: Pro-Biafrans arrested in London as they protest against Buhari (Pics)
The third chapter, "Unmaking Nigeria", highlights those phenomena that not only constitute an ugly phase of our history, but also expose our pretense to being a nation. The fourth chapter, "Of Scoundrels and Statesmen", is a narrative of some individuals and groups in and out of government whose actions have either enriched our polity or reinforced it as the "giant of Africa" only in name. The fifth chapter, "Last 'Missionary' Journey", is again a reminder that unless we sit at the table to negotiate the terms of our co-existence as a people, our country, to quote the late human rights activist, Dr. Beko Ransone-Kuti, 'would continue to go round and round."
What is Nigeria and who is a Nigerian?
Here, Onumah poses two fundamental questions – what is Nigeria and who is a Nigerian? – That beg for answers, true and real answers.
There is a growing number of those who close off the prospect of engaging around the question of what is Nigeria and what constitutes Nigeria; and it is this closing-off, or attempt at closing-off engagements, that invariably spawns resistance, rejection, denunciation and renunciation of Nigeria.  Those who seek a different perspective understanding of Nigeria, who pose a different narrative of state formation, reject the notion of being dragged along by the chariot-wheels of those who cry, "Nigeria is non-negotiable".
Nothing in the cry suggests that there are attempts at addressing the question beyond seeking to supplant the aspirations of diverse ethnic nations with the single unity of the fictional ideal and with the aspirations of the fictional nation-state.
The problem here is that the criers assume that Nigeria is a settled question. How can it possibly be? Modern nation-states are not natural creations, and Nigeria is not different.
As a colonial entity, forged out of the Colony and Protectorate of Southern Nigeria and the Northern Nigeria Protectorate, Nigeria still presents the historical problems of discord, disharmony, antagonism, chaos, differences and division sowed at the moment of amalgamation. Let truth be told, amalgamation did not dissolve ethnic nationalities identities, nor did it extinguish those ethnic nations that existed before the Lugardian economic experiment of amalgamation emerged.
Amalgamation enthroned its tension – the tension of constantly differentiating and reconciling differences, of constantly seeking to resolve the ambiguities of identity, and differences.
READ ALSO: Shocking: Nnamdi Kanu speaks from jail, drops fresh accusation against Buhari
Nigeria is not an empty spatial entity. What constitutes it are the many ethnic nations that emerged from the pre-colonial empires and kingdoms of the past. The non-recognition of this logic, this fact of history, and the refusal to articulate and mediate the tension and differences, makes the search for answers problematic. The closure of debate and the imposition of a single narrative of unity make the question of identity more problematic.
The closure of debate, the refusal to articulate and mediate tension, and the non-recognition of differences beyond the platitude of the national anthem, implicates the way the nation-state is often viewed and encountered. A young Bini who glimpses into the narrative body of his Bini ethnic nation, for instance, to find an intelligible narrative that gives meaning to his identity and existence would accept the narrative as true to his story. Here, what is good for the young Bini is determined by the goodness he finds in the narrative, or in the story that gives true meaning to his life and his identity.
For him, assuming a national identity that is hollow and vacuous becomes a taboo. Here, too, the idea of Biafra flourishes in him and he becomes a Biafran as well.
The return to Biafra, in my opinion, is driven by three impulses
First, by the desire to realize one's first nature, identify with it, and rekindle affinity with a place that makes better meaning, provides greater clarity to life and its many stories.
Second, and more importantly, to express the right to self-determination or the right to be treated as equals as a natural right. Agitation for this right often takes the form of self-assertion, or in extreme cases as non-constitutional action.
Truth is: self-assertion and non-constitutional action are escapes from "huge impersonal authority that ignores ethnic, regional and religious differences, cravings for 'natural' units of 'human' size".
Third, to challenge the authority of members of the ruling class who impose their values on the nation-state and to resist the corrosion of their values.
The return to the metaphorical Biafra could mean anything from the preservation of cultural legacies and dreams to the defence of identities.
Social formation like the nation-state is ever threatened by its constitutive outside.
The antagonistic otherness that Onumah invites us to confront always operates as an enemy of the nation-state.
How can the "other" be integrated? How can difference be used as a tool for modern nation-state building? Onumah addresses the questions in his book.
Are we all Biafrans? I shall provide a brief answer here.
Insofar the Nigerian state continues to trample on the rights of citizens, abandons its constitutional responsibility of securing lives and property, ensures unequal distribution of social and economic wealth and guarantees the greatest happiness for the smallest number, we are all Biafrans.
The constitutive outside is real. Nothing exemplifies the un-seriousness of rulers of the nation-state in addressing the problem of antagonism, division and differences than the brazen use of divisive political language.  Here is one example of a divisive remark credited to Mr. President: "With the way Sahara is advancing, with Boko Haram, growing number of people and uncertainty over rainfall, in a land where we fought civil war leading to the death of about two million, it would be foolhardy for someone to just say he would chase us away".
The reader may want to ask who that someone is, and who are us? To this question I volunteer no answer.
Let it be known that divisive language drains support for the fictional nation-state, that the binary of WE and THEM is unhelpful.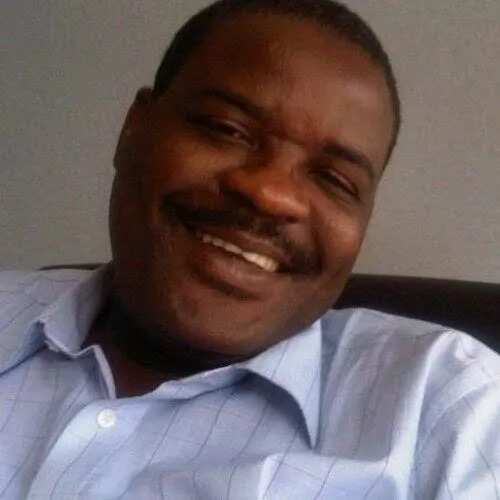 Abdul Mahmud is a lawyer and poet and president of the Public Interest Lawyers League (PILL), Nigeria.
This article expresses the authors' opinion only. The views and opinions expressed here do not necessarily represent those of Legit.ng or its editors.