The plague of skin bleaching in Africa
- Men and women bleach their skin to look white
- A lot of it is down to low self esteem
- Cosmetologists make a lot of money off the bleachers
- The risks of contracting skin cancer on the long run are higher
When Sharon (not real name) took to bleaching her ebony skin, she never expected a burnt face, shrunk skin, and green veins all over her body at a young age of 27.
All she wanted as a result is to look prettier and more attractive to enable the men folks to find her more delectable and acceptable than her peers as well as oppress them with her new found radiance.
Little did she know that the components of the cream she bought to give her a 'foreign beauty' were not only fake but also harmful to the skin. She had been using it for about four years before she started getting the wrong results.
This however became the cause of her sleepless nights. She no longer feel the height of attracting, but depressed and sad.
READ ALSO: 14 pics showing the subtle difference between men and women
"I am not happy, I don't know what to do sometime it feels as if anywhere I go, I am the one people are looking at even when they stare or laugh it feels like its me, I tried to wear socks everyday and as it is now, I wear heavy powder all the time to cover up, I now wear apparels with long sleeves," she told Legit.ng.
Rania, a Moroccan, on her own part is bleaching and there is nothing wrong with it. She said bleaching is more of a toning to her to make her skin brighter and more acceptable and she will not stop, although it has given her loads of stretch marks.
"I am not a dark woman, naturally, I am light skinned I am only rubbing the cream that will make me brighter and enhance my skin," the lady told Legit.ng.
READ ALSO: 15 epic architecture fails that will make you laugh
Bleaching statistics
According to research by the World Health Organisation (WHO), Nigerians have been graded as the nation with the highest consumption of bleaching products: 77% of Nigerian women bleach, followed by Togo with 59% while South Africa with 35%; and Mali at 25%, making it the top four nations that bleach their skin.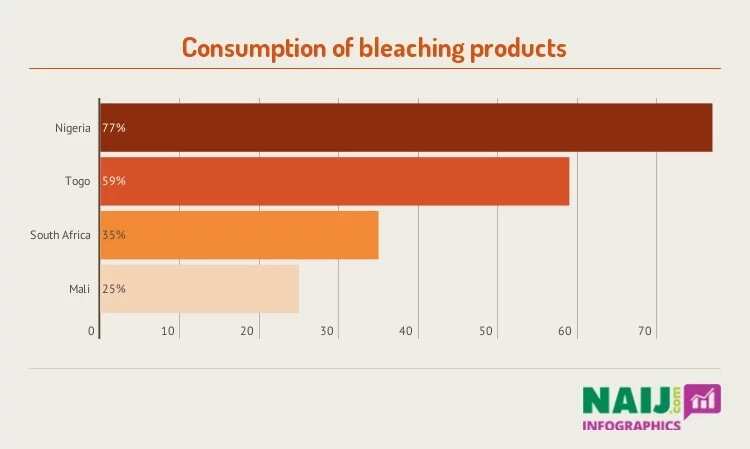 Some years ago, products that contains hydroquinone and mercury were banned in Nigeria but somehow they found their ways back to the shelves with women using it with impunity and without border.
"I hate to be black, I am better like this, the only solution I seek is how to brighten my dark knuckles, knees, hand and the pimples gathering on my chest," Seyi explained to Legit.ng.
"I am bleaching my skin because men prefer light-skinned ladies and they spend so much money on them, I need money. And again light skins are so attractive and very fine. Am I not looking beautiful?" she wondered.
Some men have contrary opinions. Mr. Kiyonga, Ugandan university lecturer, told Legit.ng via a mail that he is totally against bleaching: "Come to Uganda, every girl wants to look beautiful with their light faces and black skin, the truth is why not leave yourself as God created you, these women smell a lot and I don't find it attractive, I prefer natural fair or black skin not bleached, thank you," the mail reads.
It is a big issue in some East African countries. According to reports, many women are suffering from skin problems due to too much exposure to mercury and components that are not skin friendly.
Some South African news site reported that about 35% of the women in that country bleach their skin to look good while some of them are suffering from skin infections, dying silently.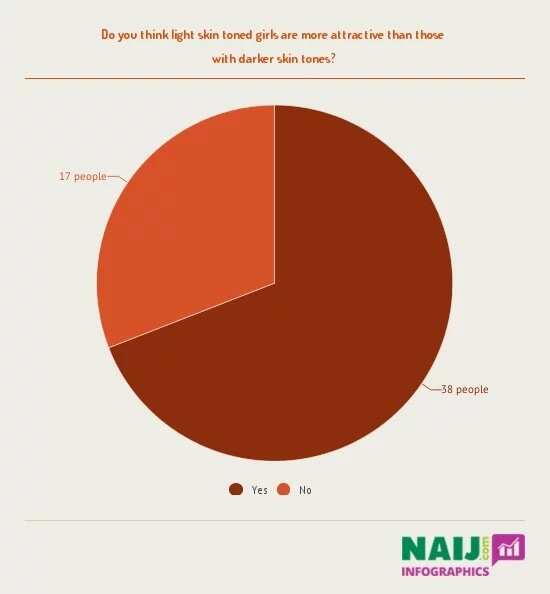 Why Bleach
These research shows that people bleach to be accepted and loved. Women on the other hand bleach their skin to attract the opposite sex and probably intimidate other girls.
Another reason is low self-esteem, some people see themselves as black and ugly and feels the only way out of their 'ugliness' is bleaching.
"I use to see myself as an ugly girl, people call me ugly because of my rosy cheeks and they say fat, black and ugly at the college, so this depressed me and since I started bleaching men smile back at me, even many people want to be seen with me on campus," Kilia, a Malian student, told Legit.ng.
Some of them bleach to be accepted by people as it is believed that light skinned people are the only acceptable folks in Africa as they have all adopted the foreign beauty of light skin.
"Well, I bleached my skin off because I want men to see me as a fine and beautiful girl, men prefer light skinned girls and tag dark skin not okay, I am cool with the way I look, no stress," Thandie, a South African, said.
Some want to look western by bleaching their skin, they are hoping to look like the Europeans as they are distortedly perceived by some as the most beautiful race.
READ ALSO: Huge ​beauty disaster left this young woman with four eyebrows. You must see THIS
Environment and peer pressure are also influential for some who are probably surrounded by light skinned people and this sometimes can lead to inferiority complex and of course influenced to join the band wagon and spend some cash on whitening products.
If you are light skinned in Africa, you will go far in the society, it is sad but true. If dark and light skinned girls are seeking a job or post and of course a man is in charge, there is ninety percent possibility that the light skin girl will get it.
It is no longer news that men have also caught the bleaching bug, although the percentage is not as much as the women.
Cosmetologists
Cosmetologists reek in more money from bleaching cream than the cocoa butter which had been recommended earlier for dark skins. Some of them believe that the overall profits for their business are generated from the sale of these products.
A trader based in Abuja who identified himself as Chukwuemeka Ngbo told Legit.ng that his stocks are 80% whitening products and 20% for others.
"My sister, bleaching na him dey reign now, the thing dey in vogue" he said. "So far most of the customers that enters my shop ask for bleaching products, my duty is to serve them and I have to provide them with what they requested for."
READ ALSO: 4 ways to be mentally and emotionally strong
The business of whitening lotion is a multi-million dollar business which some businessmen have already built an empire around. In estimate, it makes a lot of cash flow and turnaround for them.
Some specialize in mixing different kinds of cream and chemicals to be light-skinned while some others have gone as far as using injections and pills to hasten the process.
It was once rumoured that there is an engine that bleach the skin instantly without the stress of rubbing cream on the skin.
Dangers of bleaching
According to Paul Orhii, the director general of the National Agency for Food and Drug Administration and Control, Nigeria, bleaching creams are not approved but one way or the other, they are smuggled illegally into the country:
"The use of Glutathione as a skin whitener is not approved. The alarming increase in the unapproved use of Glutathione administered intravenously as a skin-whitening agent at very high doses is unsafe and may result in serious consequences.
"Furthermore, other chemicals that have been medically proven to be injurious to health such as Hydroquinone above 2%, and topical Corticosteroids have also been incorporated into cosmetic products for skin lightening or skin toning.
"Banned chemicals also include Boric acid and Lanolin in baby products. The use of these chemicals in cosmetic products can cause various ranges of skin deformation, injury to skin and cancers.
"This unethical practice by manufacturers, coupled with ignorance on the part of consumers, has left many skins permanently damaged," he has told journalists recently at a press briefing.
Recently, West African country, Ivory Coast, banned bleaching creams in the country. Despite this directive, the business thrives illegally in the country.
"The number of people with side effects caused by these medicines is really high," said Christian Doudouko, who is a current member of Ivory Coast's pharmaceutical authority. He also added that such products causes skin cancer.
"Mercury is the very dangerous chemical that medical officials found in the skin lightening creams that sickened the women. It can damage the kidneys and wreak havoc on the nervous system," Dr. Susan Taylor, dermatologist said.
"Skin cancer and hyperpigmetation will catch up with them sooner than later, they cannot escape it, what do you expect when you have removed the different layers of the skin over the years, the epidermis - which is the protective wrap that serves as a barrier to infections. Bleaching is harmful to the skin and also the organs," Dr. Eunice Chukwu, an Abuja-based dermatologist told Legit.ng.
In contrast, Pela Okiemute, a professional skincare agent, said in an interview with Encomium that some other whitening agents, apart from the aforementioned, do not kill: "Gluthatione kills and reduces cancer. It kills kidney problem, lungs problem.
"It reduces high blood pressure. It's anti-aging, clears spots and pimples from your face and body. It is more of a healthy medication with its side effect as whitening.
"The negative impact of bleaching is when you use bad products," he concluded.
This report was put together by Aderonke Bello, an award-winning journalist, an associate editor and the head of sports desk at Legit.ng.
Her Twitter handle is @Aderonkew
Source: Legit.ng