President Buhari will never allow Fani-Kayode to join APC, Party chieftain says
- The DG of PGF, Salihu Lukman, has reacted to Fani-Kayode's recent visit to some APC leaders
- Lukman disclosed why any attempt to invite the former minister to join the party might backfire
- The official said Fani-Kayode's reputation does not fit the APC
PAY ATTENTION: Join Legit.ng Telegram channel! Never miss important updates!
The director-general (DG) of the Progressives Governors Forum (PGF), Salihu Lukman, has said President Muhammadu Buhari will not accept Femi Fani-Kayode into the All Progressives Congress (APC) if the politician decides to join the party.
The PGF is the umbrella body of all governors elected on the platform of the APC.
According to The Punch, the director-general of the organisation in a statement said reports suggesting that Fani-Kayode, a former minister, could join the APC are disturbing.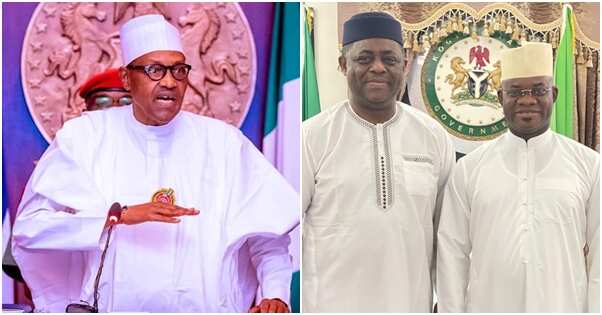 Lukman stated that the former minister has a reputation for making derogatory statements about APC leaders and the president.
The DG faulted some leaders of the party for holding a meeting with Fani-Kayode.
He said:
"How can a person who just few days, if not few hours, ago wrote to one of our leaders and derogatorily and condescendingly condemned his political prospects of emerging as the Presidential candidate of our party, be given such a high-level reception?
"Assuming the open letter to our National Leader, which is all over our media at the time of such reception, wasn't offensive, what of the open letter he wrote to President Muhammadu Buhari last year?
According to The Nation, the PGF boss noted that fraternising with the likes of the former minister by the party leaders is simply rewarding scandalous behaviour.
He warned that any attempt to accept the politician in the APC will be stretching the trust of party members beyond acceptable limits.
Meanwhile, Femi Fani-Kayode has finally revealed the reason why he met some leaders of APC.
According to him, he met them to discuss the state of the nation, national issues, party politics, and the way forward.
Fani-Kayode disclosed this in a statement issued on his official Twitter handle on Tuesday, February 9.
According to him, his meeting with the APC leaders involved building bridges, joining hands across political divides and regional lines to save Nigeria from drifting into civil war.
Source: Legit.ng