Revealed! These 10 billionaires made enough money during the pandemic capable of vaccinating the entire planet
- While economies of the world battled with the economic effects of the pandemic some handful of persons profitted largely
- Recent research has shown that the top 10 billionaires in the world made excess money like there wasn't any pandemic
- Economic experts chide billionaires saying they are a sign of a sick economy
PAY ATTENTION: Join Legit.ng Telegram channel! Never miss important updates!
Recent studies have shown that while the rest of the world seems to be grappling with effects of the Coronavirus pandemic that crippled economic activities and shook economies billionaires as Jeff Bezos, Elon Musk and others are in an economy of their own.
This is because they have massively recovered what they lost when COVID-19 restrictions kicked off in March.
Studies and research made by Oxfam America, made public on Monday, January 18 the top 1000 billionaires of the world had already recovered in November what the economic challenges of early March pandemic restrictions made them lose.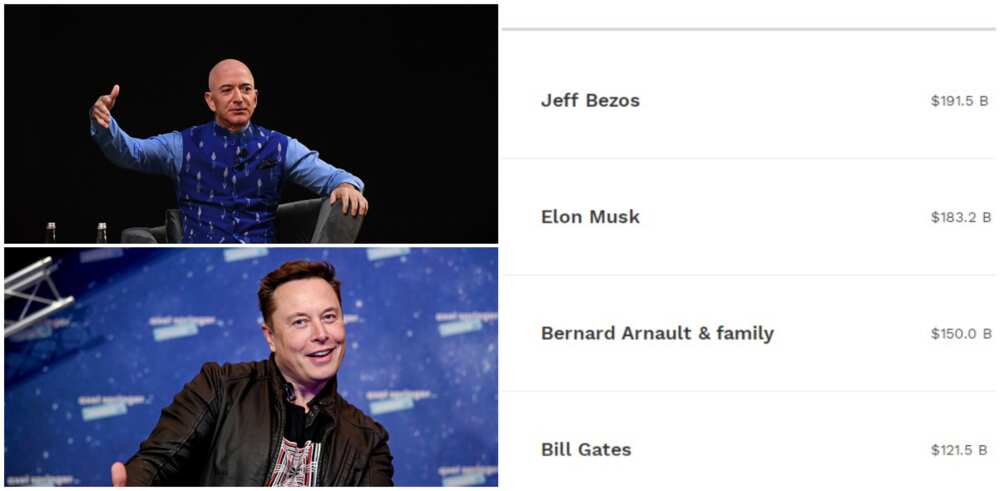 Infact, they had got back more than the 30% of their wealth they lost, but the same cannot be said of other economies of the world. It is even worse for those below poverty lines as it will take approximately ten years of their lives to get back on their feet.
The Oxfam America report put their collective profit - of the top 10 billionaires - at N183 trillion. What is even mindblogging is that with just N25 trillion from their massive wealth they can keep millions of people afloat for a whole year.
What is more is that their profit of October to December of 2020 can cover for everyone in the world to receive the COVID-19 vaccine twice without a resulting drop in their wealth.
Reacting to the now wider-than-ever gap between the richest and those below poverty line Paul O'Brien, Vice President of Oxfam America told Huffpost that:
"While a wealthy minority have amassed vast fortunes before and during the pandemic, the majority of the world's population have been struggling to survive on poverty wages and without access to decent health care or education."
"Today's levels of extreme wealth concentration are not sustainable. Billionaires are a sign of economic sickness, not health. They are the symptom of a broken economy."
Co-founder of Conscious Capitalism Movement, who also doubles as professor at Babson College, Raj Sisodia said that there needs be a change.
"There has to be a modest ratio between pay at the top and pay the bottom."
PAY ATTENTION: Click "See First" under the "Following" tab to see Legit.ng News on your Facebook News Feed!
Meanwhile, Legit.ng had earlier reported that Aliko Dangote emerged the richest man in Africa for the 10th straight time.
Despite the economic downturn and drag as a result of the Coronavirus pandemic, a 30% increase in the share price of his Dangote Cement meant his wealth climbed by $2 billion and bettered that of last year.
Source: Legit