Live Update: Trump, Biden know fate in US election as results counting begins
America is on the verge of history again as the country will elect a new president between the incumbent Donald Trump of the Republican Party and 77-year-old former vice president Joe Biden of the Democratic Party.
PAY ATTENTION: Win a prize of N115,000, N75,000 or N38,000: participate in Big Naija Independence contest by Legit.ng
The presidential election in the US concluded yesterday, Tuesday, November 3, as the citizens trooped out to exercise their democratic right in electing a new president or peradventure returning the incumbent one.
Results gathered so far, however, showed Biden leading the keen contest but there is much to the end line.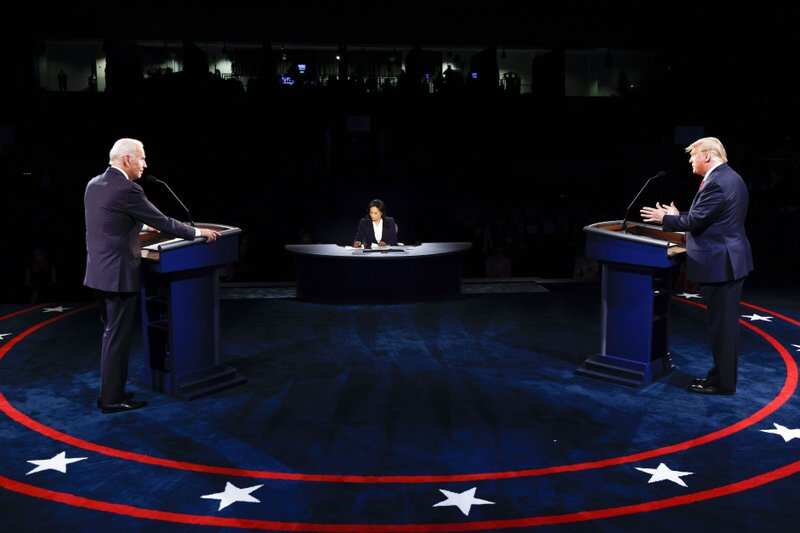 Will Biden make history by winning or Trump pulling the magic as he did in 2016? Legit.ng will provide you with insightful and credible live updates of the election as vote counting begins.
Stay tuned!
Joe Biden receives extra security as his election victory looms
The United States (US) Secret Service has beefed up security around former vice president Joe Biden as he inches closer to becoming president, according to The Washington Post.
President Donald Trump claims massive voter fraud occurred in the US presidential election
President Donald Trump has doubled down on his claims that massive voter fraud occurred in the US presidential election
Trump has sent out a barrage of tweets in which he alleges that thousands of illegal votes were submitted after the deadline on the day of the election in Pennsylvania resulting in the majority shifting to the democrats.
Twitter has flagged Trump's tweets, warning that the contents of his tweets are possibly disputed or misleading.
Joe Biden should not wrongfully claim Presidency, Trump warns
The Republican candidate and president of the United States of America, Donald Trump, has warned his main challenger and candidate of Democratic, Joe Biden, not to wrongfully claim the office of the president.
He said he also has the right to make the claim, adding that he would explore all legal means to ensure he is not cheated.
Joe Biden says he will become first Democrats to win Arizona in 24 years
The Democrat presidential candidate in the on-going American election has said that nothing will stop him from winning the election.
He made this known on Saturday, November 7, in a tweet on his Twitter page @joeBiden, adding that he would be the first Democrats to win Georgia in 28 years.
Biden projected to win Georgia, Pennsylvania
Biden is just a step close to the victory as the former vice president is leading his opponent Trump in both Georgia and Pennsylvania election.
However, the gap is still close as Biden is only leading with less than 5,000 votes in both states.
Donald Trump continues Twitter rants as Biden moves closer to victory
Trump seems to be giving everything to rubbish the vote-counting exercise ongoing in the US, with his latest Twitter rants accusing "the governor, wolf, and the state Supreme Court" of "flagrantly violated the Constitution of the U.S."
The president, 74, is trailing Joe Biden in the electoral votes.
President Trump unwilling to concede to Joe Biden
Sources in the White House said President Trump is unwilling to concede even if Joe Biden is declared the winner of the US presidential election, CBS reported.
Joe Biden takes the lead in Pennsylvania
The Democratic presidential candidate, Joe Biden has taken the lead in Pennsylvania and is now poised for the White House victory.
According to the Washington Post, if Biden maintains his lead in Pennsylvania, he would secure the 20 electoral votes in the state which would be enough to make the Democratic candidate the next US president.
Biden continues to lead in polls
According to CNN, election results show that Joe Biden is leading in Georgia, leading in Nevada, and is projected to lead in Pennsylvania.
Election results expected in Pennsylvania
Reports have emerged that electoral officials in Pennsylvania may soon release results of mail-in ballots that have been counted so far.
CNN stated that the Pennsylvania result could bring a big change in the presidential election.
There are 20 electoral votes up for grab in Pennsylvania. If Joe Biden wins the electoral votes in the state, he would be declared the winner of the US presidential election.
Biden overtakes Trump in Georgia vote counts
The current ballot counts from Georgia show that Joe Biden is now leading Donald Trump in the state, according to the UK Guardian.
CNN which also carried the report stated that the chances of Trump winning the US presidential election could be over if he loses Georgia.
Donald Trump breaks Obama's record of 69.4m votes
Records continue to be shattered in the US 2020 presidential election as President Trump broke Obama's record of 69.4m votes by US presidential candidate.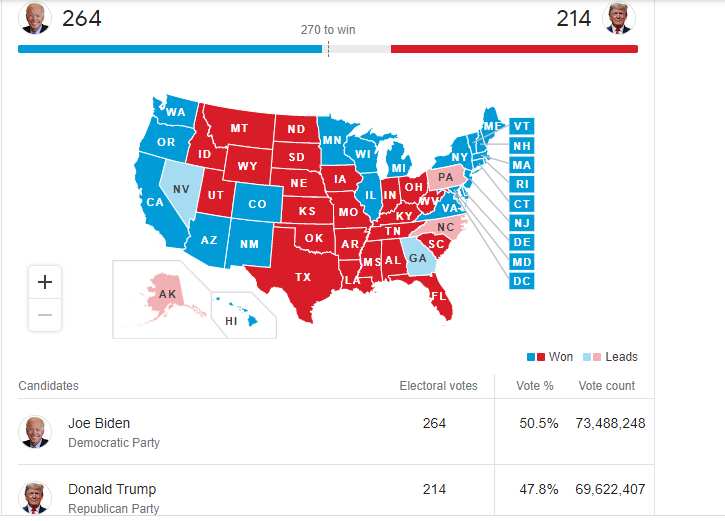 Secret service increases security around Joe Biden
Reports have emerged that the American secret service has increased Joe Biden's security detail as the Democratic candidate reportedly prepares for a possible 2020 election win and acceptance speech in Delaware.
According to The Washington Post, the secret service on Friday, November 6, started sending reinforcements as the Biden campaign prepares to claim victory.
Trump again claims US election 2020 is fraudulent
Republican candidate, Donald Trump has alleged that the US presidential election was marred by tremendous corruption and fraud.
Trump made the allegation in a press briefing at the White House on Friday, November 6.
The US president accused the Democratic party of engaging in massive voter fraud through mail-in voting.
He reiterated his determination to challenge the election results in court.
Trump's lead shrinks in Pennsylvania and Georgia
Reports just coming in indicates that the wide lead which President Donald Trump has over Joe Biden shrinking in Pennsylvania and Georgia.
According to CNN, an aide at the White House said the tally is not on the side of the Trump campaign.
The source who spoke anonymously reportedly said it will take an act of God for the president to win.
President Trump is said to be very angry over his shrinking lead in some states.
Biden delivers televised public address
Biden in a televised public address says each ballot must be counted as a democratic principle. He expressed the confidence that he would be declared the winner after the polls are counted.
The Democratic presidential candidate stated that the US election process is working and called on everyone to stay calm.
He said democracy is sometimes messy and requires patience.
Joe Biden inches closer to victory
Joe Biden of the Democratic Party is reportedly close to winning the US presidential election according to reports just coming in from CNN.
Biden is said to be on the brink of victory, needing just one or two more states to prevail over Donald Trump.
CNN also stated that Trump needs to win the election in Pennsylvania and Georgia to keep his reelection chances alive.
Biden currently trails Trump with 97,000 votes in Pennsylvania but many ballots are yet to be counted.
Joe Biden has promised to promote unity among Americans if elected president
The Democratic candidate in the US election, Joe Biden is already taking steps to heal the divide among Americans.
Biden said he govern as a president and not as a democrat if elected.
A lawsuit by Donald Trump on the counting of absentee ballots has been dismissed
A Georgia judge on Thursday, November 5, dismissed a lawsuit by the campaign organisation of President Donald Trump on absentee ballots.
The Trump campaign had asked the judge to ensure a coastal county was following state laws on processing absentee ballots.
The president is currently trailing in the US election.
How Vote-counting stands in 4 Key States
Arizona: Joe Biden holds about a 69,000 vote lead according to CNN. AP News has already projected Biden as the winner in this state.
Georgia: Trump's lead here is reportedly narrowing as counting continues.
Nevada: Biden holds a slim 8,000 vote lead.
Pennsylvania: The state as a whole still has about 750,000 mail-in ballots to be counted as Trump's lead here is also narrowing.
Kamala Harris Speaks as Votes Counting Continues
Kamala Harris who is Democratic Party's presidential candidate in the ongoing election has also reiterated that "every single vote must be counted", an apparent reaction to President Trump's call for ending of votes counting.
Her tweet:
".@JoeBiden and I are clear: every single vote must be counted."
Biden Wins Michigan
Biden is inching closer to winning the 2020 US presidential poll as he wins Michigan. With the results, Biden now has 264 electoral votes while Trump's electoral votes remain at 214.
Biden Garners Most Votes Ever in US History
Biden sets new record, wins more votes than any candidate in America's history.
Biden has garnered 70,427,609 while votes counting is still ongoing, breaking the record set by former US president Barack Obama.
Biden Projected to Win in Michigan
CNN has also projected that Biden will win in Michigan.
At the moment, Biden has garnered 2,684,200 (49.8%) votes while Trump trails with (48.6%) 2,617,060 votes.
Michigan has 16 electoral votes.
Joe Biden Addresses Americans as Vote Counting Continues
Biden has addressed Americans again as votes counting continues in some states.
Biden said:
"I am here to report when the count is finished, we believe we will be the winners"
Biden Projected to Win Wisconsin
CNN has projected Biden to defeat President Trump in Wisconsin.
Biden currently leads with 1,630,389 (49.4%) votes while Trump follows with Trump 1,609,879 (48.8%).
The state has 10 Electoral Votes.
AP News has also projected Biden to win the state which means the Democrats' candidate now has 248 electoral votes ahead of Trump who has 214.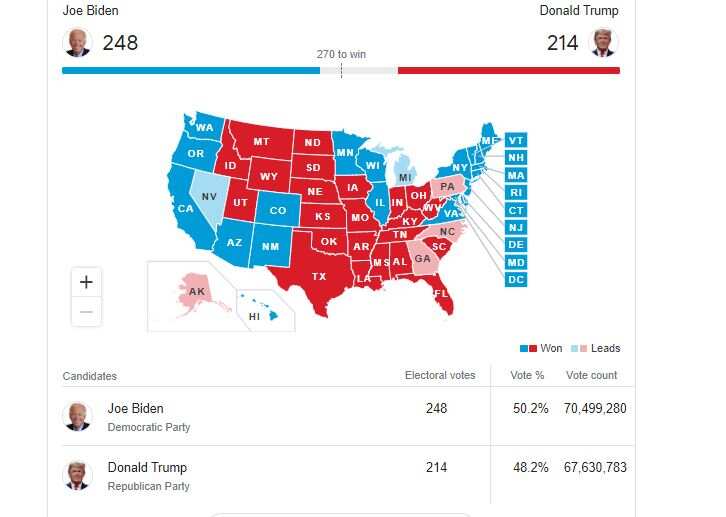 Trump Campaign to Demand Recount of Votes in Wisconsin
President Trump's campaign said it will demand a recount of votes in Wisconsin.
Wisconsin is one of the battleground states that are still counting their votes but Biden is leading.
President Trump Continues to Speak as Votes Counting Continues
President Trump, it appears, is not satisfied with some of the results coming from the ongoing votes counting.
Below are some of the latest tweets by the US president (Please note that some of the tweets have been flagged by Twitter as potentially misleading):
"They are working hard to make up 500,000 vote advantage in Pennsylvania disappear — ASAP. Likewise, Michigan and others!"
"They are finding Biden votes all over the place — in Pennsylvania, Wisconsin, and Michigan. So bad for our Country!"
When Results of States still Counting votes will be Availlable
Below are the dates the results will likely be available in the remaining states, according to BBC:
Wisconsin - Wednesday, November 4
Michigan - Wednesday, November 4
Georgia - Wednesday, November 4
Arizona - Wednesday, November 4
Pennsylvania - Friday, November 6
Nevada - Tuesday, November 10
Alaska - Tuesday, November 10
North Carolina - Thursday, November 12
Here are States Still Counting Votes
The nine crucial states, according to CNN, are:
Alaska
Arizona
Georgia
Michigan
Maine
Nevada
North Carolina
Pennsylvania
Wisconsin
Legit.ng, however, notes that another report by Aljazeera, citing AP News has reported that Biden has won in Arizona, one of the nine states listed above.
Preliminary data from the US 2020 election.
According to statista.com, the US 2020 election is on track to have the highest turnout in more than a century, despite the ongoing coronavirus pandemic.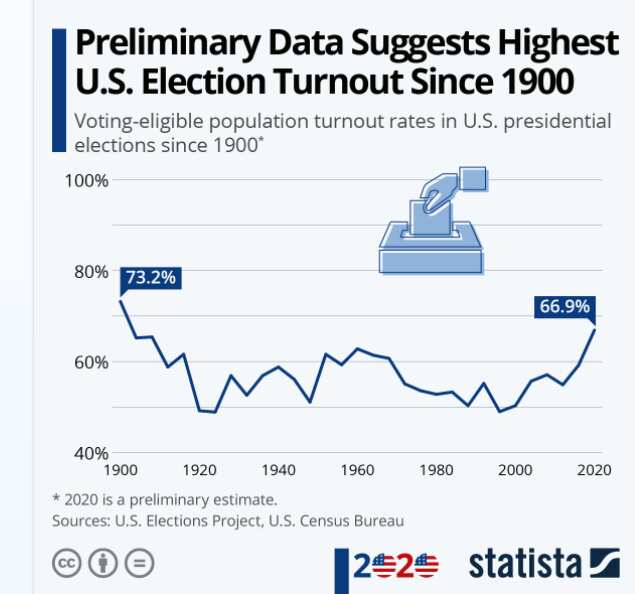 Vote counting continues in close US Election.
The current election results show that the Democratic candidate, Joe Biden has a slight lead over President Donald Trump, but both candidates are locked in a tightly contested race for the presidency.
The New York Times states that it could take days before a winner emerges from the ongoing vote counts.
While Trump has won Florida, The Associated Press is projecting that Biden would carry Arizona, long held by the Republican Party.
The fate of both candidates will be largely decided by the outcome in several states, including Michigan, Pennsylvania, and Wisconsin, where millions of mail-in ballots still need to be counted.
President Donald Trump has alleged that the vote counting process in the US election is fraudulent
President Trump has accused the Democrats of making his ballots magically disappear. The president again raised concerns over the mail-in-ballots.
The current standings of both candidates in the US presidential election.
The light blues states are where Biden is leading, while the deep blue states are where he has won. The Light red states are where Trump is leading, deep red are where has won.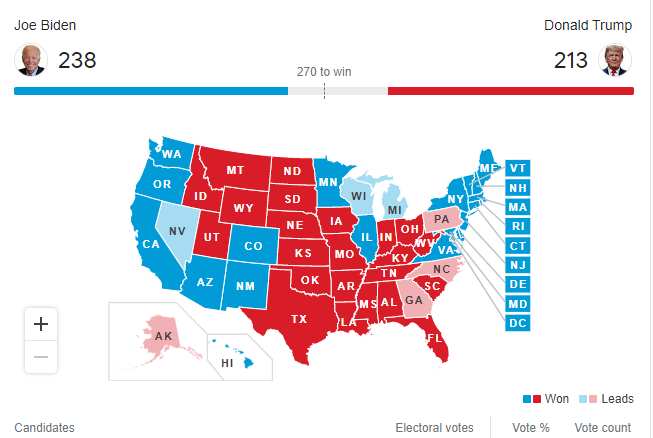 Biden makes history by winning Arizona, adds 11 electoral votes
Joe Biden has been declared the winner of the Arizona election, becoming the first Democratic presidential candidate in 24 years to win the state.
The former vice president polled 51% of the ballot to win the 11 eleven electoral votes from the state.
Meanwhile, Trump trailed behind with 47.6%.
Joe Biden's camp reacts to Trump's threats to use Supreme Court cancel vote counting
Joe Biden's camp has described as "outrageous and incorrect" the threats by President Trump on using the Supreme Court to stop the counting of the ballots in the US election.
Jen O'Malley Dillon, Biden's campaign manager, made this known, and further added that the former vice president still has a pathway to victory even if he loses Pennsylvania and Florida - two states already declared for Trump.
Joe Biden extends electoral college votes to 238, Trump 213
Another shot at victory by Joe Biden who has extended his electoral college votes to 238 (67,423,460 popular votes)
Trump is trailing behind with 213 (65,579,957 popular votes).
Meanwhile, the election is still tied closed with the overall percentage standing at 49.9% for Biden and 48.5% for Trump.
Twitter restricts Donald Trump's account over misleading election report
Twitter has restricted the post of President Trump over what the micro-blogging platform termed as "misleading" report about the election "or other civic process."
A check on Trump's account showed that all his election-related posts have been given lesser visibility with a red flag.
Trump makes statement on election results, says "We're on road to victory"
President Trump expressed optimism in winning the presidential contest despite Joe Biden taking an early lead.
Addressing his supporters on Wednesday, the president said he is confident having won some of the top states in the US including Florida, Ohio, and Texas.
"I want to thank all the people who have worked with us. We are on the road to victory and we will make America great and again."
Election getting close as Trump wins Georgia
President Trump has on Georgia, cruising to victory in the state with 50.7% win to hand Biden (48.1%) a defeat.
This means Trump has added 16 electoral votes to his scoresheet. What another close flip!
Donald Trump wins Texas with 38 electoral votes
The US presidential race is getting too close and unpredictable with President Donald Trump winning Texas state.
Trump won the states by 52.2% to defeat Biden who managed to have 46.4%.
This means the US president has now added 38 electoral votes to close-tie the contest with his Democratic challenger.
I'm optimistic of winning - Joe Biden assures as he takes lead
Joe Biden has expressed confidence in winning the presidential contest. Speaking on Wednesday morning, November 4, the former vice president thanked his supporters.
Breaking: We will never let them do it - Trump fumes as Biden leads
Sensing what looks like a defeat, President Donald Trump has stated he will never allow the Democratic Party cruise to victory.
This may incite violence as his challenger, Joe Biden is taking an early lead.
Trump said he will make a statement on the election result.
Hundred of people gather in Black Lives Matter Plaza)
Several hundred people have gathered in Black Lives Matter Plaza, just one block from the White House, holding signs and chanting about democracy.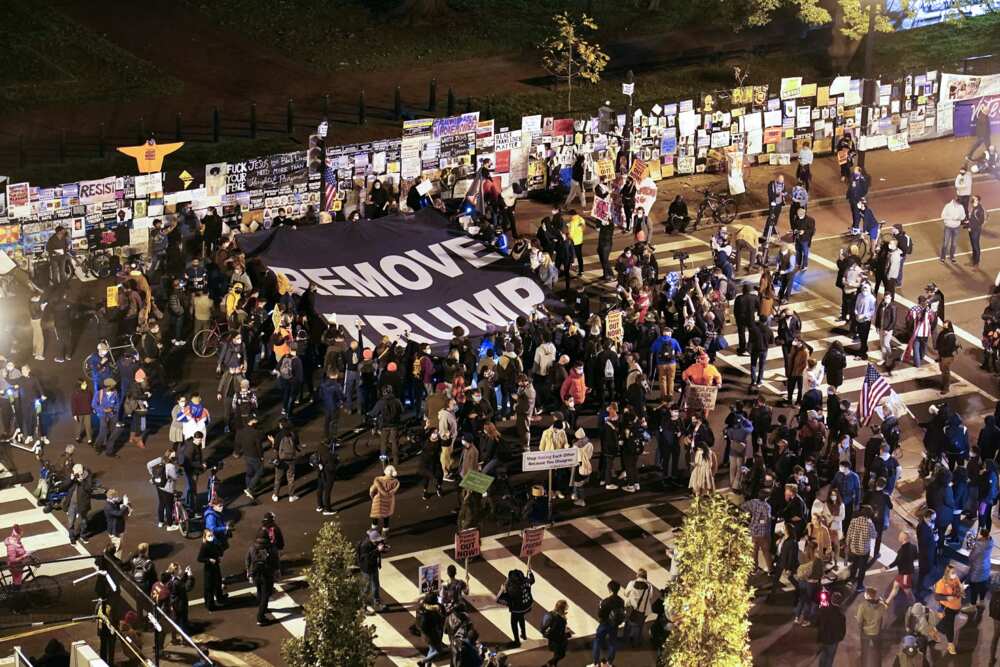 Joe Biden set to speak shortly on election results
Democratic Party candidate, Joe Biden, will speak shortly on the election results as counting of votes continues in the United States.
Biden is currently leading on the electoral college spreadsheet with 223 votes, according to Associated Press.
Biden has spent the night watching the returns come in from his home, while reporters waited near the Chase Center in downtown Wilmington for potential remarks.
Breaking: Biden wins Minnesota as ex-VP extends electoral votes lead to 223
Joe Biden has coasted to victory in Minnesota, a state in the Upper Midwest, Great Lakes, and northern regions of the United States.
The former vice president won the state with 53.8% of the total votes to defeat Trump who won 44.6%.
On the electoral votes scoresheet, Biden is leading with 223 while Trump has 145.
Trump wins Florida with 29 electoral votes, though not a surprise
President Donald Trump has won Florida, though this does not come as a surprise.
Florida is one of the states that gave it all for Trump in 2016 and prior to the 2020 election, a large percentage of prediction has forecast that the president will again take his win in the state.
With 29 electoral votes, Trump apparently won Florida with 51.2% of the election with Biden winning 47.9%.
Such a close!
Head to head: Joe Biden leading with 209 electoral votes, Trump 118
The results from the electoral votes so far are in favour of Joe Biden who is taking a monumental lead with 209.
Trump, on the other hand, is trailing the Democrat and former senator with 118.
Counting still ongoing!
Breaking: Biden wins 12 states with 126 electoral votes
Joe Biden is giving Trump a tough race as the former vice president has won 12 states, fetching him 126 electoral votes.
Here is the breakdown.
Colorado (9)
Connecticut (7)
Delaware (3)
District of Columbia (3)
Illinois (20)
Maryland (10)
Massachusetts (11)
New Jersey (14)
New York (29)
Rhode Island (4)
Vermont (3)
Virginia (13)
US election: Trump leads in 13 states with 89 electoral votes
Trump may pull the magic again but there is still a long way to go. So far, the US president has won 89 electoral votes having taken an early lead in 13 states.
Here is the breakdown:
Alabama (9)
Arkansas (6)
Indiana (11)
Kentucky (8)
Louisiana (8)
Mississippi (6)
North Dakota (3)
Oklahoma (7)
South Carolina (9)
South Dakota (3)
Tennessee (11)
West Virginia (5)
Wyoming (3)
Trump wins Indiana, West Virginia, Kentucky as Joe Biden takes Vermont, Virginia
Donald Trump and Joe Biden are taking a good shot at victory with both candidates projected to have won some states in the US.
Trump has won Indiana, Kentucky (two states he won in 2016 presidential election) while former vice president Biden has won Vermont and Virginia.
TRUMP
Indiana (11)
Kentucky (8)
West Virginia (5)
BIDEN
Vermont (3)
Virginia (13)