Actress Etinosa says God and Lucifer settled their beef long time ago
- Nollywood actress Etinosa says God and Lucifer settled their beef a long time ago and left humans to fool themselves on earth
- On her Instagram story, the actress says humans on earth fool themselves to the amusement of God and Lucifer
- According to Etinosa, God and Lucifer have occasional meetings to discuss strategy against humans
PAY ATTENTION: Click "See First" under the "Following" tab to see Legit.ng News on your Facebook News Feed!
Nollywood actress Etinosa Idemudia has taken to social media with a conspiracy theory about God and Lucifer.
The actress said she believes God and Lucifer settled their beef a long time ago and left humans to fool themselves here on earth to their amusement.
Etinosa, who took to her Instagram page to share the conspiracy theory with her followers, said God and Lucifer have occasional meetings to discuss strategy against humans.
Her post read in part: "The earth is the Lord's yet Lucifer is the prince of the world who gave him the authority?
"Nothing can happen to you by devil except God permits it so how does Lucifer get permission?
"This just sounds like fake rap beef between rappers for album sales. Indeed, man was made in the image of God."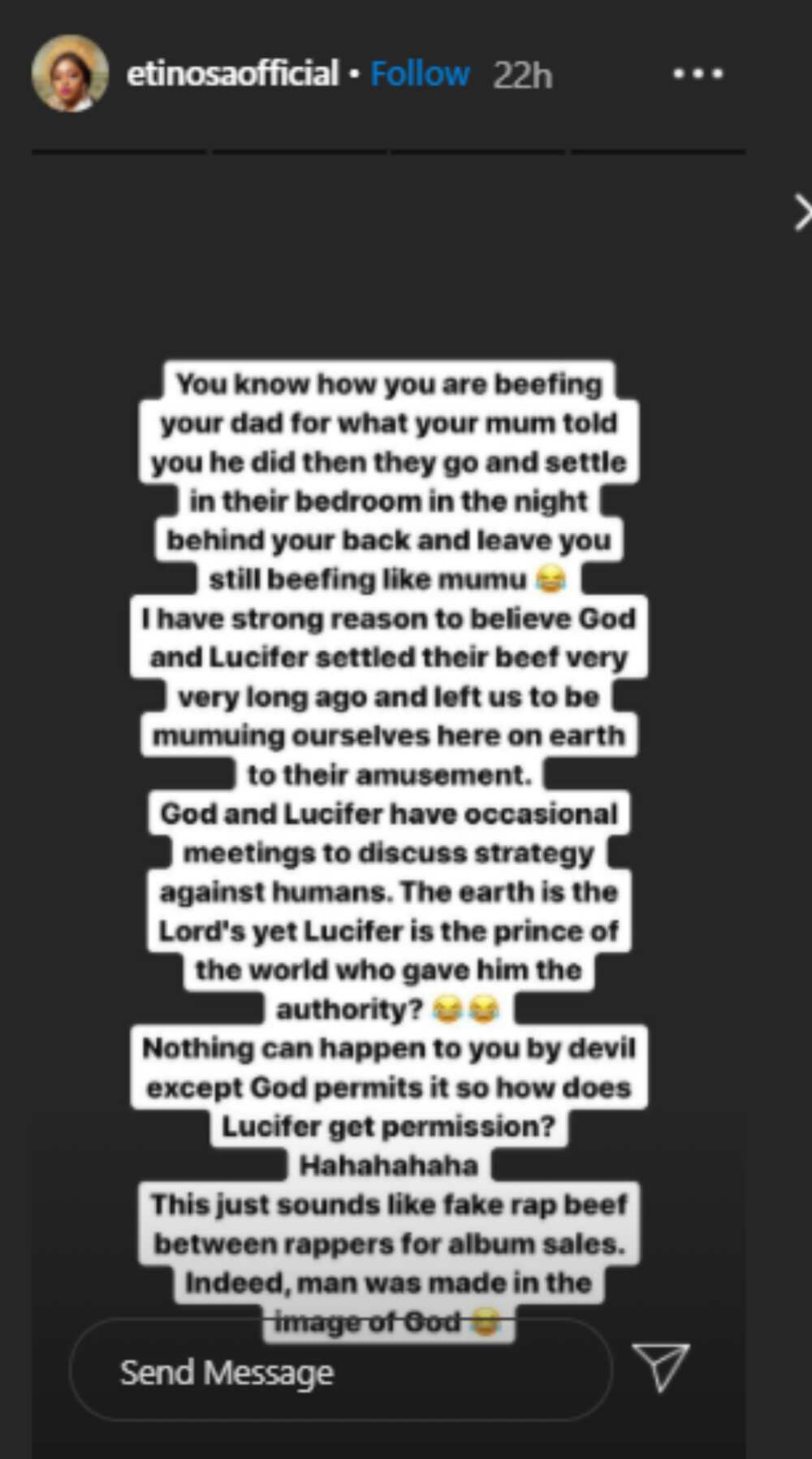 Recall that that Etinosa was in the news some months back for her action which many Nigerians found unruly.
The actress desecrated the Holy Bible by using it as an ashtray. She did so on a live video of herself doing so and this caused a lot of brouhaha on social media.
She went further saying she would do worse to the Quaran if is she is paid millions of naira to do so.
After the chaos her video generated, Etinosa had a rethink as she took to her Instagram page to apologise for using the Bible as an ashtray.
In the video, the actress has tendered a public apology to those who the video might have offended. The actress said she would never berate any man's beliefs.
PAY ATTENTION: Install our latest app for Android, read the best news on Nigeria's #1 news app
Meanwhile, Legit.ng previously reported that a female Nigerian traditionalist did a Bible giveaway for her friends and followers on Instagram.
Identified as Adaeze Gift Okolie, she explained that the Bible used to be hers back when she still practised Christianity.
Okolie who also goes by the name Adaeze Ijemmili stated that she no longer believes in the 'lie'.
Be honest, can you give up your religion for $5m? | Legit TV
Source: Legit.ng