KIU becomes a member of the Inter-University Council of East Africa
Kampala International University (KIU), a chartered private University in Uganda is a member of the Inter-University Council of East Africa, Association of African Universities and Common Wealth Universities.
Since its inception in August 2001, KIU has graduated over 45,000 students in various disciplines and continues to offer a vibrant education with a conducive learning environment at its Main Campus in Kampala, the capital city of Uganda and its Western Campus, also known as the School of Health Sciences located in Bushenyi District, Western Uganda.
KIU is known for its focus on research, innovation and creativity and is currently the leading private university in Uganda according to the Webometrics ranking of Uganda Universities https://www.webometrics.info/en/africa/uganda.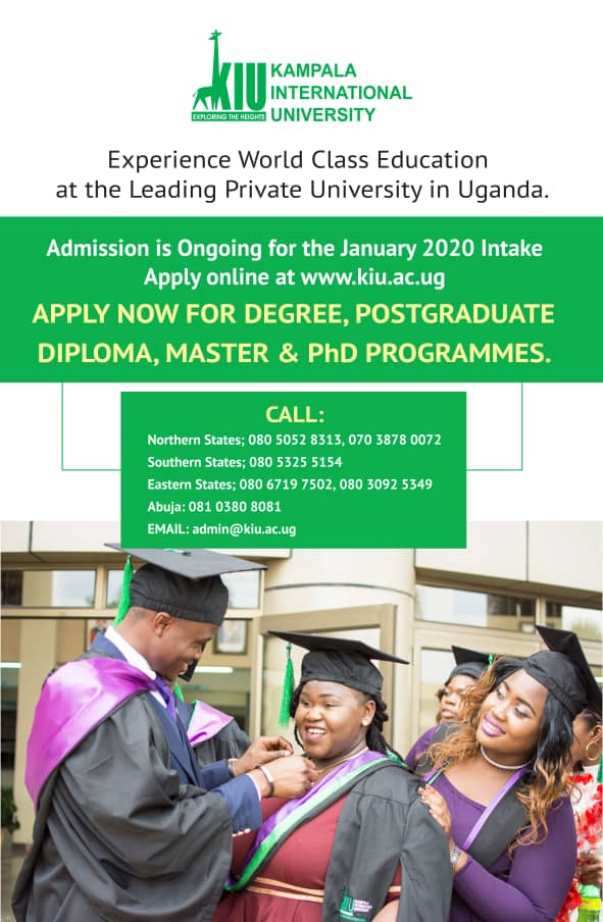 Kampala International University (KIU) has a stronghold within the health sciences sector and was recognized in 2018 by the Ministry of Health, Government of Uganda as the fourth-best general hospital in the Annual Health Sector Performance Report, Uganda. This year, 2019, KIU also received a certificate of recognition from the East African Community Medical Boards and Council for its contribution towards training health care professionals.
The leading private University in Uganda (KIU) is admitting students for the January and April 2020 intakes for the following programs; Medicine and Surgery, Dental Surgery, Nursing Sciences, Biomedical Sciences, Allied Health Sciences, Natural and Applied Sciences, Pharmacy, Engineering, Mathematics and Computing, Law, Business, Economics, Management, Humanities and Social Sciences, and Education.
For more information about Kampala International University, go to www.kiu.ac.ug.
You can also reach our representatives in the following states;
Northern States – 08050528313, 07038780072
Southern States – 08053255154
Eastern States – 08067197502, 08030925349
Abuja – 08103808081
Apply online today! www.kiu.ac.ug
Email admin@kiu.ac.ug
KIU, exploring the heights!
[Sponsored]
Source: Legit.ng