Omega Power Ministries pastor builds house for best graduating student in his school (photos)
The General Overseer of Omega Power Ministries (OPM) Apostle Chibuzor Chinyere just put smiles on the faces of a little girl and her family for graduating as the best student in his school.
Apostle Chinyere was said to have given the girl a new home because of her brilliance in school. He added that the flat was given so that other students in his school would strive for excellence and compete among themselves in the coming year.
He made this information available by posting the pictures on the church's Facebook handle with the caption: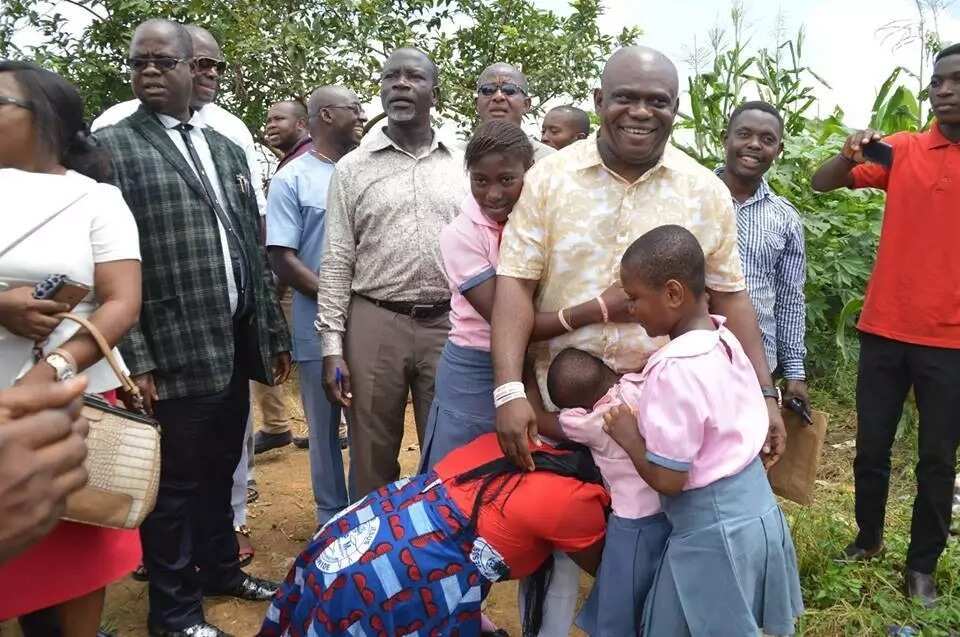 READ ALSO: Check out this cute baby-boy who was born 50 years after Biafra Independence (photos)
"Best graduate of OPM Free school receives 2 bedroom flat and 1 bedroom flat. The General Overseer of Omega Power Ministries OPM Apostle Chibuzor Chinyere has presented a two flat bungalow (one bedroom flat and two bedroom flat) to Precious Ndubuisi, the best graduating student of its free primary school in Port Harcourt. The General Overseer of OPM Apostle Chibuzor Chinyere(m) posing with the Ndubuisi family after handing over to them the documents of the house. Apostle Chibuzor Chinyere while presenting the house to the family of Precious Ndubisi stated that the house gift was one his gesture to improve the quality of education in OPM school. He stated that he want students in the school to be very competitive among themselves stating that through such the creativity of the students would be unraveled. He also promised to furnish the house for the Ndubuisi family.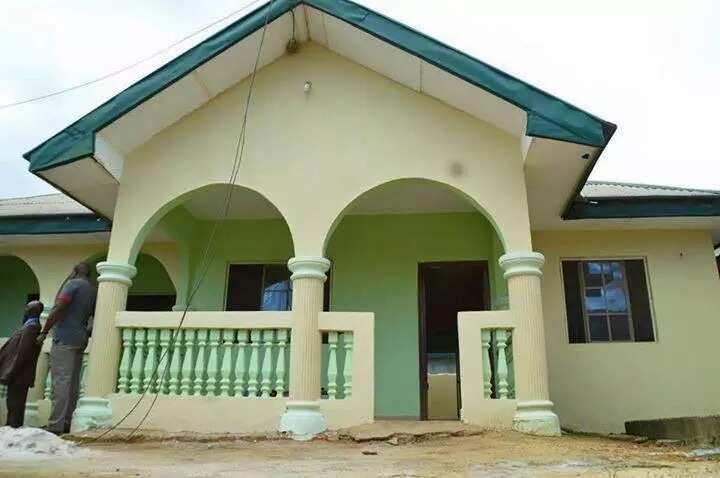 I said that first; I want to be giving a plot of land to the best graduating student. So when I was looking for a land to buy for the pupils, so I started thinking that if you give a poor widow a plot of land, there are two things, either they sale it or farm on it and this people have accommodation problem. So what do I do, I said instead of getting the land, why don't buy a house and I decided to buy the house. It is a one bedroom flat and two bedroom flat, so that she and her family can stay in one bedroom flat and rent the two bedroom flat. If she wants we can build a shop for her to start selling something. All these are coming from church offerings and tithes. Female also bring blessing. You don't abandon a widow because she has only girls. Women are blessing from God. Ngozi Okonjo-Iwuala is a blessing and so many other persons. This girl is not related to me. I am from Abia State and they are from Elibrada in Emohua Local Government of Rivers State. Is not that OPM is giving the house to his own family members. As long as you are a Christian, you are my family', he stated. He added that church offerings and tithes should be used for the welfare of church members and not to be used by the Pastors."
PAY ATTENTION: Get all the latest gossips on NAIJ Gossip App
Meanwhile, the best graduating student of OPM Nursery and Primary School, Precious Ndubuisi thanked God for using the General Overseer of OPM to bless her family. She said that life has been very difficult for them since the death of her father in 2013. Precious Ndubuisi stated that her family is having serious accommodation problems before the gift of this house from OPM."
See full post below:
Watch Legit.ng video below:
Source: Legit.ng