Those on a sick bed must not be the first to die, Oshiomhole reacts to call for Buhari's resignation
- The former governor of Edo state Adams Oshiomhole has cautioned Nigerians over negative comments on President Muhammadu Buhari's health
- Oshiomhole said the call for Buhari's resignation is evil and mischievous
- He said not all those on the sick bed are always the first to die
The former governor of Edo state Adams Oshiomhole has cautioned Nigerians and various groups calling for the resignation of President Muhammadu Buhari.
Oshiomhole while speaking to Vanguard said, the call for the president's resignation over ill health is unfair.
Legit.ng gathered that the former governor also referred to the call for Buhari's resignation as politically mischievous and evil.
READ ALSO: Nigerians react to Buhari's latest medical trip to London
"We should all know that the person on a sick bed does not necessarily have to be the next person to die," Oshiomhole said.
Legit.ng recalls that the President left Nigeria to United Kingdom on Sunday, May 7, medical treatment.
Buhari's latest trip comes over 50 days after his return from the UK.
However, in support of the president's decision, Oshiomhole said, what is cuurently happening over President Buhari's health cannot be compared to what happened in Nigeri's leadership under the Peoples Democratic Party (PDP).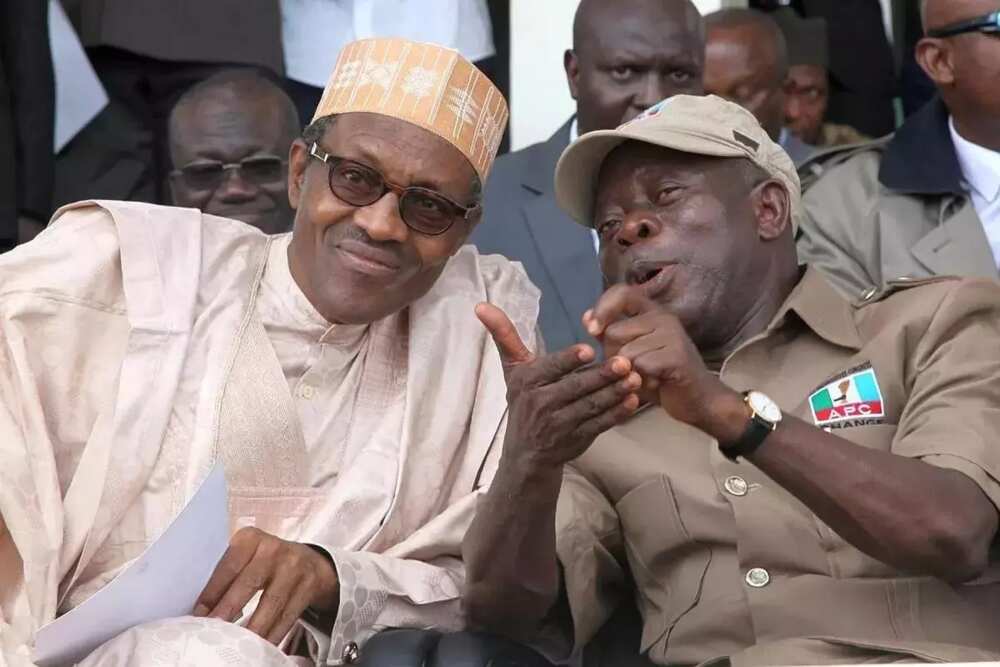 He said: "Secondly, the president said I was going for treatment and, unlike PDP, this President recognizes the spirit and the letter of the constitution. In drafting the constitution, the people understood that a President can fall ill or find himself in a situation that he is completely incapacitated and he can't work."
READ ALSO: After Buhari departs for the UK, National Assembly moves to use constitution against him
"During this period he should appoint his vice to act. Now, this President without being compelled, without anybody organising protest, without anybody writing an editorial, through his own ink and pen, wrote to the National Assembly; 'I am unwell and I am going for a medical check up on my health, but while I am away the Vice President should act in line with the provision of the constitution.
"That is a huge world of difference. Remember the whole debate whether or not Jonathan should act, whether they can pronounce him as acting president. Now President Buhari came back after some weeks and said I am back but even now, the VP should still act because I still need two or three days to rest. How much more transparency can we expect?" Oshiomhole asked.
Watch this Legit.ng video of Nigerians comparing President Buhari and Ekiti state governor Ayodele Fayose for 2019:
Source: Legit.ng