Check out the water running out of a tap in Zamfara state (photo)
- Residents of some parts of Gusau in Zamfara has cried out over the type of water running from their taps
- The picture of the water was also shared to back up this claim
Some unidentified residents of some parts of Gusau have cried out over the type of water running from their taps.
The picture shared show the colored substance flowing from the taps with residents gathered around a particular one.
One of the residents held the water tied in nylon for the world to see how unsettled the water they are supposed to drink or bath with is.
READ ALSO: Reno Omokri schools Joe Igbokwe, shares photo of man with Ojukwu's face as tattoo
Without looking at the tap from which the water was gotten, one could easily conclude and say the substance in the man's hand is some sort of drink.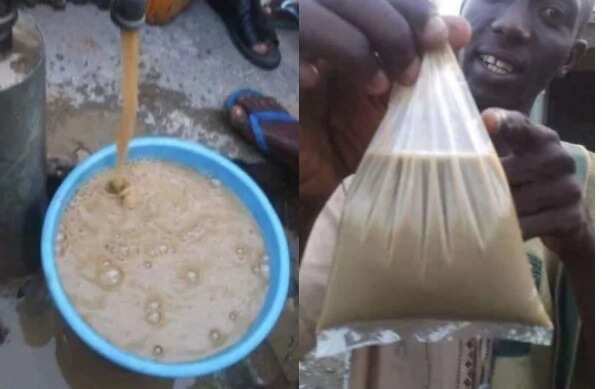 The residents have cried out in hope that the government would look into their plight and help solve this problem.
READ ALSO: See pictures of the woman tagged 'snake woman of Africa'
The importance of water can never be over emphasized, no one knows how long the residents would be able to hold on with this colored substance flowing from the taps.
Amidst the on-going talk about Fanta and Sprite containing excess amount of some sugars and chemicals, see some Nigerians reactions to the consumption of the drinks:
Source: Legit.ng