Biafra Agitation: Northerners will not allow an Igbo man to rule Nigeria - Uwazuruike
- Northerners will not allow an Igbo man rule Nigeria, says Ralph Uwazuruike
- The Leader of Biafra Independence Movement (BIM) says the idea of an Igbo president should be totally jettisoned
- Uwazuruike says all hope should be focused only on the actualization of Biafra
- The founder of Movement for Actualization of Sovereign State of Biafra (MASSOB), says that every attempt by Igbos to rule the nation, will eventually be thwarted
Chief Ralph Uwazuruike, founder of the Movement for Actualization of Sovereign State of Biafra (MASSOB), and leader of Biafra Independence Movement (BIM), has called on the Igbo political class to practically shed aside the idea of having a Nigerian President of Igbo extraction in the face of the current Northern conspiracy against Igbos.
He recalled that the same level of conspiracy was used to scuttle the presidential ambition of some prominent Igbo personalities such as former vice president, Dr. Alex Ekwueme, and Chief Emmanuel Iwuanyanwu, a trustee of the Peoples Democratic Party (PDP).
Reacting in an apparent sympathy to a statement credited to Ekwueme that his three-time presidential ambition was scuttled by the Nigerian military, Uwazuruike stated that Ndigbo should no longer focus their hope on the Nigerian project but on the emergence of a new Biafra.
READ ALSO: Immediate release of Nnamdi Kanu and 4 other NEVER SEEN demands Soludo, Utomi, others made from FG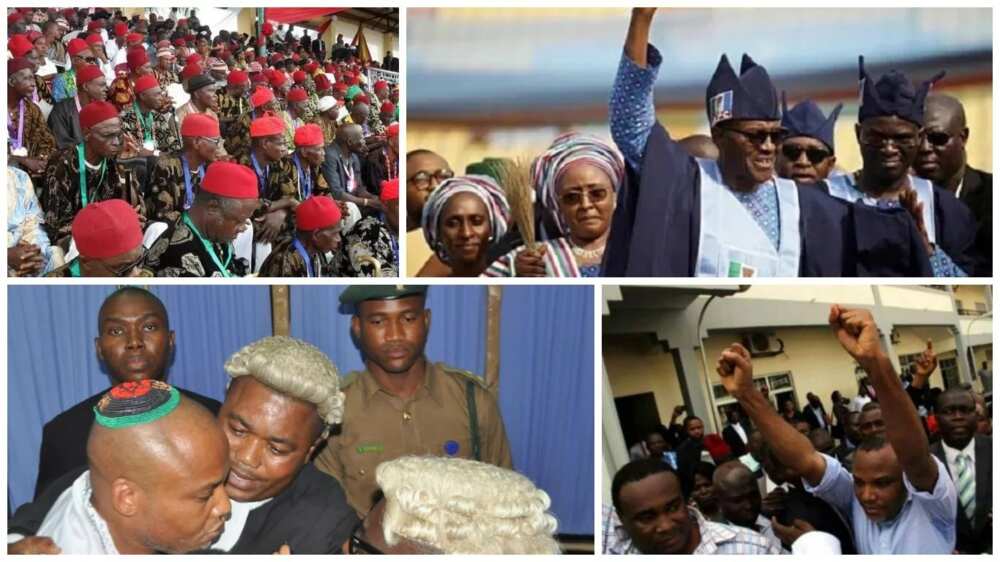 A press statement issued on Monday, March 6, quoted Uwazuruike who spoke through the Biafra Director of Information, Mazi Chris Mocha at Umuaka in Njaba Local Government Area of Imo state, as sympathizing with Ekwueme and other Igbo leaders who had in the past put up relentless fight, courage and determination to become president but failed to realize such an ambition, just because they were victims of the civil war which ended on the note of reconciliation, reconstruction and rehabilitation but turned out to be retaliation, isolation and maximum hatred for Ndigbo.
Quoting Ekwueme as saying in the statement that: "I was Vice President until December 1983 and going by the old NPN order, I would have contested for the number one position in 1987, but the military intervened in 1983 and the civilian regime was cut short.
I tried again in 1998 and Obasanjo was released from prison and he came and won, supported by his colleaques in the military. I tried again in 2003 and the same thing happened.
"I therefore pray that the other people (Igbo) can take it up from there and make progress", Uwazuruike noted that Ekwueme failed to give Ndigbo any reason or assurance that the same treatment meted on him in successive elections would not be revisited on our younger generation.
He recalled that the former President, Chief Olusegun Obasanjo did not hide his feeling how he thought the Igbo should be treated in the country when he visited Imo State during his first official outing as Head of State in 1978 and told them to thank their god for the generosity of the Nigerian leaders, for not lining them up for execution after the Nigeria – Biafra civil war which ended with no victor, no vanguished.
The BIM/MASSOB leader reminded Ekwueme and Iwuanyanwu how their efforts to emerge as Presidential candidates of their various political parties were thwarted when two Igbo sons were sponsored by the Peoples Demoratic Party, PDP and All Peoples Party, APP to frustrate the chances of Ndigbo from producing a Presidential candidate.
PAY ATTENTION: Get the latest news on Legit.ng News App
According to him, "the anger which led me to demand the resuscitation of Biafra republic had to do with the soiled relationship between Ndigbo and the rest of Nigerians since the January 15, 1966 Major Chukwuma Nzeogwu-led military coup".
"The Hausa/Fulani and Yoruba conspiracy against Ndigbo is real and that was why the former Defence Minister, Gen. Theophilus Danjuma (retd) could also not hide his own feeling and hatred for Ndigbo when he made an open declaration that he would go into exile than allowed Dr. Ekwueme to be President of Nigeria".
"Through MASSOB/BIM, the world has heard clearly the marginalized voice of the Igbo man which wasonly heard in quiet, grumbling and murmuring tone before I started the struggle for Biafra in 1999 and today, the world is waiting for the emergence of the new Biafra Nation".
"Through me, the world which probably thought that all was well with Ndigbo in Nigeria now knows the Prison wall of injustice the Igbo man is hemmed in Nigeria".
"My observation is that if the American fathers of Independence who fought the British colonialism status quo in 1775, had allowed themselves to be derailed out of their vision through patronage and 'settlement', they would have died and their names forgotten few years afterwards."
Meanwhile, the Indigenous People of Biafra (IPOB) has accused south-east governors of frustrating the release of their leader Nnamdi Kanu.
A zonal coordinator of IPOB, Emeka Mbamarah, who made the allegation in Port Harcourt, Rivers state, said the south-east governors had been sabotaging their agitation, Vanguard reports.
Mbamarah however, maintained that the youths would continue with the Biafra struggle until Nnamdi Kanu is released.
He said despite the non-interest of the governors in securing Kanu's release, the IPOB leader would non-interest of the governors in securing Kanu's release, the IPOB leader would "surely come out with Biafra flag"
Source: Legit.ng