OPINION: Seyi Makinde's handling of #EndSARS protests: playing politics or showing leadership?
Editor's note: Lati Abayomi, a public affairs commentator, writes on how Governor Seyi Makinde of Oyo managed the #EndSARS protests and the subsequent hijack of the peaceful processions by hoodlums in the state.
PAY ATTENTION: Win a prize of N115,000, N75000 or N38000: participate in Big Naija Independence contest by Legit.ng
Critics have accused Governor Seyi Makinde of playing to the gallery for expressing support for peaceful #EndSARS protests and deploying 'Operation Burst' to protect peaceful protesters. Others suggested that Makinde supported the protests because it was against the police which the federal government is in charge of, and he is an opposition party governor.
In this piece, I will go through the recent events of the #EndSARS protests in Oyo state and show that the steps taken by Makinde were not populist. Rather, they indicate that he understood his position as a leader and made difficult and often risky choices that seem to be paying off.
The #EndSARS protests in Oyo state were held in Ibadan and Ogbomoso where the first casualties in the state were recorded. Ogbomoso houses the Ladoke Akintola University of Technology (LAUTECH). Students and residents of the town had repeatedly complained about being profiled as 'yahoo boys' and extorted by the SARS unit in the town. So, it was not surprising that the students joined residents of the town to protest against SARS.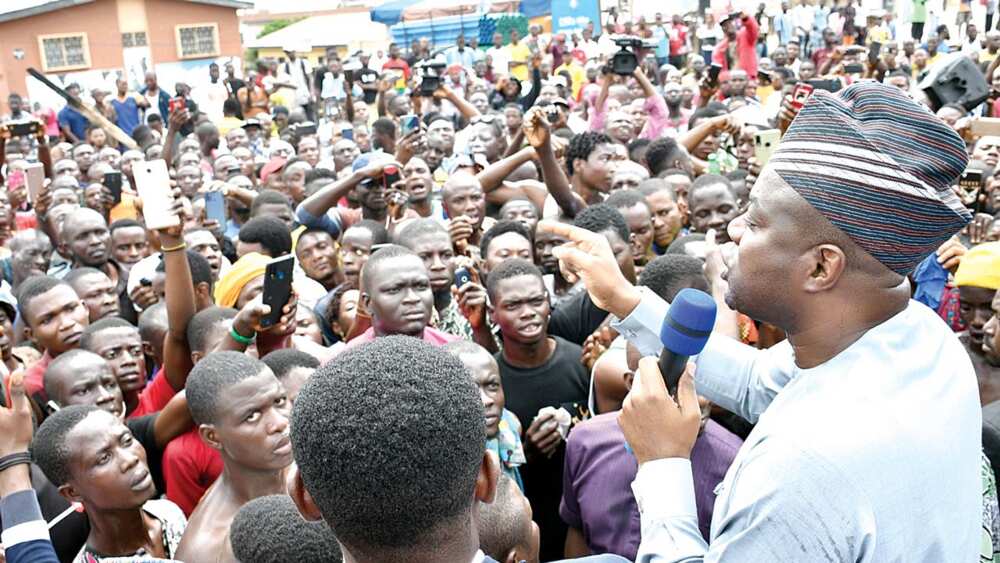 From the beginning of the crisis which started with the unlawful killings of Jimoh Isiaq on October 10, 2020, and Ganiyu Moshood Alabi and Adeoye Taiwo on October 11, 2020, by security operatives in Ogbomoso, Makinde was faced with options on how to deal with it. And his choices at each turn showed that he wanted to uphold democratic principles and at the same time, maintain peace and order in the state. Playing politics would have been offering to join the protests, like his counterparts in Kogi and Kwara did instead of recognizing that even though the police were not under his control, as governor, it was still his responsibility to find a solution to the governance issue.
Governor Makinde's decisions and actions throughout the period of the protest and subsequent events were in direct contrast to other governors across the party divide of the ruling APC and opposition PDP. And this is what makes it even more glaring that he was not playing politics or seeking the popular way out of the crisis. Other governors were either banning the peaceful protests, asking the protesters to stop protesting, or using force to stop the protests.
These options were open to Makinde as well, In fact, on October 13, 2020, when Makinde spoke with #EndSARS protesters in Ibadan, he revealed that he was advised to use force to end the protests but decided against it because he had come to them when he needed their votes and now that they were expressing their grievances on an issue, he had to listen to them and find a solution to the problem. Had the governor of Lagos made a similar choice, perhaps, the #LekkiMassacre would not have happened.
On the night of October 11, 2020, Makinde held a security meeting with the heads of security agencies in Oyo state. It was agreed that the police would take a back seat in engaging with protesters and 'Operation Burst,' a joint task force in the state made up of the army, police and other security agencies would interface with peaceful protesters to protect them and ensure that law and order was maintained in the state. This decision though risky would turn out to be a wise course of action in the coming days as members of 'Operation Burst' mostly remained professional in their conduct.
The following day, Monday, October 12, 2020, Governor Makinde held a state-wide broadcast and reiterated that 'peaceful protests are a legitimate way for citizens to make their grievances known to the government, and it is totally unacceptable for anyone to be hurt during such protests.' He also announced the deployment of 'Operation Burst' to hotspots in the state. That same day pictures of officers of 'Operation Burst' protecting peaceful protesters were circulated by the protesters on social media. By acknowledging the right of citizens to protest peacefully, Makinde took a stand to uphold democratic principles even when it was not convenient to do so.
The peaceful protests continued in Ibadan until October 18, 2020, when the security situation deteriorated. There were reports that thugs and hoodlums, under the guise of #EndSARS protests, were harassing and extorting citizens going about their lawful businesses. This prompted another state-wide broadcast by the governor on October 20, 2020, in which he condemned the illegal acts, affirmed the right of peaceful protesters to continue protesting and announced the deployment of 'Operation Burst' to restore normalcy in Ibadan. He also directed the closure of schools in Ibadan, a sensible decision for the next day, pictures of a secondary school student reportedly hit by a stray bullet in neighouring Ondo state were circulated on social media.
Also, following the #LekkiMassacre on the night of October 20, 2020, the security situation in several states deteriorated as people took to the streets to loot and destroy property. Some states imposed 24-hour curfews to contain the security situation.
PAY ATTENTION: Install our latest app for Android, read best news on Nigeria's #1 news app
However, Governor Makinde once again decided to go a different route by appealing to the people directly. In order to de-escalate the crisis, he was seen on the streets of Ibadan speaking directly to angry people intent on burning police stations and unleashing mayhem. On October 22, 2020, a mob lynched two police officers who had caused the death of a transporter in Ibadan. Makinde went to meet them in the heat of the moment to contain the very tense situation which was threatening to get out of hand. It must be noted that he subsequently said that those involved in criminal activities would be brought to book.
Since then, Governor Makinde has held town hall meetings with various stakeholders in the state to discuss the way forward. He has also communicated the steps taken by the government which includes: setting up a reporting platform for victims of police brutality, the proposed setting up of a judicial panel of inquiry, an initial N500 million fund to compensate victims of injustice and another N500 million MSME fund for young entrepreneurs.
There is still a lot left to be done. The police officers who killed Jimoh Isiaq and others are yet to be identified and prosecuted. Also, those who killed police officers and looted and destroyed properties will need to be brought to book. After appealing to the police to resume their constitutional duties on November 2, 2020, the police in Oyo state have resumed. This is important as the stand-in - 'Operation Burst' does not have the resources to maintain law and order alone. However, as Makinde stated during his meeting with the police, it will take time for the trust between the citizens and the police to be rebuilt. And the #EndSARS protests have resumed in parts of Nigeria which means they may also resume in Oyo state. Given that the security situation is still tense, the recently recruited Amotekun Corps who resumed a two-week training on November 1, 2020, will be a very important security addition in the state should the protests resume and the police be required to once again, take a back seat.
Governor Makinde's handling of the #EndSARS protests and the subsequent unrest was risky but so far, it seems to be working as the security situation in Oyo state is improving. In handling the #EndSARS protests and the subsequent events, Makinde has continued to show leadership by communicating clearly, showing empathy and patience, and then taking steps to address the problems. This is not politics at play, it is leadership.
Disclaimer: The views and opinions expressed here are those of the author and do not necessarily reflect the official policy or position of Legit.ng.
Your own opinion articles are welcome at info@corp.legit.ng— drop an email telling us what you want to write about and why. More details in Legit.ng's step-by-step guide for guest contributors.
Contact us if you have any feedback, suggestions, complaints or compliments. We are also available on Twitter.
Young man shares experience with SARS officer | Legit TV
Source: Legit.ng