23-year old Nigerian lady, Samiat Abimbola Owo-Alade emerges best graduating student in India (photo)
- A Nigerian lady has emerged as the best graduating student in India
- The young woman graduated as a pharmacist and has plans to develop a new drug for cancer
A 23-year old Nigerian lady identified as Samiat Abimbola Owo-Alade has emerged as the best graduating student at Rajiv Ghandi University of Health Sciences in Karnataka, India.
The Ikorodu indigene basked in the euphoria of her achievement as she took to the social media to announce to her success to her friends and well wishers.
The young lady did this after she got her final semester result for the 2016/2017 academic session at the beginning of this week.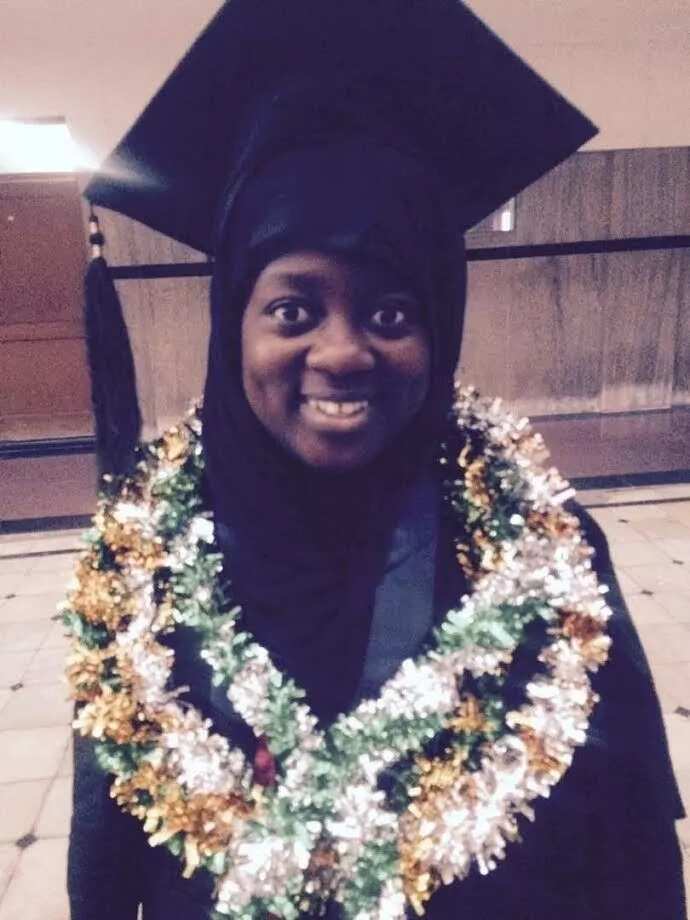 The brilliant Nigerian lady has made the nation proud and is proud of herself judging by her outburst. "I made it! I made Islam proud! I made Nigeria proud. Alhamdulillah, rejoice with me as I emerge the best graduating student in my department."
The beautiful graduate floored her colleagues with an impressive 75.5 percent score which happened to be the highest. She had spent over four years in the country which has a reputable history when it comes to pharmacy.
READ ALSO: Woman struggles with high heels just to do shakara
Owo-Alade was extremely happy as she thanked God for the completion of the program. She appreciated the role played by her parents in making her what she is today.
"My dad, Qasim Owo-Alade has always been there for me psychologically and financially. He kept on encouraging me. He wanted me to be a medical doctor or an engineer while I wanted to become an Astronaut, but to the glory of Allah, I am here today as pharmacist."
Prior to her education in India, the young lady had studied at Nigeria's Vanguards Academy in Odosengolu, Ijebu-Ode. She had tried hard to gain admission into a Nigerian university without having any luck.
"I waited for two years despite making my WAEC, NECO and GCE results. I was so ashamed of myself after some of my mates had gained admission. Sometimes, I asked myself, "Why me?" I tried all I could just to pass the UTME. I attended coaching classes, even when I knew I shouldn't have been there. At a point, I had to learn a trade. Wallahi, it was a trying period for me as a young girl, but yet I relied on Allah. Two years later, my prayer was answered. I gained admission to study in another prestigious school in India."
According to the young lady who wears glasses, she focused on the things that mattered and pushed out every other thing that stood as a distraction.
She also spoke on how she was able to cope as a young Muslim woman who wears hijab in a country where idols are being served.
"I remember the day a man wanted me to bow before Lord Krishna as I waited for school bus. I thought it was a joke until he dragged me into the temple despite my resistance. To my surprise, nobody stopped this Krishna fanatic. They all looked on. I kept on saying, Lakum deenukum wa-l yadeen (to you be your religion, and to me my religion), yet he didn't leave me until our school bus finally arrived. I managed to escaped."
PAY ATTENTION: Install the latest android app to get updates from Nigeria's number one online news platform
Owo-Alade also revealed that she was mindful of the circle of friends she rolled with. She never lost touch with her family members and friends in Nigeria. Her mother's words of advice echoed in her head always and this helped her sail through. She also had some important mentors who guided her.
The Nigerian lady revealed that she does not want to go into the labour market as she has plans to create a research institute where a new drug that would cure cancer would be developed.
The cancer drug she hopes to develop would not have any side effects. She has discovered the problem faced by Nigerians; this involves lack of continuity in researches.
Owo-Alade said the government is not encouraging researchers and their works. Therefore, she hopes to help the government create more jobs.
Watch the Legit.ng TV video below to catch up on the epic responses given by Nigerians when asked what they would do if they mistakenly got an alert of N100m:
Source: Legit.ng