Captain of the Nigeria's Super Falcons, Evelyn Nwabuoku who plies her trade with the French Division One side En Avant Guingamp has described her first few months with the new club as 'sweet',  adding that her debut game for the club was massive as she helped he team overcame league favourites Juvisy.
In an exclusive interview with Legit.ng Sports, the experienced player who had featured for top teams like Bayelsa Queens, Rivers Angels, MFK, BIIK Kazygurt and Ostersunds also appealed to Nigerians to forget about the disappointing show of the Super Falcons in the last one year and focus on the future.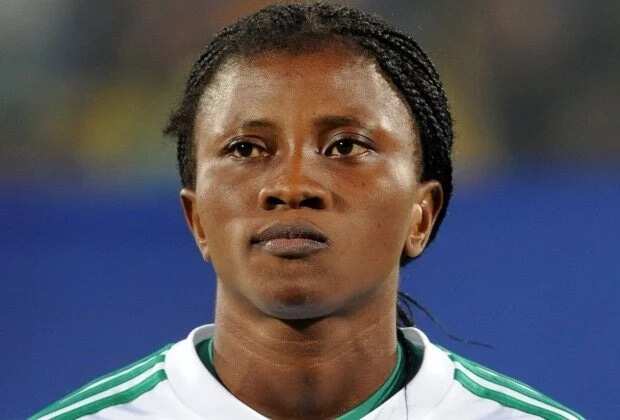 PAY ATTENTION: Get the latest sports news on Naij Sports App
Nwabuoku who has always been inspiring for the Falcons talked about the 2016 African Women's Cup of Nations (AWCON) and the team's chances in Cameroon.
Excerpts:
Evelyn, you have started the season on a high at your new club, how do you feel?
It's not just about me though it's a massive victory for us considering the fact that Juvisy is a top team here in France alongside Lyon and PSG.
I must confess it was a sweet one for me on my league debut. I can't ask for more. I give glory to God Almighty for a positive start to my adventure in France.
Playing at the Stade Fred Aubert for Guingamp is really something special! I'm a Nigerian and I hope we'll bring a lot of joy and many victories to our fans. Added to this joy was the salivating goal my sister and international team mate Désire Oparanozie scored. It was such a brilliant individual effort. Congratulation to her.
It was En Avant Guingamp's first league game of the season. Is the win important for confidence?
Very important! We were playing at home. We needed to build a kind of momentum. As we say in football: 'you can't take anything for granted!'  We'll be taking each match very seriously.
You started the match against league favourites Juvisy, how was the experience?
Juvisy is a very strong and top team with a lot of experienced and national players. They played well and gave us a good fight. I think we showed them that we needed the three points more.
You signed for Guingamp some months back. What are your impressions?
It has been very easy for me because I got a sister (Désire Oparanozie) here. She has helped me a lot with the language and things I need to know.
The team coach has been very supportive. The players have also made me feel at home. Everything is going really well. You can feel that this is a team full of ambition and there's a lot to be achieved here. The hype around the club is incredible. The ingredients to succeed is available.
What are the team's ambition for the 2016/17 season?
Our objectives are on the rise compared to last season. In the championship we want to compete with the best. When I say the best, I mean Lyon, PSG, Montpellier and Juvisy. Also we want to go far in the Cup competition. We have a very busy fixture list. We can't wait for our next game at Montpellier.
Is the female football growing in leaps and bound in Africa?
Many girls have the ambition to be successful footballers in Africa. That has kept us moving in achieving our objectives. Developmental plans have been put in place in some countries and you can see the quality that teams stick out in matches. You no longer see scandalous results, games are competitive.
The Nigeria Women Football League (NWFL) produced Evelyn Nwabuoku. A lot has happened over the years. What do you think should be done to better the lot of women footballers in Nigeria?
I read reports of what has been happening in the administration of the women's league in Nigeria. My appeal to the authorities is to focus more on the development of the NWFL. Sponsors should come on board to ease the burden of the ladies. With all the above mentioned suggestions all will get better.
PAY ATTENTION: Get the latest sports news on Naij Sports App
The draw for the African Women's Cup of Nations (AWCON) will take place on , which teams are you avoiding?
The Super Falcons is a team of determined professionals. We don't fear any team, other sides like Cameroon, Ghana and South Africa are even having sleepless nights as to how to tackle us. We will be fine by the grace of God.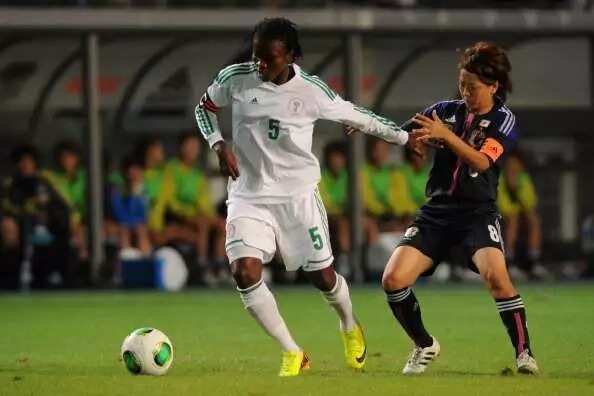 Many are still having hard feelings after the failure of the Super Falcons in the 2015 FIFA World Cup, Olympic qualifiers and the All Africa Games. What do you think went wrong?
What happened in the last one year can't be changed. We have learnt from our mistakes. Nigerians should forget about previous errors  and concentrate on the future. The AWCON is around the corner, for sure we will be in a tight group. We need to start thinking and preparing on how to retain the title we won in Namibia.
You were named as the skipper of the senior national side in 2013, how have you coped with the huge responsibility of leading a pool of professionals?
It was amazing when I was announced as the captain of the  Super Falcons. There is nothing as great as representing and defending the pride of your country. Everyone in camp is treated equally. I do refer to the girls as special people because of the respect we accord to ourselves. I think our relationship is cordial.
Footballers have memorable moments. Do you have any?
There are many moments I cherish in my career but I think the one that fascinates me most was when we won the 2014 AWCON. It was a special feeling for me lifting the trophy after we defeated Cameroon in the final in Windhoek. Rivers Angels also won the double that same year.
Many have praised you for the show of commitment and hard work on the field of play. What is the secret?
God has been faithful to me over the years I have played football. The commitment on the field of play has never been in doubt. You never know who may be watching you whenever you are playing.
People would criticise you whether your performance is good or bad and for football fans to acknowledge me makes me happy and motivates me to continue working hard.
Thank you for your time and we wish you the best.
My pleasure always.