After Overcoming Self-Doubt, Black Man Graduates From Columbia University, Narrates His Story
A young man named Dxnnystone finally graduated from Columbia University after he refused to give in to his feelings of self-doubt
He recently took to his socials to share stunning graduation pictures as he shared his story about how he made it through the waves of uncertainties
Members of the cyber community who reacted to his posts were motivated as many celebrated his milestone
He is an inspiration to many. A resilient young man, Dxnnystone, has graduated from Columbia University after overcoming feelings of self-doubt.
He took to his socials to share stunning images as he shared his story about how he made it through waves of uncertainties.
Dxnnystone disclosed that self-doubt nearly prevented him from submitting his graduate school application. He said he went through many ups and downs.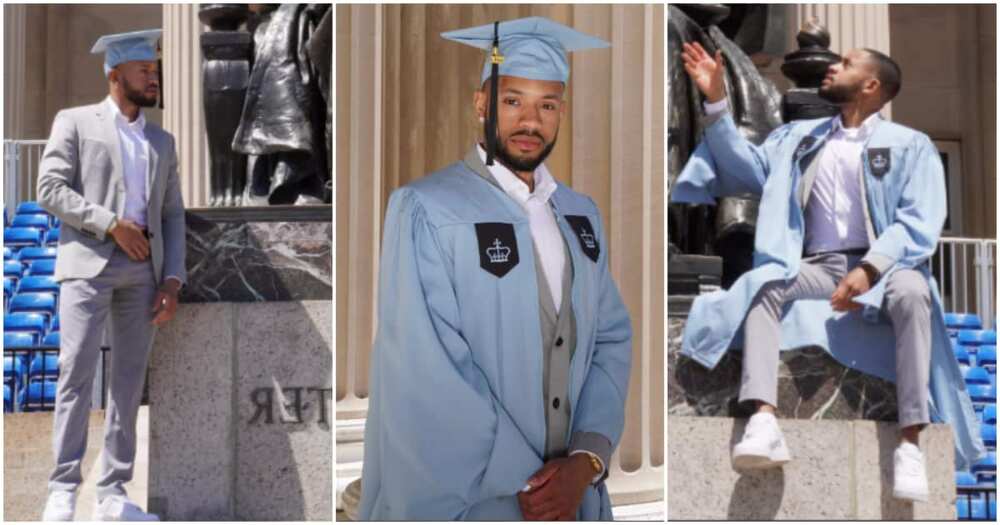 Overcoming waves of uncertainties
''Your favourite scholar has now MASTERED it. This one is for my family, friends, and all of the kids who look like me. Ivy League grad baby! Through the waves of uncertainty, and many ups and downs, I made it.
''To think, I almost allowed my feelings of self-doubt to prevent me from submitting my grad school application. Yet, here I am,'' he said.
Dxnnystone splashed photos sporting his graduation gown. Netizens who took to the comment section of his posts were motivated as many celebrated his milestone.
Read some of the comments below:
Netizens reacted online
Scottie.poppin posted:
Congratulations handsome!
Elvissterling commented:
Huge congrats. This is a beautiful feeling!
Edieleanna posted:
CONGRATS Danny!
Brilliant black lady graduates with PhD from Towson University at age 24
A brilliant lady, Maria Aretha James, has joined the list of persons with doctoral degrees after she earned her PhD in Occupational Therapy.
The 24-year-old earned her doctorate from Towson University, where she also received the programme's ''Leadership and Advocacy'' award.
The Antigua and Barbuda native was one of only two Black doctoral students in her class of 20 persons.
Couple reveals why sleeping with other people is beneficial to them
A couple has revealed how having affair with others has made their relationship stronger than ever as long as they always do it together.
Jess, 30, and his wife Jay, 46, told Kyle and Jackie O they met on the popular dating app, Tinder, two years ago and started dating soon after. At the time Jess was with her ex-fiancé, Lawrence, who is still her business partner.
As things developed between Jess and Jay, they decided to 'close' their relationship a little by excluding seeing other partners separately.
Source: YEN.com.gh