FIFA WORLD CUP: Nigeria Vs Australia
After a 3-3 draw against Sweden, Nigeria's female national team faces up against their Australian counterparts in  the 2015 FIFA world cup.
Nigeria loses to a well organized Autralian team 0-2.
The Refree strangely blows for full time, despite playing only 1 of 4 minutes of extra time, strange.
Australia now playing full defence.
90 mins: 4 mins extra time.
88 mins: Nigeria still failing to get the ball past the Australian well organized defence.
86 mins: Two goal hero Kyah Simon is replaced by Michelle Helman.
83 mins: Oshoala continues to show her class driving past a player but her shot is way high, Courtney Dike sister of Bright Dike comes in to replace her.
80 mins:Nigeria now resulting in cheap fouls due to frustration, Kerr gets hacked again no card. The freekick is directed straight at Dede's post, Nigeria lucky to be only 2 down.
78 mins: Kerr makes it back, meanwhile Falcons keeper Dede makes a great save to deny De Vanna on the counter.
75 mins: Australian players now falling on the floor.with Sam Kerr the latest casualty. Seems she was elbowed by Nigerian defender.
72 mins: Oshoala rushes a shot which goes way over the bar. still 2-0 to Australia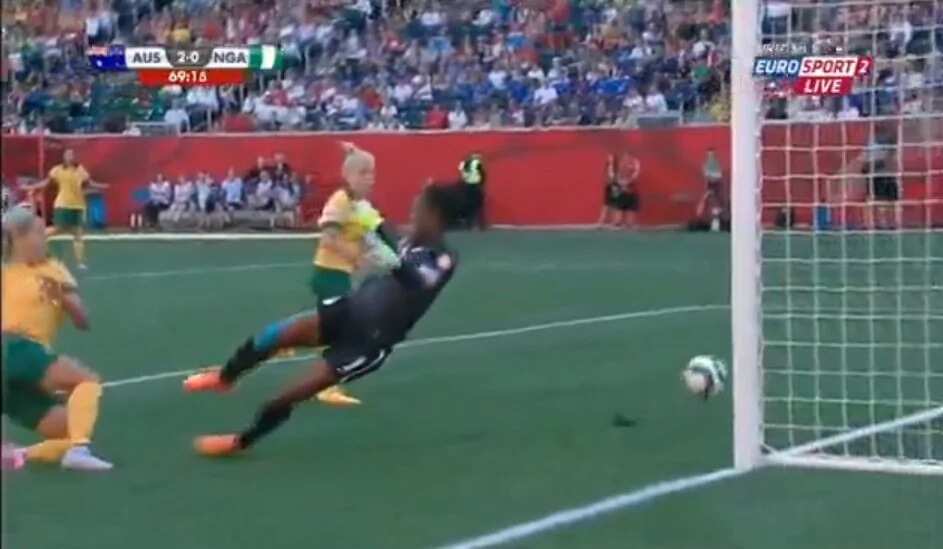 Now Nigeria losing by 2 goals till nil. Can falcons comeback?
67 mins: Australia scores once again by Kyah Simon, She finds herself alone against Dede and takes her time to score. Defenders stuck watching.
66 mins: Kerr is wide open once again but she fails to connect her head to the ball.
64 mins:Nigeria's final ball lacking precision but both teams now looking tired.
59 mins: Alleway's freekick goes way over Dede's goal.
Chukwunuoje gets yellow card for impeding play.
57 mins: Oshoala wastes a great chance to equalize, still 1-1.
Still 1-0 to Australia.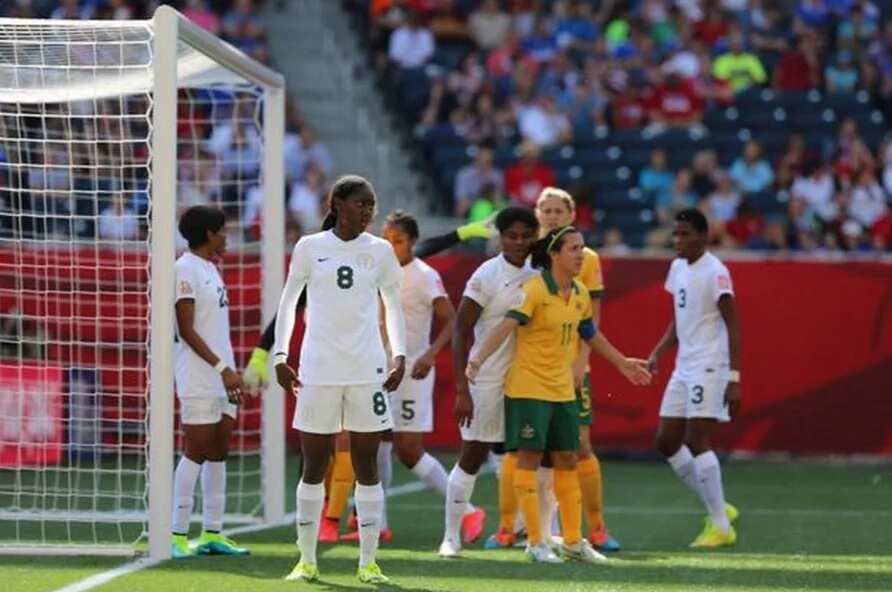 54 mins: Oshoala's dangerous cross is nodded out for a corner which is played short and ultimately goes out for a throw in.
53 mins: Nigeria makes two subs in 2 minutes taking out Oparanozie for Nkwocha.
50 mins: Freekick for falcons from 24 yards and Oparanozie's shot is punched out by Williams, first full chance for the falcons.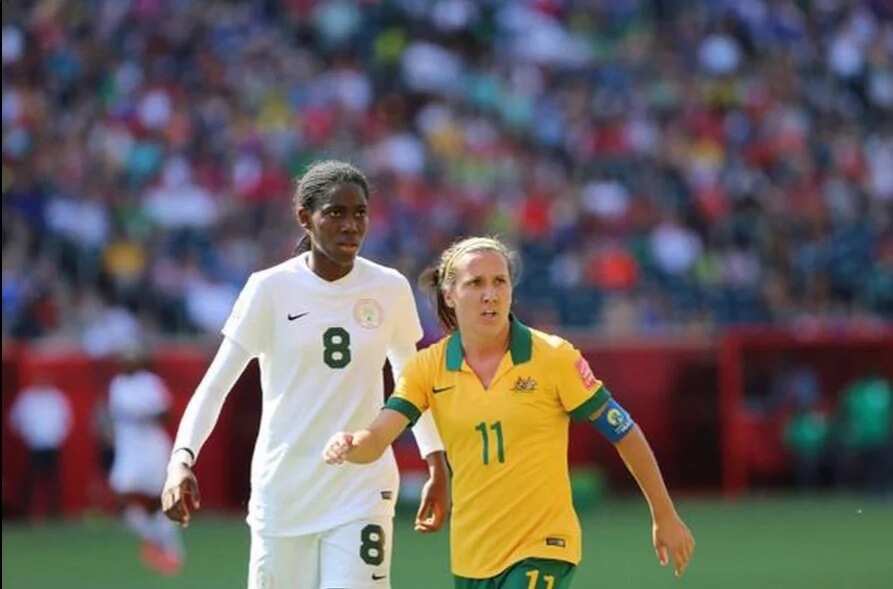 Oshoala now playing in the centre.
49 mins: Oshoala's pass is mijudged by Opaneze, Meanwhile Kerr's nod is straight to Dede, what a chance.
47 mins: Nigeria trying to stretch Australia's defence but not connecting with each other.
We are back, Australia restarts the game.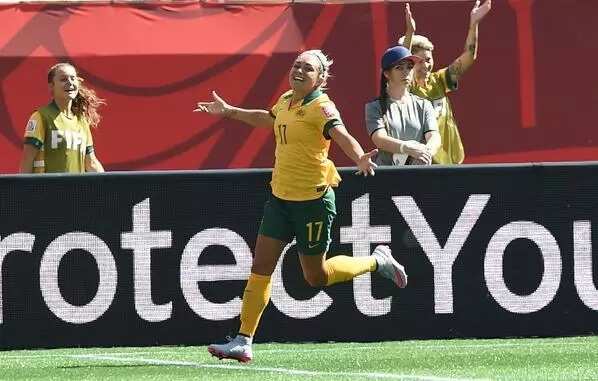 Nigeria's attack will need to try and be composed, they are currently beating themselves even though the Australian defence is well organized.
Half time.
45 mins; Nigeria plays a short corner and the Ref blows for half time, immediately.
44 mins: Nigeria's final ball is just bad, one more minute added as extra time.
43 mins; Okobi has only a defender to beat but she decides to shoot, the ball bounces off an Australian defender.
40 mins: Ordega's chance to shoot one on one with Wiliams but she passes into an Australian foot.
39 mins: Australia still in control, as Nigeria counter attack fails.
36 mins: Opanozie in a footrace with Wiliams but, the Australian gets the 50/50 possesion.
35 mins: Falcons midfield and attack having issues linking together.
34 mins: Simons and De Vanna tearing apart the Nigerian backline apart but De Vanna's shot is off.
33 mins: Long Freekick but too close to Williams.
31 mins: Nigeria out numbered in midefield so have to work extra harder to win the ball, conceding unnecesary fouls.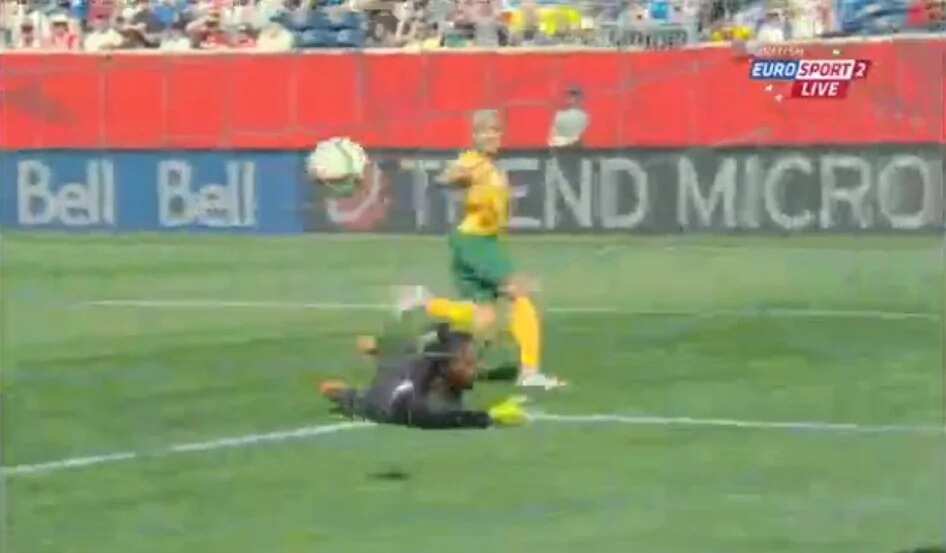 28 mins: Simon scores for Australia after some great dribbling by De vanna beating past two defenders and laying it off for simon. Nigeria 0-1 Australia.
26 mins: Kerr's nod/flick from a freekick is picked up by Dede.
25 mins: Both keepers now have not be tested well enough.
24 mins: Oshoala uses some impressive skills to get past two defenders and runs into the box but the put back ball for her is misdirected.
22 mins: Opanozie creates an opportunity for herself but her shot goes off target.
21 mins: Australia 's counter attack is stiffled.
19 mins: Nwabouko's shot is straight to williams and the Austalians breath a sigh of relief.
17 mins: BBC woman player of the year, Oshoala hit the crossbar but the ref blows foul, accussing her of pushing off a defender.
16 mins: Australia almost score off a corner, once again Nigeria's defence prooving too weak in corner situations.
15 mins: Savannah and Kerr exploiting Nigeria's defence but defence stands strong.
13 mins: Nigeria being hit by the counter attack so far but the defence prooving strong.
12 mins: Nigeria wastes a throwin, as no one is able to reach the ball in time.
10 mins: Kerr hits one from distance but doesn't worry Dede.
9 mins: Long ball to Simon is knocked out by Ebi for a throw in.
7 mins: Okobi's long ball to Ordega is too long and Williams picks up the ball, Nigeria playing with good pace so far.
5 mins: Nigeria on the attack but the final pass is miscontrolled by a falcon player rushing inside the box, Australia nervous with the ball.
2 mins: Nigeria concedes a dangerous free kick but the Australians hits it directly at the wall.
1 mins: Nigeria kicks off in the heat and are applying the pressure but the Australians maintain their form.
Nigeria kicks off wearing white and need to beat the Australian team to have a chance of qualifying.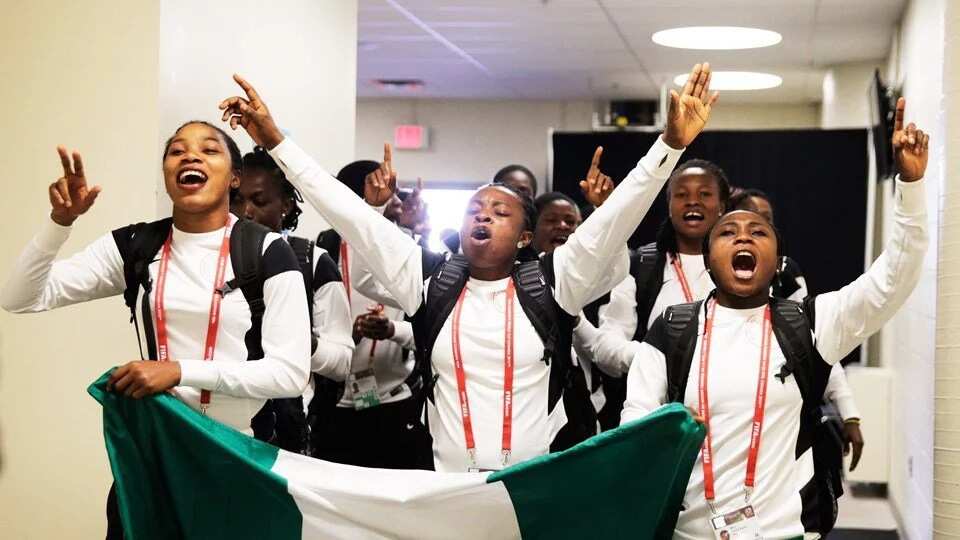 Starting Eleven below..
AUS
1WILLIAMS (GK)

5ALLEWAY

7CATLEY

8KELLOND-KNIGHT

9FOORD

10VAN EGMOND

11DE VANNA (C)

14KENNEDY

17SIMON

19GORRY

20KERR
NGA
1DEDE (GK)

3OHALE

5EBI

6CHUKWUNONYE

8OSHOALA

9OPARANOZIE

12AYINDE

13OKOBI

14NWABUOKU (C)

17ORDEGA

23EBERE
Source: Legit.ng