Mikel Reportedly Snubs Keshi As Osaze Targets Comeback
Amid reports that Super Eagles camp has been thrown open, head coach, Stephen Keshi is looking to get his best legs ahead of AFCON 2017 qualifiers fixtures.
However, the "big boss" as he is popular called has expressed disgust at the attitude of some foreign players with all fingers pointing to Chelsea midfielder, John Obi Mikel.
According to Coach Keshi, Mikel has not been picking his calls and not responding to his messages.
Keshi in an interview with Complete Sports, revealed that Mikel Obi and Osaze Odemwingie are still in his plans even though the former has been ignoring his calls.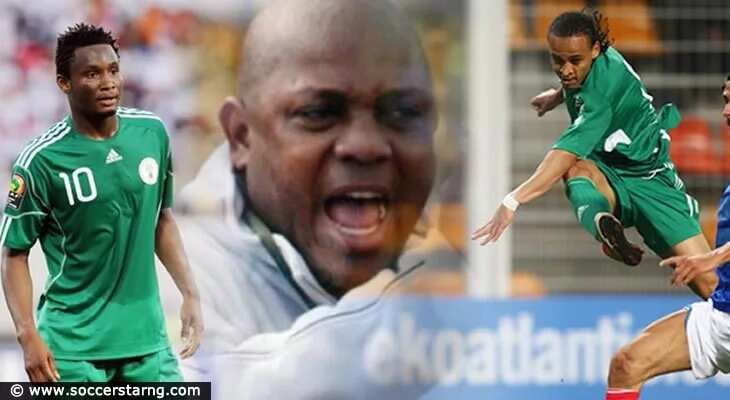 He said he is not happy with Mikel actions as he tried to make inquiries about his health.
READ ALSO: Keshi Should Start Using U20 Players - Kanu
Coach Keshi however noted that the midfielder is still an important member of the Super Eagles.
He said; "When I heard that Mikel was injured, I tried several times to get across to him on the phone but, surprisingly, he did not respond.
"He also has not responded to messages I sent to him through text. This is very unlike him and I am still expecting him to call or answer my text.
"I will still call him since he is an important member of the team. It is my duty to know how my players are faring in their respective clubs. Anyway, I am still expecting him to call me since we have national business together."
However, Keshi stated that he has been in constant touch with Osaze Odemwingie on the phone, adding that he is glad to see the forward back in action with Stoke City.
READ ALSO: State's Finances Under Aliyu Were Not Transparent – APC
"I spoke with him as recently as Tuesday and he is ready to go."
He noted that he has spoken with so many of the players and that they are all willing to contribute their quota to their country's success.
Mikel played a minor part in Chelsea's Premier League title win as he was either injured or on the bench throughout the season, while Odemwingie only recently recovered from a long injury spell
Nigeria has been pitched in same group with Egypt, Chad and Tanzania for a ticket to AFCON 2017.
Source: Legit