There is nothing special about finishing among the top 4 - Arsene Wenger
- Arsene Wenger has stated that finishing among the top four teams is nothing special
- Arsenal may not qualify for next season's UEFA Champions League
- Many Arsenal fans are currently worried but Wenger is not perturbed
Embattled Arsenal manager Arsene Wenger has explained that finishing among the top four teams at the end of the ongoing season in the Premier League is 'nothing special'.
Arsenal's hopes of qualifying for next season's UEFA Champions League is now in serious dilemma as many Gunners' faithfuls are worried.
But the club's manager Arsene Wenger is not perturbed about the current situation as Arsenal's hope now depends on the outcome of Manchester City and Liverpool's last game of the season.
READ ALSO: Anthony Joshua receives special gift from Mourinho and Man Utd stars
A win for these two Premier League giants in their last duel means Arsenal fans will not watch their club play in next season's Champions League.
"No, you never know – but anyway, I answered for 20 years the question because the top four is nothing special.
"So I don't know why suddenly it could become such a big problem.
"I'm quite surprised. I want to absolutely make sure that we are in there but after that let's get to 75 points and see what happens,'' the Frenchman explained.
See Premier League table below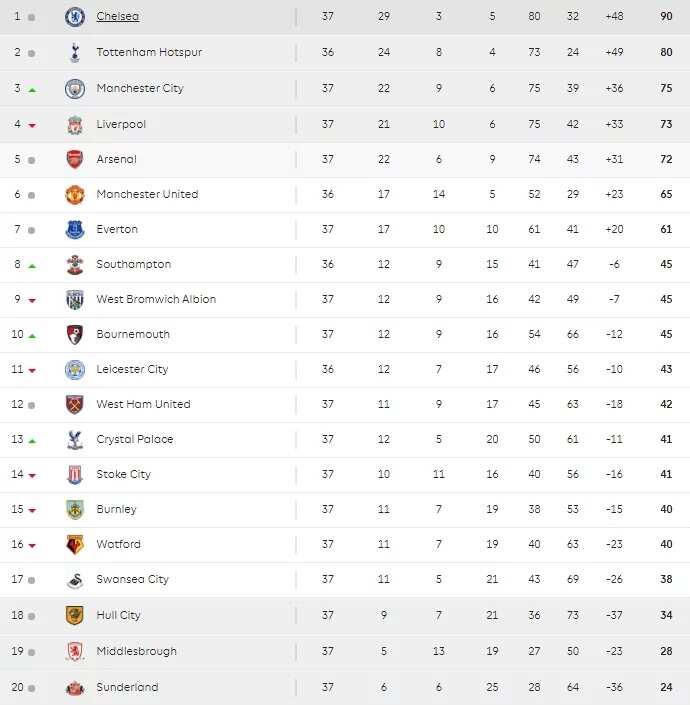 Meanwhile, watch Legit.ng video of the Super Eagles below
Source: Legit.ng