5 Facts About Peter Rufai That You Probably Didn't Know
Legit.ng sport presents five facts about Nigeria's former number one choice goalkeeper, Peter Rufai, who turns 52 today.
The former goalkeeper was one of Nigeria's best during his reign as the first choice, and was also in goal when Nigeria's national team qualified to play in the World Cup for the first time in 1994.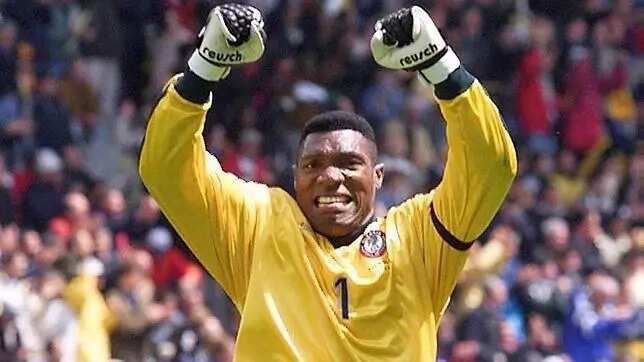 READ ALSO: 5 Things You Probably Didn't Know About Samson Siasia
[article_adwert]
Below are five things you probably never knew or heard about the man fondly called 'Dodo Mayana'.
1. His playing career spanned a massive twenty years, having played in Belgium, Portugal and Spain and is regarded as one of Nigeria's best goalkeeper ever.
2. Rufai scored Nigeria's last goal from a penalty kick, in a 6–0 home win against Ethiopia in an Africa Cup Of Nations in 1993.
3. The Nigerian goalkeeper is from a royal family in Idimu area of Lagos state and declined the opportunity to become the next paramount ruler.
READ ALSO: Remembering The Great Called Samuel Okwaraji
4. Rufai's oldest son, Senbaty, also plays football and has tried out as a midfielder for Sunshine Stars in the Nigerian Premier League.
5. The former goalkeeper has a goalkeeping school in Spain, where he is training talented youngsters.
Source: Legit.ng