Stats that prove Cassano is right about Cristiano Ronaldo's failure at Juventus finally surfaces online
- Antonio Cassano has insisted that Ronaldo has not added much-needed value to Juventus
- The 36-year-old has scored 26 goals in all competitions so far this campaign
- But regardless, his individual display has not translated to team success for the team
PAY ATTENTION: Join Legit.ng Telegram channel! Never miss important updates!
Juventus' chances of winning their 10th consecutive Serie A title are under serious threat as they currently sit third with 46 points after 24 games.
The Old Lady had the chance to close the gap on log leaders Inter Milan but decided to share the spoils with Hellas Verona over the weekend.
Meanwhile, despite scoring Juve's only goal in that match, the 36-year-old has been heavily criticised for leaving the club worse than he met them when he joined them in 2018.
PAY ATTENTION: Click "See First" under the "Following" tab to see Legit.ng News on your Facebook News Feed!
Former Real Madrid forward Antonio Cassano has been hammering on how the Portugal international has failed to add value to the club beyond the level he met them in the first place.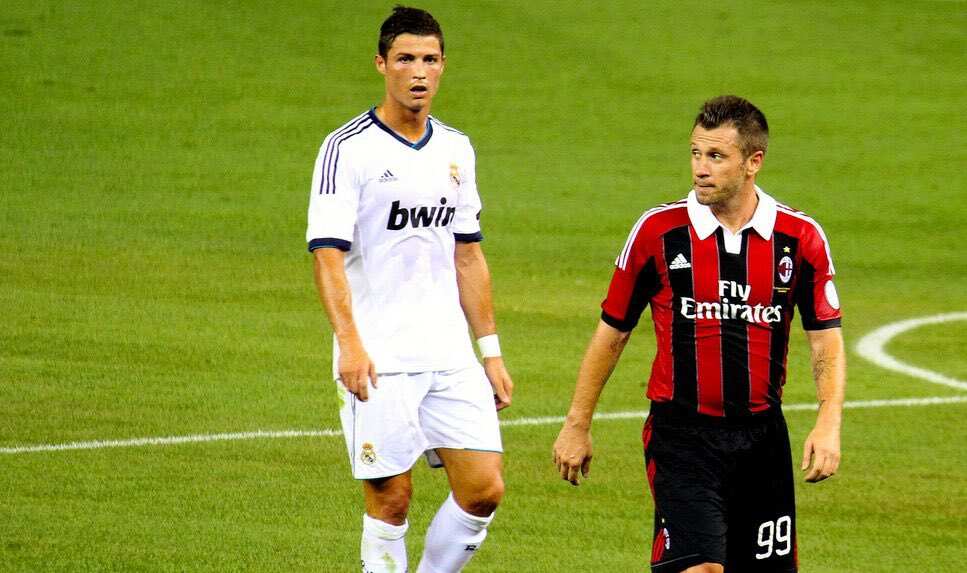 The 38-year-old has now blamed the five Ballon d'Or winner for making the Turin-based outfit worse in his time. He told Football Italia and Daily Star reported it:
"He [Ronaldo] has another year left in his contract, Juventus signed him to win the Champions League, but they have had worse results since he arrived.
"They would have won Serie A titles also without him. It was the wrong project. For 120 years, winning was the only thing that mattered at Juventus. It is still an obligation, but they tried to change their skin with Sarri and Andrea [Pirlo].
"Ronaldo has nothing to do with Pirlo's ideas. He will carry on scoring because he can do it even sitting. He cuts inside from the left and can destroy the goal and his headers are unique.
"Andrea wants to build the action from the back, he wants to press high on the pitch. Ronaldo can decide games, but he doesn't participate much. I think he has done badly in these years unless they manage to win the Champions League."
After his comments, Daily Star looked at Ronaldo's stats in the last two-and-a-half seasons at the club to see if the sums of poor performance add up.
With Ronaldo playing 24 rounds of Serie A football this season, we are taking Juventus' seasons from 2015 to the 24th round of their 2017/18 season - a year before the Portuguese star's arrival.
In the "pre-CR7" phase, Juventus won five trophies which included three consecutive league titles - compared to four since 2018.
On the way to their third title, they had recorded an unbeaten run to hit 66 points by scoring 61 league goals and only conceding 15 to sit second to Inter.
But it is a different story in Ronaldo's third season, with 19 points less on the board, 20 goals less and five more conceded.
The overall picture was also looking better, with a draw in their Champions League first-leg round-of-16 tie against Tottenham and a Coppa Italia semi-final coming up.
While the domes final is looming, their 2-1 loss to Porto earlier this month is making the European quarter-finals an uphill battle.
Legit.ng earlier reported that Antonio Cassano has blamed Cristiano Ronaldo for Juventus' 1-1 draw against ninth-place Hellas Verona.
The 36-year-old powered Andrea Pirlo's men ahead just after four minutes into the second half but a 77th-minute equaliser from Antonin Barak cancelled out the Portuguese earlier effort.
Both teams eventually settled for a 1-1 draw in a game Juve could have grabbled maximum points and reduce the gap between them and log leaders Inter Milan.
Oluwatomiwa is a sports editor with Legit.ng. He has over eight years of field and office experience in the media industry. He graduated from the Nigerian Institute of Journalism in 2014 with HND in Mass Communication. Connect with him on Twitter @TomiwaBabalola.
Source: Legit