Eboue saga: Why marrying foreigner can be detrimental to Nigerian players abroad
Editor's note: Football lovers were left in utter shock after news surfaced that former Arsenal fullback Emmanuel Eboue is broke to the extent he thought about killing himself. Eboue in an interview with The Mirror explained how his divorce with his Belgian wife Aurélie and also a couple of bad business investment caused his current state. In this opinion, Legit.ng's contributor Akan Anwankwo, pens down his thoughts about the Eboue saga and lessons to be learnt especially for Nigerian players plying their trade abroad.
It is no more news of how footballers choose a white companion as their life partners on the basis of love and other substantiative reasons.
Inter-racial marriages between Nigerian players and the white-skinned ladies became popular when Daniel Amokachi and Sunday Oliseh tied the knots with their North African brides respectively.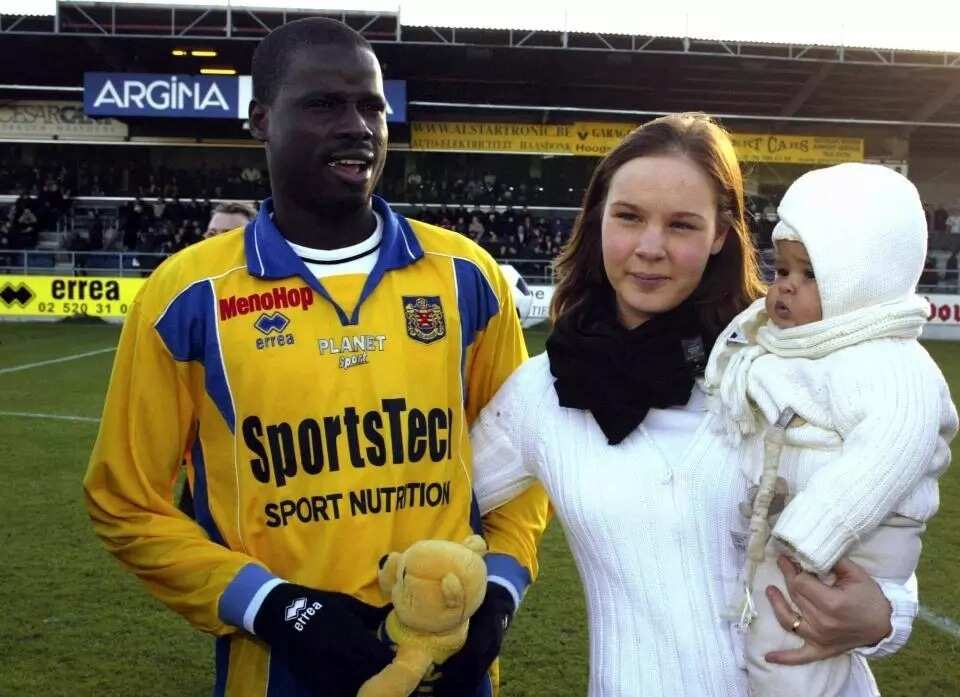 Victor Agali, John Utaka, and Osaze Odemwingie were other ex-internationals that followed the trend but the question is; How sustainable have these marriages become?
READ ALSO: 5 African stars who became broke after amassing so much wealth from football
Super Eagles captain Mikel Obi's relationship with his Russian soulmate is presently blossoming with evidence of pictures of how the former Chelsea player is living in one accord with his family.
However, Ex-Ivorian international Emmanuel Eboue is at the lowest ebb of his life as the former Arsenal defender was declared bankrupt after all he worked for in his entire career was willed to his Belgian wife.
The problem is not about the two races coming together to bond but just like every other celebrity union in the world of show business, the rudiments of how two people will become one for the rest of their lives must be followed irrespective of the person's achievement in the society.
Some of the Super Eagles players like Moses Simon and Kenneth Omeruo got hooked recently to their Nigerian lovers but it does not mean that their marriages will not pass through fire just like their teammates who chose their white folks.
There are cases of people of the same country, tribe and other semblance in culture that their marriages have hit the rocks. In the entertainment industry, five notable marriages went down the drain including the one that resulted into serious battering.
In fact the case of former heavy weight champion Samuel Peter whose Nigerian wife allegedly plotted to assassinate him while he was on holiday in the country shows that there is no marriage without their challenges.
Naturally, footballers get so much admiration from female folks because of their heroic deeds for club and country but getting married to a fan does not guarantee a successful marriage if the relationship is not based on true love.
Marrying someone for one reason or another will eventually fade out when the challenges arise that is why the issue of sharing wealth when the union is dissolved becomes a priority for the undeserving.
Like the Legit.ng Sport Facebook page for more breaking news and stats updates
Eboue's was ordered to forfeit all his fortunes to his ex-wife Aurelie including his expensive cars and his house in London after a judgement was given in favour of the mother of three.
Thereafter, the 34-year-old is now squatting with a friend where he was described to be going under serious depression and an undisclosed medical condition.
The current stance about the Ivorian should serve as a reference point for Nigerian players who are doing well in their careers that whether black or white, skin colour does not matter in a picking a life partner.
The more the fame, the more difficult it is to find the right person as gold diggers are all out to devour their prey. Racism has been a major issue in football but it gladdens my heart to see inter-racial marriages but if there is no true love then there is no marriage.
The views and opinions expressed here are those of the author and do not necessarily reflect the official policy or position of Legit.ng.
Your own opinion articles are welcome at info@corp.legit.ng— drop an email telling us what you want to write about and why. More details in Legit.ng's step-by-step guide for guest contributors.
We're ready to trade your news for our money: submit news and photo reports from your area using our Citizen Journalism App.
Contact us if you have any feedback, suggestions, complaints or compliments. We are also available on Twitter.
Top 5 Nigerian football players: who is the best? - on Legit.ng TV
Source: Legit