4 Nigerian celebrity kids who have chosen to become professional footballers
There is absolutely no doubt that football is the biggest sporting competition in Nigeria and also the most followed sports in the country.
Another general notion about the sports is that football stars are wealthy (which they are of course) hence the reason why it is not so much of a bad idea if you have your kids excelling in the feeders team of top European clubs.
Recently, we did a story on Peter Okoyo's son, Cameron Okoye, that successful passed the trials of FC Barcelona which his proud dad Peter aka Mr. P could not help but to gush about him all over Social Media.
Today at Legit.ng we will be taking a look at four Nigerian celebrities whose sons have taken the path of becoming a professional footballer.
1. Peter Okoye's son - Cameron Okoye (FC Barcelona):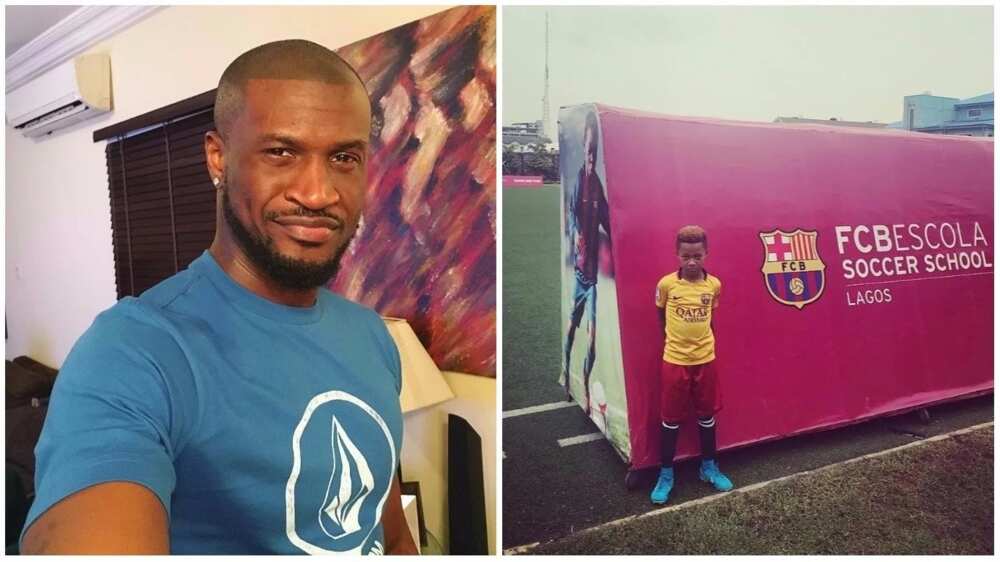 Cameron had a successful trial at Barcelona feeders team in Lagos and he came out successful and his proud dad could not help but shower praises on him on his Social Media pages.
READ ALSO: 5 times Pep Guardiola showed Jose Mourinho he is the boss
2. Darey Art Alade:
Dare's son also joined FC Barcelona's feeders team in Spain. The 'Not the girl' crooner took to his Instagram to share photos of his son in a Barcelona's jersey with his teammates witht the caption "My #MCM is our little boy who's fast becoming a fine young man already! Travelled alone to Barcelona and abandoned us (family and Arsenal ) and is playing his first international tournament right now in @fcbarcelona Escola #ProudMom #ProudDad cc @deolaartalade"
3. Nice's son - Zion Akande:
9ice may not always post pictures of his son with ex-wife Toni Payne, Zion Akande much on his Social Media handle but that does not mean his is not proud of his boy.
PAY ATTENTION: Like the Legit.ng Sport Facebook page for more breaking news and stats updates
The singer recently shared on his Instagram page an award won by Zion with the caption "Proud of you son @zionakande"
4. TerryG's son (Chelsea FC):
The Akpako Master also joins the list of celebrities whose son are following on the professional football path. TerryG's son plays for Chelsea FC junior side and the proud singer had also taken to his Instagram page to share photos of his boy and also stating how proud he is of him " @princeteerex ...IF THIS IS WHAT CRAZINESS CAN MAKE ME DO,THEN I CHOOSE TO BE MAD...@princeteetex holiday is almost over,training starts soon...MY BLACK ENGLISH BOY... #neymar #neymarjr #chelsea #€5500,000,00 #uk"
Legit.ng had previously reported that one of the member of the defunct P-Square group, Peter Okoye, aka Mr. P has taken to his Social Media page to revealed the latest goodnews in his life.
Top 5 Nigerian football players: who is the best? - on Legit.ng TV
Source: Legit.ng