Head-To-Head: History favours Nigeria over Togo ahead friendly clash
The Super Eagles of Nigeria are set to battle the Hawks of Togo in a much anticipated friendly clash on Thursday, June 1, at the Stade Municipal, France.
Legit.ng can authoritatively report that both teams are not new to each other as they have previously met at the senior level 16 times.
READ ALSO: Just in! Mikel, Moses missing as Gernot Rohr releases team list for South Africa clash (full list)
The Eagles have won six of those encounters, drawing 7, and losing 3 to the Hawks.
Although both nations have not met each other for more than two decades, history favours Nigeria for the friendly encounter.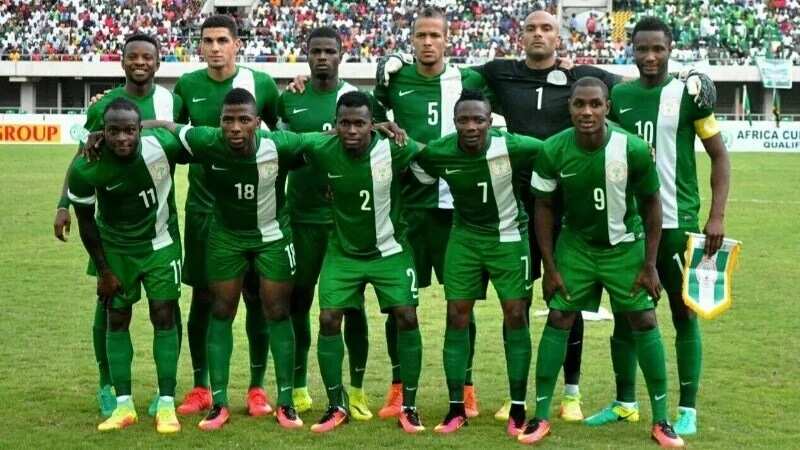 Their last meeting was a goalless draw at the 1991 AFCON games.
PAY ATTENTION: Get the latest sport news on Legit.ng Sports App
The Nigerian national team are using this friendly as preparation for their upcoming 2019 AFCON qualifiers against South Africa at the Godswill Akpabio stadium in Uyo on June 10.
Checkout the head-to-head stats between both African nations as shown below;
September 30, 1956: Nigeria v Togo D 1-1 International Friendly
November 30, 1964: Togo v Nigeria L 2-1 International Friendly
March 6, 1966: Togo v Nigeria D 2-2 International Friendly
April 9, 1966: Nigeria v Togo D 1-1 International Friendly
March 31, 1967: Nigeria v Togo W 4-2 Africa Cup of Nations
April 4, 1967: Togo v Nigeria L 1-0 Africa Cup of Nations
READ ALSO: Just in! Arsenal to sign Nigerian youngster for £6.8m
May 31, 1967: Nigeria v Togo W 3-1 International Friendly
April 26, 1975: Nigeria v Togo W 1-0 International Friendly
October 26, 1979: Nigeria v Togo D 2-2 International Friendly
December 16, 1983: Togo v Nigeria L 5-2 CEDEAO Cup
July 29, 1986: Nigeria v Togo D 2-2 CEDEAO Cup
February 8, 1987: Nigeria v Togo W 3-1 West Africa Nations Cup
March 28, 1987: Nigeria v Togo W 2-0 Africa Cup of Nations
April 12, 1987: Togo v Nigeria D 1-1 Africa Cup of Nations
August 18, 1990: Nigeria v Togo W 3-0 Africa Cup of Nations
January 21, 1991: Togo v Nigeria D 0-0 Africa Cup of Nations
Meanwhile, you can see Legit.ng's video of the Super Eagles training ahead of the World Cup qualifiers;
Source: Legit.ng