Anthony Joshua in heated clash with Klitschko after the brawl
- Anthony Joshua clashed with Wladamir Klitschko's brother Vitali moments after their fight
- British boxer came in contact with Vitali while he was consoling the young brother after the fight
- Vitali is also a boxer in the heavyweight category winning 45 out of 47 fights, but he is now retired
Anthony Joshua defeated Wladamir Klitschko to defend his IBF heavyweight title and win the WBA and IBO heavyweight in an epic brawl on April 29.
The 2012 Olmpic gold medalist clashed with Wladamir's elder brother Vitali Klitschko moments after the fight at Wembley stadium.
READ ALSO: Arsene Wenger replies in fiery manner to Jose Mourinho's recent insults
According to one Eddie Hearn, who happens to be a promoter of the fight, the incident occurred when the British boxer came in contact with Vitali while he was consoling his young brother after the fight.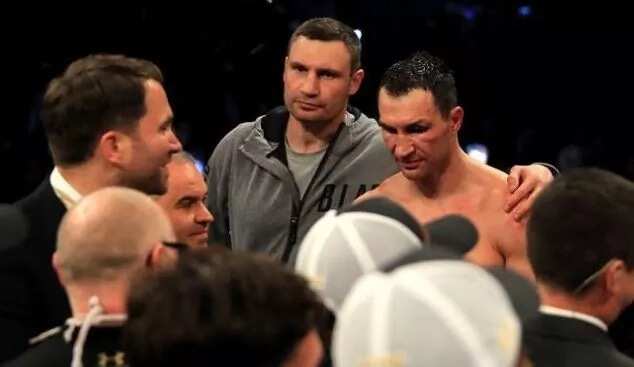 He said: "He and Vitali nearly came to blows after the fight. He went over to Wladimir and thanked him and Josh was tired and he went on and on, 'seriously man,' talking about the fight, and Vitali was like 'alright, alright' and Josh was like 'f*** you.' But Vitali can handle himself, he's not exactly a pushover."
Vitali is also a boxer in the heayweight category winning 45 out of 47 fights but he is now retired as he is now a mayor in Kiev, Ukraine and he is committed to his mayor role.
READ ALSO: AMAZING! Checkout Lionel Messi's collection of jersey from his opponents (photo)
The promoter believes the 27-year-old will mature with time and experience while describing AJ's different attributes in and out of the boxing ring.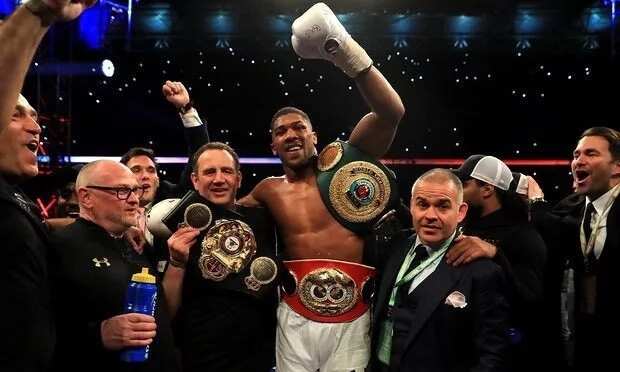 He said: "You're just using up emotions and he'll learn from that. Once he's in that mode, he's a nasty, horrible man in that ring. Outside the ring, one of the nicest guys you could meet, inside it – horrible."
Also, the Group Managing Director of Matchroom Sport spoke on the issue. He said: "He [Joshua] will learn [from the fight]. There were little things, in the ring before the fight Vitali was staring at him, then he started staring at Vitali and all that's designed to do is use up energy."
Source: Legit.ng