Heartbreaking Moment as Faithful Puppy Refuses to Leave Spot Where Owner Was Killed
A puppy named Boots has left many in tears after he adamantly stayed by the side of the accident where his owner had tragically lost her life
Just a day prior to the accident, 17-year-old Débora Abigail Véliz Reynosa had rescued Boots from an abusive owner, only to lose her life in the crash
The resilient puppy survived the accident and was discovered clinging to Abigail's lifeless body when the police officers arrived at the scene
A puppy named Boots has left many feeling emotional after he refused to leave the spot where its owner was killed in a motorcycle accident.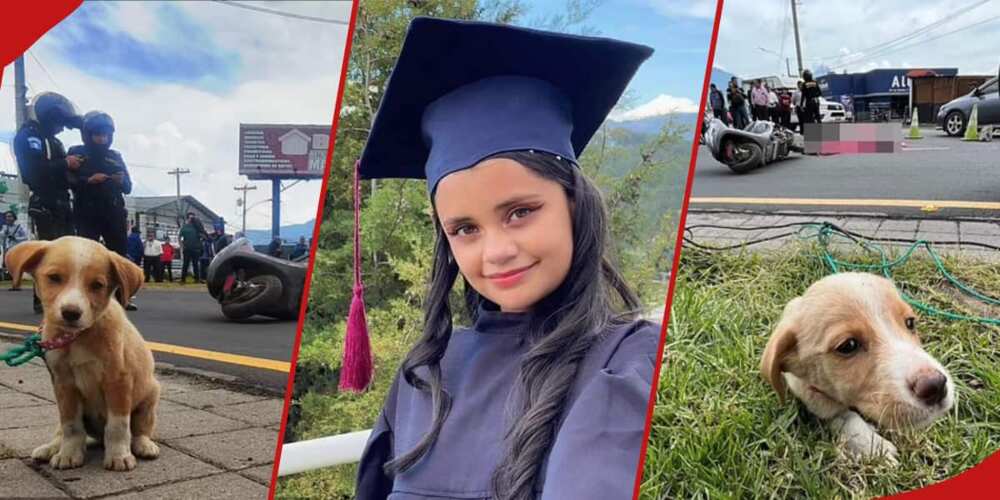 Incidentally, Boots had just been rescued from an abusive owner the day before by 17-year-old Débora Abigail Véliz Reynosa before her motorbike collided with a lorry.
Boots refused to leave crash site
Daily Mail reports that Abigail was riding with her newly adopted puppy when the crash happened at a roundabout in Quetzaltenango, Guatemala.
Details indicate that the accident occurred as the teenager and her furry friend headed back home after buying new clothes and accessories for the dog.
Boots survived the road accident and was found clinging to Abigail's body when police officers arrived at the scene.
As much as the officers secured the area and tried consoling the puppy, he refused to leave his deceased owner's lifeless body.
Boots adopted by Abigail's boyfriend
At the time of her death, Abigail was pursuing a course in criminology at the Centre for Integrated Studies in Quetzaltenango.
Reports indicate that the teen has always been an animal lover, so much so that when she was 12 years old, she would sell empanadas and use the proceeds to help stray dogs in her town.
With the local community mounting pressure for justice in the teenager's death, police officers raided a local property and seized a lorry suspected of being involved in the accident, but the owner is missing.
Abigail's boyfriend, Samuel, has agreed to adopt Boots and give it the care and love his deceased lover would have offered.
Missing 2-year-old discovered sleeping on dog
In another story of dogs living up to the mantra of being man's best friend, a little girl who had been reported missing was discovered in the bushes sleeping on her dog.
Thea Chase was playing in the backyard with her two furry friends when they went missing from their rural home in the East of Wisconsin.
The Michigan authorities swung into action immediately after they received a call from her mum, who had searched for her daughter for nearly 20 minutes with no success.
In the middle of the night, the little girl was found five kilometres miles away in the thicket.
Source: TUKO.co.ke