Cancer Warrior Told by Doctors He Had 1 Year to Live in 2005 Turns 30
A man said he was diagnosed with a brain tumour in 2005 when he was 12 years old and doctors told him not to make long-term plans
According to the cancer survivor, doctors predicted he would only live a year or two, even with treatment
He was even granted his "last wish" in the world, which was to go on a vacation with his family; he is still alive
In 2005, doctors gave a cancer patient barely a year to live. He is still alive today, 18 years later.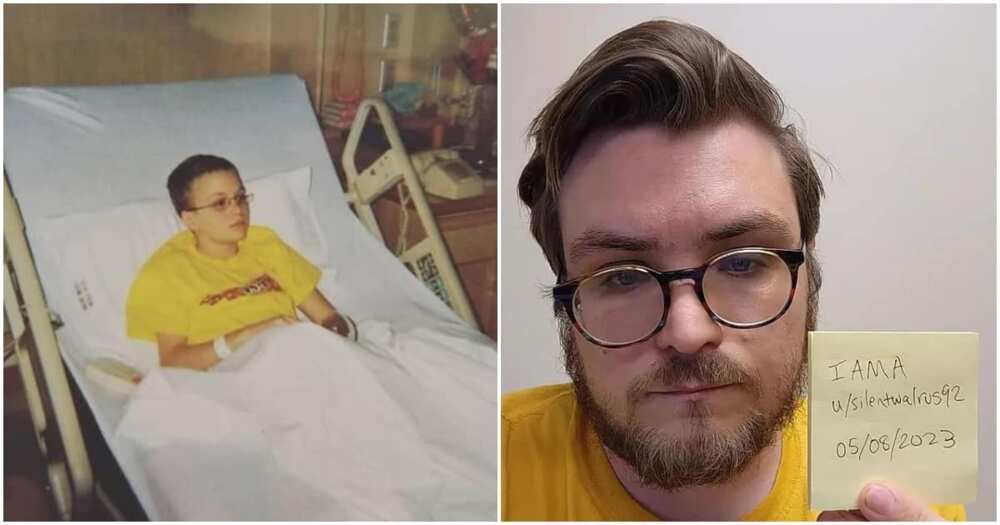 The 30-year-old from Nashville, Tennessee, described how he was diagnosed with a rare brain tumor at the age of 12 in his Reddit post.
Last wish granted
Even with surgery and treatment, doctors at the time estimated he would "only live a year or two."
PAY ATTENTION: Share your outstanding story with our editors! Please reach us through info@corp.legit.ng!
The man, who wished to remain anonymous, claimed that the Make-A-Wish Foundation had even fulfilled his last request, which had seen his family flown to Hawaii for a vacation.
The cancer survivor, who is married and has two children, revealed he works in the hospital where he was diagnosed and treated as a child.
Cancer survivor beats doctors' expectations
Detailing his case, the man said he was diagnosed with pilomyxoid astrocytoma in 2005 as a kid.
According to Daily Mail, the aggressive cancer, which has poor survival rates, usually affects very young children, with the average age of diagnosis being 18 months, according to a 2004 study published in the journal Medscape General Medicine.
The man said being sick was his main symptom. When his parents took him to the emergency department, a scan revealed he had a brain tumour.
He then underwent surgery, usually the first line of cancer treatment that aims to remove as much of the tumour as possible, followed by radiation to kill the remaining tumour tissue.
As a result of his treatment, he was left with mild short-term memory loss, which he says makes it difficult to remember people's names or what he has eaten.
He was granted his last wish, a family holiday to Maui in Hawaii, through the Make-A-Wish Foundation, on the expectation that he wouldn't live longer than two years.
But the man is still living some two decades later, confounding the expectations of the doctors.
Man whose doctor declared would die within 48 hours survived cancer through the help of family and prayer
Meanwhile, Legit.ng earlier reported that a one-minute video was able to display the power of prayer and having relatives around at a time of need.
In the video that has been shared many times, a doctor had declared that the man would be dead between 24 to 48 hours but through family support and prayer he was able to live beyond the hours.
The family of the man gathered around him showing him love and attention while also praying for his healing.
Source: TUKO.co.ke