Top 5 African Currencies in 2021 with the Highest Exchange Rate against US Dollars Emerge, Nigeria Missing
No doubt, the strength of a country's currency speaks volume of its economic state and is an important lens through which one can easily ascertain the living conditions of people in that country in comparison with other countries of interest.
In this article, Legit.ng spotlights 5 African currencies that have the highest exchange rate against the United States dollar as far as the year November 2021 is concerned.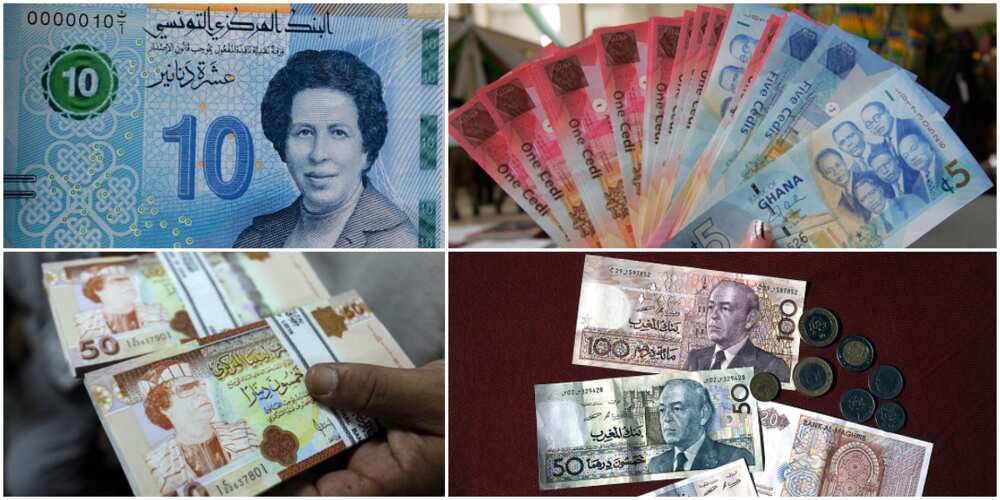 It is noteworthy that this list was arrived at by converting the sum of 1000 in each of these currencies to the United States dollar.
1. Tunisian dinar
Leading this pack is the currency of a northern country in Africa, Tunisia, the Tunisian Dinar.
The currency is regarded as the strongest currency in the African continent at the moment.
Business Insider Africa reports that TND1000 converts to $353.05 (N144,969.39).
2. Libyan dinar
Second on this list is another North African country's currency, the Libyan Dinar of Libya.
At the moment, LYD1000 will give you $219.20 (N90,007.90).
It is the second strongest African country in terms of how many US dollars one thousand of its currency can fetch.
3. Ghanaian cedi
Ghanaian Cedi of West African country, Ghana, takes the third spot.
The West African country with a population of over 31 million has the 5th largest stock exchange on the African continent, which is the third-largest in Sub-Saharan Africa.
Africa News reports that the Ghanaian Cedi has the largest per capita GDP in West Africa.
GHS1000 when converted gives $164.74 (N67,645.54).
4. Moroccan dirham
Coming in fourth place is another North African country called Morocco.
The country's currency, Moroccan Dirham DH1000 becomes $110.46 (N45,357.09) when converted.
Morocco has the fourth-strongest currency in Africa at the moment.
5. Botswanan pula
The first African country in the top 5 is Botswana.
The country's currency is Botswana Pula and its exchange in dollar goes at BWP1000 to $88.22 (N 36,224.90).
It has the fifth strongest currency in Africa.
Top 7 weakest currencies in Africa in 2021
Meanwhile, Legit.ng previously reported about the top 7 weakest currencies in Africa.
Top of this list is Sierra Leonean Leone.
According to Lowestcurrencies.com, the US dollar equals 9797.40 of the nation's currency. In 1787, the country was founded by former slaves who came back to Africa. Although the country is rich in enormous mineral resources, the country's economy is nowhere to write home about.
Occupying second on the list is Guinea, a dollar is exchanged for 9665.68 of the country's currency. Like Sierra Leone, the nation is also blessed with natural resources and fertile soil, with good weather for farming.
Source: Legit.ng