Massive Snake Slithers Into Toilet, Nightmarish Video With 5.8M Views Terrifies TikTok Users
One video on TikTok of a giant snake in a person's house left many people terrified after seeing how it made itself comfy
The clip shows the snake finding a good hiding spot in the person's home in a place that had TikTok users terrified
People commented on the video to express how scary it was to see that the snake found its way indoors
Many people commented on a video showing a real snake. The serpent found a comfortable place to be in a bathroom.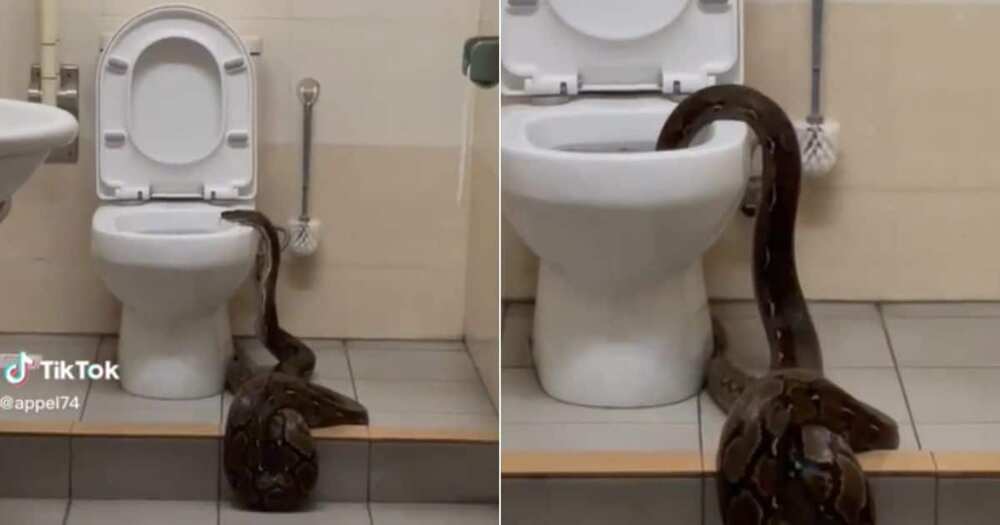 The video got thousands of likes and comments from terrified online users. The snake videos had many people feeling nervous.
Python disappearing into toilet fascinates TikTok viewers
A video on TikTok by @appel74 shows a python making its way into a toilet. Many people were amazed to see how the viper fit its whole body inside.
Watch the video below:
Netizens comment on scary snake video
Snakes often go viral, and many admitted that this scene was scary. Animals always terrify people like that. Many said that they were nervous about using their toilets.
@leethehumble commented:
"Now why would you do this? I'm about to start using a bedside commode from now on."
@smurfxttx commented:
"Meinnn, I'm not going to the toilet after watching this."
@mdmtinisaleh commented:
"Scares me every time if I sit on the toilet, I keep peeping."
@annmarie0745 commented:
"I always keep looking in mine too before I use it. I am scared of snakes.
@dymondjohnson06 commented:
"Where did it go? I am already afraid when I am on the toilet. This makes it worse."
@malindy70 commented:
"l'm watching this video. l'm on the toilet. l just jumped out."
Don Jazzy tries other ways to poo over snake stories
Don Jazzy was one of the celebrities who reacted to the story of Nigerians who found snakes in their water closet.
This was after the viral news about a Nigerian Airforce personnel, Lance Corporal Bercy Ogah, who died shortly after she was bitten by a snake that hid in her toilet.
In a video on his Instagram page, the music mogul was spotted entering his restroom while searching for where snakes could come in from.
Source: Briefly.co.za