"Peedility Bank": Hausa Goje Praise Singer Adopts Cashless Economy, Calls Account Number in His Song
The video of a Hausa praise singer has sparked hilarious reactions on social media
Seeing as there is no cash in the country, the singer while performing with his partner, called out his account number in the middle of his song
The highlight of the video was the singer calling Fidelity bank 'peedility', a function of his mother tongue
A Hausa Goje praise singer refused to let the cashless economy rid him of his means of livelihood.
In a viral video sighted on Instagram, the singer was with his partner, who played the drum, and they delivered a lovely tune.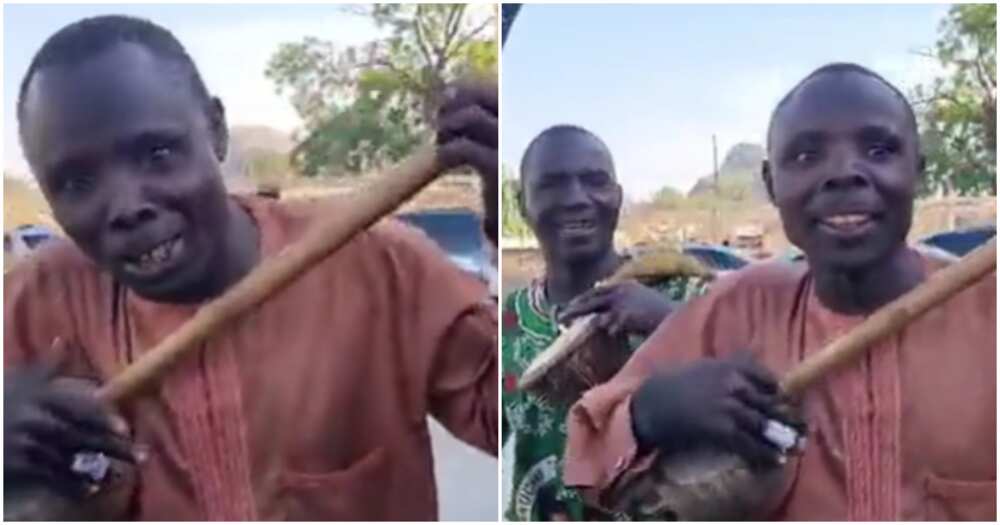 The person they were playing for sat in the car and then asked for his account number, and he decided to sing the details with his song.
After delivering the account number, the voice behind the camera asked for his bank, and instead of Fidelity, the singer said 'peedility'.
Watch the video below:
Netizens react to the video of Hausa singers
jesichun:
"I love this country!!!"
temi_are39:
"This guy don entertain me.. make I drop somefin for hin fiidiliti."
isimemematt:
"Lol make I go drop something for these guys. Love it."
radcheval:
"That aside, is this a Yoruba+ Northern fusion? I didn't know northerners use the talking drum as well"
lammylinky:
"….if you are not taking transfers with the situation of the country you are wrong."
yackzofficial:
"Peediliti "
onyeubanatu1:
"Baba check your FeeDeeLeeTee!"
adamzandevez:
"kai i don drop something cos i was entertained "
mg_pixels_:
"I'm sending him money right away "
janetheconsulgeneral:
"Pidility See cashless entertainment."
itscampbell.e:
"This is a good development though. Omo I hardly hold cash this days since 2020. Upi payment apps have taken over. Naija need to grow."
Hilarious reactions as dog suddenly loses voice after seeing a lion
Dogs might chase cats, but clearly, there is a size limit. Someone took their dog on a game drive and recorded their reaction to seeing a lion.
It is safe to assume the dog was not about to chase that kitty!
Widely followed Twitter page @DailyLoud shared the video showing the dog holding back its bark when seeing a lion.
Source: Legit.ng