Old Mama With Rat Trapped in Her Clothes Panics While Standing in a Queue: "I Would Simply Die"
A TikTok video of a rat jumping out of an old lady's clothes gave people endless chills on social media
The woman was standing in a queue when she suddenly realised something was crawling on her body
The video went viral and millions of people wanted to know how the rat ended up underneath the woman's clothing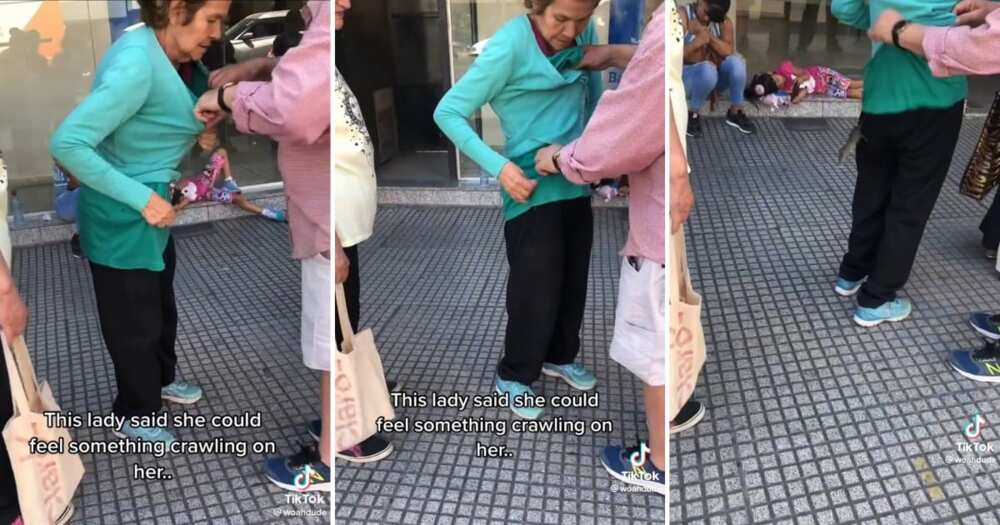 An old lady got the surprise of her life when she was out in public. While in line, she felt something moving on her body.
She started moving her hands and tried to grab the thing. The man standing next to her offered to help and eventually, a rat jumped out of her clothes and ran away.
The short clip posted by @woahdude spooked netizens who said they would have died on the spot if it happened to them.
Over 26.4 million people saw the TikTok video and many of them were relieved for the woman when the animal finally got free.
Watch the TikTok video of the woman standing in the queue
TikTokkers react to the rat trapped in the old lady's clothes
Some TikTokkers were horrified because they thought it was a spider bugging the woman until the rat leapt out.
@care0611 wrote:
"My shirt would have been ripped off my body."
@tay_palas asked:
"Am I the only one who was relieved it wasn't a spider?"
@covergirlangela posted:
"I literally screamed, I thought it would be like a spider or a bug."
@lovleylad mentioned:
"She's braver than me, I'd have gone vertical."
@flowertiktok990009 stated:
"Nope I would need therapy for the rest of my life."
@tara_shafiq wrote:
"I would simply die and I'm not being dramatic."
@prettybrina1 added:
"Chille I almost passed out watching this."
@jbless143341 commented:
"I'd be screaming. Now I feel all itchy after watching this video."
Rat gets high after entering NDLEA exhibit room
Legit.ng previously reported that a cute rat was seen in a viral video turning around the floor after it strayed into the NDLEA-exhibited room.
The rat was described as cute by one of the staff of the NDLEA, who was speaking in the background of the video.
Another staff disclosed that the rat had tasted the exhibit seized from offenders of the law, and it got high.
Source: Briefly.co.za