Fisherman Holds Huge Anaconda by the Tail, Footage Has People Screaming: "Didn't He Watch the Movies?"
A brave fisherman grabbed the tail of a ginormous anaconda and got the moment on camera
Widely followed Twitter page @DailyLoud shared the footage, showing the huge snake
Most people screamed in the comments, wondering if the man missed the famous movie Anaconda
Everyone knows the golden oldie film Anaconda… and if you don't, you shouldn't go around messing with one. A fisherman held a humongous anaconda by the tail and the footage has gone viral.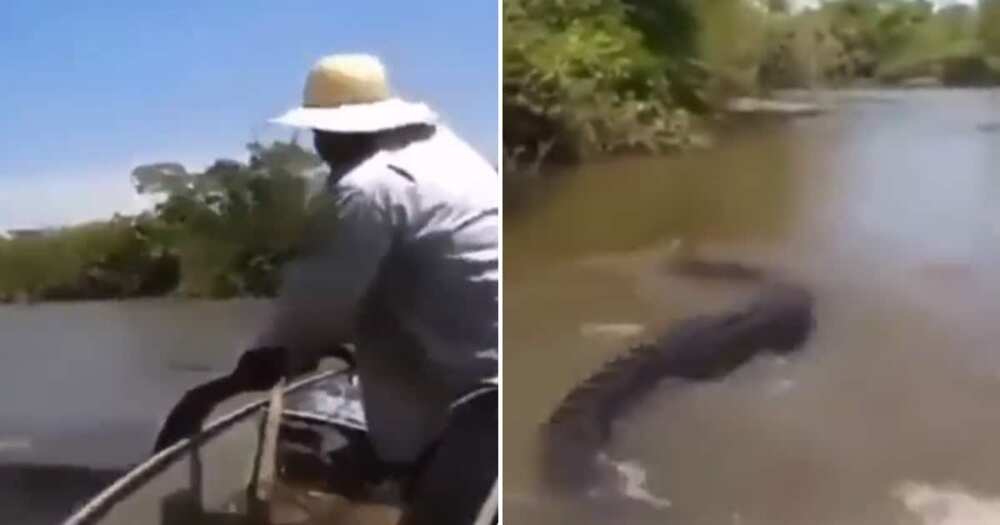 Anacondas are monstrous snakes that have the ability to grow so big that they could consume a whole human.
Widely followed Twitter page @DailyLoud shared the footage of the brave fisherman holding the tail end of an anaconda that looked sizable enough to snack on him.
"This fisherman has an encounter with a huge anaconda "
It is a no on the anaconda from the rest of society
People could not believe the man was that brave, or silly. We have all watched the movie and know what happens when you mess with one of those beasts.
Take a look at some of the comments:
@Whothehellisjc_ said:
"A typical anaconda. You can tell it just ate something. So it looks bigger than usual."
@StolenShotz said:
"That fisherman was surely about to find out if he hadn't let go of that tail."
@Nance_K_ said:
"Didn't he watch the movies?"
@Neon_Exxus said:
"I forgot that anacondas actually exist."
@JBud11 said:
Don Jazzy gets paranoid as he tries other ways to poo after snake stories
Don Jazzy was one of the celebrities who reacted to the story of Nigerians who found snakes in their water closet.
This was after the viral news about a Nigerian Airforce personnel, Lance Corporal Bercy Ogah, who died shortly after she was bitten by a snake that hid in her toilet.
In a video on his Instagram page, the music mogul was spotted entering his restroom while searching for where snakes could come in from.
According to Don Jazzy, the snake stories have got him paranoid. He added that he was told to pour some salt in the water closet before using it.
Source: Briefly.co.za